Bahrain
Kingdom of Bahrain

King: Hamad ibn Isa al-Khalifah (1999)

Prime Minister: Khalifah ibn Sulman al-Khalifah (1970)

Land area: 239 sq mi (619 sq km); total area: 257 sq mi (665 sq km)

Population (2014 est.): 1,314,089 (growth rate: 2.49%); birth rate: 13.92/1000; infant mortality rate: 9.68/1000; life expectancy: 78.58

Capital and largest city (2011 est.): Al-Manámah, 262,000

Monetary unit: Bahrain dinar

National Name: Mamlakat al Bahrayn

Languages: Arabic (official), English, Farsi, Urdu

Ethnicity/race: Bahraini 46%, Asian 45.5%, other Arabs 4.7%, African 1.6%, European 1%, other 1.2% (includes Gulf Co-operative country nationals, North and South Americans, and Oceanians) (2010 est.)

Religion: Muslim 70.3%, Christian 14.5%, Hindu 9.8%, Buddhist 2.5%, Jewish 0.6%, folk religion <.1, unaffiliated 1.9%, other 0.2% (2010 est.)

National Holiday: National Day, December 16

Literacy rate: 94.6% (2010 est.)

Economic summary: GDP/PPP (2013 est): $34.96 billion; per capita $29,800. Real growth rate: 4.4%. Inflation: 3.1%. Unemployment: 15%. Arable land: 1.79%. Agriculture: fruit, vegetables; poultry, dairy products; shrimp, fish. Labor force: 716,500; note: 44% of the population in the 15–64 age group is non-national (2013); agriculture 1%, industry, commerce, and services 79%, government 20% (1997 est.). Industries: petroleum processing and refining, aluminum smelting, iron pelletization, fertilizers, offshore banking, ship repairing, tourism. Natural resources: oil, associated and nonassociated natural gas, fish, pearls. Exports: $20.69 billion (2013 est.): petroleum and petroleum products, aluminum, textiles. Imports: $14.41 billion (2013 est.): crude oil, machinery, chemicals. Major trading partners: Saudi Arabia, U.S., UAE, Japan, France, India, China (2004).

Communications: Telephones: main lines in use: 290,000 (2012); mobile cellular: 2.125 million (2012). Broadcast media: state-run Bahrain Radio and Television Corporation (BRTC) operates 5 terrestrial TV networks and several radio stations; satellite TV systems provide access to international broadcasts; 1 private FM station directs broadcasts to Indian listeners; radio and TV broadcasts from countries in the region are available (2007). Internet hosts: 47,727 (2012). Internet users: 419,500 (2009).

Transportation: Railways: 0 km. Highways: total: 4,122 km; paved: 3,392 (2010). Ports and harbors: Mina' Salman, Sitrah. Airports: 4 (2013).

International disputes: none.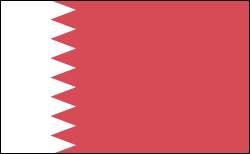 Geography
Bahrain, which means "two seas," is an archipelago in the Persian Gulf off the coast of Saudi Arabia. The islands for the most part are level expanses of sand and rock. A causeway connects Bahrain to Saudi Arabia.
Government
Constitutional monarchy.
History
Known in ancient times as Dilmun, Bahrain was an important center of trade by the 3rd millennium B.C. The islands were ruled by the Persians in the 4th century A.D., and then by Arabs until 1541, when the Portuguese invaded them. Persia again claimed Bahrain in 1602. In 1783 Ahmad ibn al-Khalifah took over, and the al-Khalifahs remain the ruling family today. Bahrain became a British protectorate in 1820. It did not gain full independence until Aug. 14, 1971.
Although oil was discovered in Bahrain in the 1930s, it was relatively little compared to other Gulf states, and the wells are expected to be the first in the region to dry up. Sheik Isa ibn Sulman al-Khalifah, who became emir in 1961, was determined to diversify his country's economy, and he set about establishing Bahrain as a major financial center. The country provides its people with free medical care, education, and old-age pensions.
Conflicts between the Shiite and Sunni Muslims are a recurring problem in Bahrain. The Sunni minority, to which the ruling al-Khalifah family belongs, controls nearly all the power and wealth in the country. the Shiites continue to agitate for more representation in government, and minor violent clashes have led to about two dozen deaths since 1994.
Internal Reforms Increase Bahrain's Attractiveness as an Ally to the West
Bahrain has been an important Western ally, serving as a Western air base during the Persian Gulf War in 1991 and the Iraq War in 2003. It continues to serve as the base of the United States' Fifth Fleet, which patrols the Gulf.
The emir, Sheik Isa ibn Sulman al-Khalifah, died in 1999 after four decades of rule. He was succeeded by his son, Sheik Hamad ibn Isa al-Khalifah, who gave himself the title of king but also began a sweeping democratization of the country: censorship has been relaxed and draconian laws repealed, exiles have been repatriated, and the stateless Bidoons have been granted citizenship. In a Feb. 2001 referendum, which permitted women to vote for the first time, Bahrainis overwhelmingly supported the transformation of the traditional monarchy into a constitutional one. In Oct. 2002, Bahrain had its first parliamentary election since 1973. In 2006, the U.S. and Bahrain signed a free-trade agreement.
Political Unrest in the Middle East Spreads to Bahrain
Anti-government demonstrations gripped several countries in the Middle East in early 2011, and Bahrain experienced some of the most violent confrontations between protesters and government forces and police. The protesters, inspired by recent events in Egypt and Tunisia, began their protests on Feb. 14. There has long been simmering tension between the populace, which is 70% Shiite, and the Sunni monarchy and ruling class. Shiites complain that they are excluded from top positions in the military and government and claim that the government encourages immigration of Sunnis and then gives Sunnis preference in hiring. In response to the protests, King Hamad offered each Bahraini a payment of about $2,700 and promised to increase jobs, which only emboldened the opposition. On Feb. 17, police fired on the demonstrators in Manama's Pearl Square, killing at least two people, and during the funeral the next day, government forces attacked mourners. The attacks drew a strong rebuke from the U.S., which bases the navy's Fifth Fleet in Bahrain and stations troops in the country.
The government withdrew troops on Feb. 18, and for the next several days thousands of triumphant protesters poured into Pearl Square. Crowds reached their peak on Feb. 22, with more than 100,000 protesters gathered in the square. The enormous pro-democracy protests continued for three weeks, but the euphoria was short lived. On March 14, at the request of King Hamad, Saudi Arabia and the United Arab Emirates dispatched 2,000 troops to help break up the protests. The presence of neighboring Sunni troops in a country populated by a majority of Shiites further inflamed sectarian strife. The Shiites labeled the deployment an "invasion." When violence broke out between protesters and troops, King Hamad declared martial law and resumed implementing repressive tactics against the opposition, including using force to remove protesters from Pearl Square, warrantless searches, mass arrests, and there were allegations of torture. King Hamad lifted the state of emergency on June 1, but the country remained tense and on the brink of violence.
In June King Hamad appointed an independent commission to investigate the crackdown by his security forces on protesters. The report released in November found widespread human-rights abuses, saying prisoners—mostly Shia—were hooded, whipped, beaten, and given electric-shock treatment. Five prisoners died in custody. While the report was an embarrassment to the government and highly critical, it proved that the king followed up on his promise to fairly and fully investigate the allegations of abuse. Hamad said the perpetrators will be fired.
Protesters returning to Pearl Square in Manama in February 2012 to mark the one-year anniversary of the uprising were pushed back by police who fired tear gas and stun grenades at them. The protests continued through the year, and the government continued to stifle dissent and crack down on the movement. Several protesters and police were killed in the fighting, and in October the interior minister banned demonstrations and forms of protest, saying protesters had taken advantage of the freedom of speech the government had granted them.
Government, Opposition Try to Bridge Divide
In an attempt to quell the unrest, opposition groups and pro-government groups opened a national dialogue in February 2013. The parties failed to even agree on an agenda, and the talks were suspended. They resumed briefly in September but ended when Shiite groups withdrew in protest over the arrest of a leader of Al Wefaq, the largest opposition group. The talks opened—and closed—again in January 2014 despite efforts by Crown Prince Salman to resume a dialogue.
King Hamad gave the opposition hope that he may be willing to concede to some of their demands in March 2013, when he appointed Crown Prince Salman al-Khalifa as deputy prime minister. The Crown Prince is considerate a moderate, especially compared to Prime Minister Khalifah ibn Sulman al-Khalifah, a hardliner not open to negotiating with the opposition.
Parliamentary elections were held in November 2014. The Shiite opposition boycotted the election, claiming that monarchy failed to implement reforms and that the voting districts under-represented the majority Shiites and benefitted Sunnis. The ruling family is Sunni.
See also Encyclopedia: Bahrain.
U.S. State Dept. Country Notes: Bahrain
Information Please® Database, © 2008 Pearson Education, Inc. All rights reserved.
More on Bahrain from Fact Monster: