Chile
Republic of Chile

President: Michelle Bachelet (2014)

Land area: 289,112 sq mi (748,800 sq km); total area: 292,260 sq mi (756,950 sq km)

Population (2014 est.): 17,363,894 (growth rate: 0.84%); birth rate: 13.97/1000; infant mortality rate: 7.02/1000; life expectancy: 78.44

Capital and largest city (2011 est.): Santiago, 6.034 million

Other large cities: Valparaiso 883,000; Concepcion 770,000 (2011)

Monetary unit: Chilean Peso

National name: República de Chile

Current government officials

Language: Spanish 99.5% (official), English 10.2%, indigenous 1% (includes Mapudungun, Aymara, Quechua, Rapa Nui), other 2.3%, unspecified 0.2% note: shares sum to more than 100% because some respondents gave more than one answer on the census (2012 est.)

Ethnicity/race: white and non-indigenous 88.9%, Mapuche 9.1%, Aymara 0.7%, other indigenous groups 1% (includes Rapa Nui, Likan Antai, Quechua, Colla, Diaguita, Kawesqar, Yagan or Yamana), unspecified 0.3% (2012 est.)

National Holiday: Independence Day, September 18

Religions: Roman Catholic 66.7%, Evangelical or Protestant 16.4%, Jehovah's Witnesses 1%, other 3.4%, none 11.5%, unspecified 1.1% (2012 est.)

Literacy rate: 98.6% (2009 est.)

Economic summary: GDP/PPP (2013 est.): $335.4 billion; per capita $19,100. Real growth rate: 4.4%. Inflation: 1.7%. Unemployment: 6%. Arable land: 1.74%. Agriculture: grapes, apples, pears, onions, wheat, corn, oats, peaches, garlic, asparagus, beans; beef, poultry, wool; fish; timber. Labor force: 8.367 million; agriculture 13.2%, industry 23%, services 63.9% (2005). Industries: copper, other minerals, foodstuffs, fish processing, iron and steel, wood and wood products, transport equipment, cement, textiles. Natural resources: copper, timber, iron ore, nitrates, precious metals, molybdenum, hydropower. Exports: $77.94 billion (2013 est.): copper, fruit, fish products, paper and pulp, chemicals, wine. Imports: $75.7 billion (2013 est.): petroleum and petroleum products, chemicals, electrical and telecommunications equipment, industrial machinery, vehicles, natural gas. Major trading partners: U.S., Japan, China, South Korea, Brazil, Argentina (2012).

Communications: Telephones: main lines in use: 3.276 million (2012); mobile cellular: 24.13 million (2012). Broadcast media: national and local terrestrial TV channels, coupled with extensive cable TV networks; the state-owned Television Nacional de Chile (TVN) network is self financed through commercial advertising revenues and is not under direct government control; large number of privately owned TV stations; about 250 radio stations (2007). Internet hosts: 2.152 million (2012). Internet users: 7.009 million (2009).

Transportation: Railways: total: 7,082 km (2008). Highways: total: 77,764 (2010). Waterways: 725 km. Ports and harbors: Coronel, Huasco, Lirquen, Puerto Ventanas, San Antonio, San Vicente, Valparaiso. Airports: 481 (2013 est.).

International disputes: Chile and Peru rebuff Bolivia's reactivated claim to restore the Atacama corridor, ceded to Chile in 1884, but Chile has offered instead unrestricted but not sovereign maritime access through Chile to Bolivian natural gas; Chile rejects Peru's unilateral legislation to change its latitudinal maritime boundary with Chile to an equidistance line with a southwestern axis favoring Peru; in October 2007, Peru took its maritime complaint with Chile to the ICJ; territorial claim in Antarctica (Chilean Antarctic Territory) partially overlaps Argentine and British claims; the joint boundary commission, established by Chile and Argentina in 2001, has yet to map and demarcate the delimited boundary in the inhospitable Andean Southern Ice Field (Campo de Hielo Sur).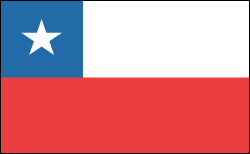 Geography
Situated south of Peru and west of Bolivia and Argentina, Chile fills a narrow 2,880-mi (4,506 km) strip between the Andes and the Pacific. One-third of Chile is covered by the towering ranges of the Andes. In the north is the driest place on Earth, the Atacama Desert, and in the center is a 700-mile-long (1,127 km) thickly populated valley with most of Chile's arable land. At the southern tip of Chile's mainland is Punta Arenas, the southernmost city in the world, and beyond that lies the Strait of Magellan and Tierra del Fuego, an island divided between Chile and Argentina. The southernmost point of South America is Cape Horn, a 1,390-foot (424 m) rock on Horn Island in the Wollaston group, which belongs to Chile. Chile also claims sovereignty over 482,628 sq mi (1,250,000 sq km) of Antarctic territory; the Juan Fernández Islands, about 400 mi (644 km) west of the mainland; and Easter Island, about 2,000 mi (3,219 km) west.
Government
Republic.
History
Chile was originally under the control of the Incas in the north and the nomadic Araucanos in the south. In 1541, a Spaniard, Pedro de Valdivia, founded Santiago. Chile won its independence from Spain in 1818 under Bernardo O'Higgins and an Argentinian, José de San Martin. O'Higgins, dictator until 1823, laid the foundations of the modern state with a two-party system and a centralized government.
The dictator from 1830 to 1837, Diego Portales, fought a war with Peru from 1836—1839 that expanded Chilean territory. Chile fought the War of the Pacific with Peru and Bolivia from 1879 to 1883, winning Antofagasta, Bolivia's only outlet to the sea, and extensive areas from Peru. Pedro Montt led a revolt that overthrew José Balmaceda in 1891 and established a parliamentary dictatorship lasting until a new constitution was adopted in 1925. Industrialization began before World War I and led to the formation of Marxist groups. Juan Antonio Ríos, president during World War II, was originally pro-Nazi but in 1944 led his country into the war on the side of the Allies.
In 1970, Salvador Allende became the first president in a non-Communist country freely elected on a Marxist program. Allende quickly established relations with Cuba and the People's Republic of China, introduced Marxist economic and social reforms, and nationalized many private companies, including U.S.-owned ones. In Sept. 1973, Allende was overthrown and killed in a military coup covertly sponsored by the CIA, ending a 46-year era of constitutional government in Chile.
President Pinochet Presides Over a Ruthless Regime
The coup was led by a four-man junta headed by Army Chief of Staff Augusto Pinochet, who eventually assumed the office of president. Committed to eliminating Marxism the junta suspended parliament, banned political activity, and severely curbed civil liberties. Pinochet's brutal dictatorship led to the imprisonment, torture, disappearances, execution, and expulsion of thousands of Chileans. A government report in 2004 indicated that almost 28,000 people had been tortured during his rule, and at least 3,200 murders and disappearances had taken place.
The economy, in tatters under Allende's Socialist revolution, gradually improved after Chile's return to privatization under Pinochet. In 1989, Pinochet lost a plebiscite on whether he should remain in power. He stepped down in Jan. 1990 in favor of Patricio Aylwin. In Dec. 1993, Eduardo Frei Ruiz-Tagle, the candidate of a center-left coalition and son of a previous president, was elected president.
Pinochet, who had retained his post as army commander in chief after the 1989 plebiscite, retired in March 1998. In Oct. 1998, he was arrested and detained in England on an extradition request issued by a Spanish judge who sought Pinochet in connection with the disappearances of Spanish citizens during his rule. British courts ultimately denied his extradition, and Pinochet returned to Chile in March 2000. He died in Dec. 2006 at age 91, before facing trial for the abuses of his 17-year dictatorship.
Socialists Return to Power
Ricardo Lagos became president in March 2000, the first Socialist to run the country since Allende. Chile's economic growth slowed to 3% for 2001, partly the result of a drop in international copper prices and the economic turmoil in neighboring Argentina. In 2003, there were several minor financial scandals involving insider information and bribery. In response, Lagos introduced new reforms promising greater transparency. In 2004, Chile passed a law permitting divorce for the first time.
In 2006 presidential elections, Socialist Michelle Bachelet won 53% of the vote. The former pediatrician is a survivor of the Pinochet dictatorship, which was responsible for her father's death and subjected her to prison, torture, and exile. Bachelet took office on March 11, becoming Chile's first female chief of state. She promised to continue Chile's successful economic policies while increasing social spending. The president's first major challenge came when 700,000 of the nation's students organized a national boycott in May demanding educational reform. The students called off the strike in June after the government agreed to address their concerns.
In January 2008, president Bachelet swore in six new ministers to her 22-member cabinet. The major change was the appointment of Christian Democrat leader Edmundo Perez Yoma for Interior Minister, the top political post of the cabinet. Bachelet also replaced ministers of economy, public works, mining, agriculture, and planning. The cabinet changes are not expected to affect government policy.
Earthquake Devastates Beginning of Right-Wing Rule
In January 2010, for the first time in 50 years—since the rule of Pinochet—Chile elected a right-wing president. Billionaire businessman Sebastián Piñera narrowly defeated Eduardo Frei of the Concertacion, the center-left alliance that has been in power for 20 years, in the second round of voting. Piñera, who was elected to the Senate in 1990, owns a television station, a soccer club, and a large stake in the country's main airline, Lan Chile. He lost to outgoing Bachelet in the 2006 election, his first run for the presidency. Piñera said he would use his business acumen to create jobs give private industry a more prominent role in the economy. He has distanced himself from the Pinochet regime, and his cabinet is made up of a group of technocrats with no ties to Pinochet.
Chile was hit by an 8.8 magnitude earthquake in February 2010. Fatalities were relatively low, with some 500 people killed in the devastation. However, as many as 1.5 million people were displaced. The country, long known to be at high risk for earthquakes, has enforced strict building codes in urban areas, which helped to limit the amount of damage in these areas. But buildings and homes in poorer areas—many built with adobe—did not fare as well. Chile's electricity grids, communication, and transportation systems were badly damaged, severely hampering rescue and aid efforts. The epicenter of the quake was 70 miles northeast of Concepcion in central Chile. Massive waves caused additional damage along the coast.
In March 2010, Sebastián Piñera was sworn in as President of Chile, immediately following three major aftershocks from the recent massive earthquake. Piñera is the first right-wing president since Pinochet. He made an effort to distance himself from the former dictator, and he assembled a cabinet of technocrats with no ties to Pinochet. He faced the widespread devastation of his country following the February earthquake, visiting the quake zone directly after his inauguration. One of his first acts as the new president was to form an emergency response team to deal with the country's reconstruction in the aftermath of the disaster.
Fate of Trapped Miners Rivets the Nation
On Aug. 5, 2010, a tunnel collapsed at the San José mine, trapping 33 miners 2,000 feet below ground. Remarkably all of the miners survived. Rescuers drilled a small borehole to provide the miners with food, lights, and liquids and to allow them to send notes to and from family members as they wait to be rescued. The miners have become national heroes throughout Chile. They were rescued in mid-October, weeks earlier than planned, lifted to safety one by one in a rescue capsule. Each of the miners emerged jubliant and in overall good health considering the ordeal.
Plan for Hydroelectric Dams Causes Outrage
Immediately following the successful rescue of 33 miners in 2010, Chilean President Sebastián Piñera had an approval rating of 63 percent. By June 2011; however, Piñera had a disapproval rating of 56%, the highest of any Chilean president since democracy returned to the country in 1990. The main reason for the approval rating nosedive was Piñera's support for the Hidroaysén electricity project, a plan to build five dams on two rivers and flood over 14,000 acres of nature reserves in the Patagonia region.
A government environmental commission approved the $3.2 billion Hidroaysén project in May 2011, prompting a country-wide protest movement. The protests caused injuries to 28 police officers and over one hundred thousand dollars in property damage. One protest in early June involved 30,000 demonstrators marching to the presidential palace, with some protestors throwing stones and pieces of wood at police vehicles. The police fired back with water cannons. Since the commission's decision, the focus has turned to the yet to be approved transmission line for the project. Patagonia, considered by Chileans to be a national treasure with its breathtaking glaciers and lakes, attracts thousands of tourists each year.
Chilean Youth Call for Reform
Throughout 2011, partly inspired by the Arab Spring, activists continued to protest and started a movement which came to be known as the Chilean Winter. On August 4, 2011, some protestors set up barricades around Santiago, the nation's capital, while others banged on pots and pans. Police used tear gas and water cannons to disperse hundreds of high school and college students. About 900 demonstrators were arrested. Also in August, nearly three dozen university and high school students went on a hunger strike to show their disapproval of President Piñera's government. These education protests have taken over several schools, forcing some to stop classes. Students organized rallies which were attended by 100,000 people. The protestors were demanding a more accessible and affordable university system as well as higher quality and equal funding for elementary and middle schools.
In October 2011, student representatives attempted to negotiate with government representatives led by Felipe Bulnes, the education minister. However, the students withdrew from the negotiations, reporting that Bulnes attacked a student representative, David Urrea. Bulnes reportedly accused Urrea of trying to break up the negotiations. A spokesperson for the government blamed extremists within the student movement for the breakdown of negotiations. Bulnes was replaced by Harald Beyer as education minister two months later.
Although the student protestors did not get all their demands met, they did influence a huge drop in President Piñera's approval rating. As of January 2012, Piñera's approval rating hovered around 26–30%.
Bachelet Regains the Presidency
Michelle Bachelet won a runoff presidential election against Evelyn Matthei on Dec. 15, 2013. Bachelet received 62.2% of the vote, Matthei 37.8%. Bachelet was the first person to be elected for a second term since Arturo Alessandri whose third term ended in 1938.
Bachelet first served as president from 2006 until 2010. She has also served as health minister and defense minister. Bachelet took office on March 11, 2014.
See also Encyclopedia: Chile.
U.S. State Dept. Country Notes: Chile
National Institute of Statistics (INE) (In Spanish only) www.ine.cl/ .
Information Please® Database, © 2014 Pearson Education, Inc. All rights reserved.
More on Chile from Fact Monster: