French Polynesia
Status: Overseas Country
High Commissioner: Lionel Beffre (2013)
President: Nuihau Laurey (2014, acting)
Land area: 1,413 sq mi (3,660 sq km); total area: 1,609 sq mi (4,167 sq km)
Population (2010 est.): 291,000 (growth rate: 1.3%); birth rate: 15.6/1000; infant mortality rate: 7.4/1000; life expectancy: 76.9 density per sq mi: 77
Capital (2003 est.): Papeete (on Tahiti), 111,400 (metro. area), 30,200 (city proper)
Monetary unit: Pacific financial community franc
Languages: French, Tahitian (both official)
Ethnicity/race: Polynesian 78%, Chinese 12%, local French 6%, metropolitan French 4%
Religions: Protestant 54%, Roman Catholic 30%, other 10%, no religion 6%
National Holiday: Bastille Day, July 14
Literacy rate: 98% (1977)
Economic summary: GDP/PPP (2004 est.): $4.718 billion; per capita $18,000. Real growth rate: 2.5% (2005). Inflation: 1.1% (2007 est.). Unemployment: 11.7% (2005). Arable land: 1%. Agriculture: coconuts, vanilla, vegetables, fruits, coffee; poultry, beef, dairy products. Labor force: 70,000 (1996); agriculture 13%, industry 19%, services 68% (2002). Industries: tourism, pearls, agricultural processing, handicrafts, phosphates. Natural resources: timber, fish, cobalt, hydropower. Exports: $211 million (2005 est.): cultured pearls, coconut products, mother-of-pearl, vanilla, shark meat. Imports: $1.706 billion (2005 est.): fuels, foodstuffs, machinery and equipment. Major trading partners: France, Japan, U.S., Niger, Thailand, New Zealand, Singapore, Australia (2004).
Communications: Telephones: main lines in use: 52,500 (2002); mobile cellular: 90,000 (2002). Radio broadcast stations: AM 2, FM 14, shortwave 2 (1998). Radios: 128,000 (1997). Television broadcast stations: 7 (plus 17 low-power repeaters) (1997). Internet hosts: 5,123 (2003). Internet users: 35,000 (2002).
Transportation: Railways: 0 km. Highways: total: 2,590 km; paved: 1,735 km; unpaved: 855 km (1999). Ports and harbors: Papeete. Airports: 50 (2004 est.).
International disputes: none.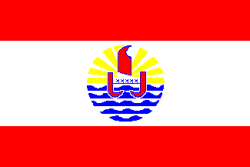 The term French Polynesia is applied to the scattered French possessions in the South Pacific—Mangareva (Gambier), Makatea, the Marquesas Islands, Rapa, Rurutu, Rimatara, the Society Islands, the Tuamotu Archipelago, Tubuai, Raivavae, and the island of Clipperton—which were organized into a single colony in 1903. There are 120 islands, of which 25 are uninhabited. The principal and most populous island—Tahiti, in the Society group—was claimed by the French in 1768. The indigenous people are mostly Maoris.
The Pacific Nuclear Test Center on the atoll of Mururoa, 744 mi (1,200 km) from Tahiti, was completed in 1966. In 1975 worldwide opposition forced the French to move the testing underground on Fangataufa. To compensate the residents for the nuclear weapons tests from 1995 to 1996, France offered a 10-year $194-million annual compensation package. An independence movement continues to flourish in French Polynesia. In 2004, France changed its status from a French Overseas Territory to an Overseas Country, which gave French Polynesia more autonomy over local affairs.
Due to a steady stream of shifting alliances and parliamentary motions of no-confidence, more than a dozen governments have come and gone during the period 2004 to 2011. In April 2011, faced with pending legislation from France meant to stabilize the country's political situation, a no-confidence vote was cast against the government of President Gaston Tong Sang. Oscar Temaru immediately became president. This was the fifth time Temaru had been named president. He previously served in 2004, from 2005 to 2006, from 2007 to 2008 and in 2009.
2013 saw a new president and new high commissioner. Gaston Flosse became president in May 2013. This was the fifth time Flosse had been named president of French Polynesia. In September 2013, Lionel Beffre was named high commissioner. He became the tenth high commissioner since 2005. Beffre, a public finance specialist, vowed to help the territory with its economic crisis.
Vice President Nuihau Laurey became acting president in September 2014 after President Gaston Flosse was removed from office due to a corruption conviction by France's highest court. Flosse was fined and given a four-year suspended jail term. At age 83, Flosse was also banned from holding public office for three years. Flosse sought a presidential pardon and a reprieve, but both were denied.
See also Encyclopedia: French Polynesia.
Fact Monster/Information Please® Database, © 2014 Pearson Education, Inc. All rights reserved.
More on French Polynesia from Fact Monster: