Guyana
Cooperative Republic of Guyana
President: Donald Ramotar (2011)
Prime Minister: Samuel Hinds (1992)
Land area: 76,004 sq mi (196,850 sq km); total area: 83,000 sq mi (214,970 sq km)
Population (2014 est.): 735,554 (growth rate: –0.11%); birth rate: 15.9/1000; infant mortality rate: 33.56/1000; life expectancy: 67.81
Capital and largest city (2011 est.): Georgetown, 127,000
Monetary unit: Guyanese dollar
Languages: English (official), Amerindian dialects, Creole, Caribbean Hindustani (a dialect of Hindi), Urdu
Ethnicity/race: East Indian 43.5%, black (African) 30.2%, mixed 16.7%, Amerindian 9.1%, other 0.5% (2002 census)
Religions: Protestant 30.5% (Pentecostal 16.9%, Anglican 6.9%, Seventh-Day Adventist 5%, Methodist 1.7%), Hindu 28.4%, Roman Catholic 8.1%, Jehovah's Witnesses 1.1%, Muslim 7.2%, other Christian 17.7%, other 4.3%, none 4.3% (2002 census)
National Holiday: Republic Day, February 23
Literacy rate: 91.8% (2002 est.)
Economic summary: GDP/PPP (2013 est.): $6.593 billion; per capita $8,500. Real growth rate: 5.3%. Inflation: 3.9%. Unemployment: 11% (2007). Arable land: 1.95%. Labor force: 313,100 (2009 est.); agriculture n.a., industry n.a., services n.a. Agriculture: sugarcane, rice, wheat, vegetable oils; beef, pork, poultry, dairy products; fish, shrimp. Industries: bauxite, sugar, rice milling, timber, textiles, gold mining. Natural resources: bauxite, gold, diamonds, hardwood timber, shrimp, fish. Exports: $1.337 billion (2013 est.): sugar, gold, bauxite/alumina, rice, shrimp, molasses, rum, timber. Imports: $2.039 billion (2013 est.): manufactures, machinery, petroleum, food. Major trading partners: Canada, U.S., UK, Jamaica, Trinidad and Tobago, Cuba, China, Suriname (2012).
Member of Commonwealth of Nations
Communications: Telephones: main lines in use: 154,200 (2012); mobile cellular: 547,000 (2012). Broadcast media: government-dominated broadcast media; the National Communications Network (NCN) TV is state-owned; a few private TV stations relay satellite services; the state owns and operates 2 radio stations broadcasting on multiple frequencies capable of reaching the entire country; government limits on licensing of new private radio stations continue to constrain competition in broadcast media (2007). Internet hosts: 24,936 (2012). Internet users: 189,600 (2009).
Transportation: Highways: total: 7,970 km; paved: 590 km; unpaved: 7,380 km (2000 est.). Waterways: 330 km (the Berbice, Demerara, and Essequibo rivers are navigable by oceangoing vessels for 150 km, 100 km, and 80 km respectively) (2012) . Ports and terminals: Georgetown. Airports: 117 (2013).
International disputes: all of the area west of the Essequibo River is claimed by Venezuela preventing any discussion of a maritime boundary; Guyana has expressed its intention to join Barbados in asserting claims before UNCLOS that Trinidad and Tobago's maritime boundary with Venezuela extends into their waters; Suriname claims a triangle of land between the New and Kutari/Koetari rivers in a historic dispute over the headwaters of the Courantyne; Guyana seeks arbitration under provisions of the UN Convention on the Law of the Sea (UNCLOS) to resolve the long-standing dispute with Suriname over the axis of the territorial sea boundary in potentially oil-rich waters.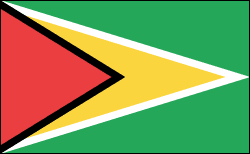 Geography
Guyana is the size of Idaho and is situated on the northern coast of South America, east of Venezuela, west of Suriname, and north of Brazil. A tropical forest covers more than 80% of the country.
Government
Republic.
History
The Warrou people were the indigenous inhabitants of Guyana. The Dutch, English, and French established colonies in what is now known as Guyana, but by the early 17th century the majority of the settlements were Dutch. During the Napoleonic wars Britain took over the Dutch colonies of Berbice, Demerara, and Essequibo, which became British Guiana in 1831.
Slavery was outlawed in 1834, and the great need for plantation workers led to a large wave of immigration, primarily of East Indians. Today, about half of the population is of East Indian descent and about 36% are of African descent.
In 1889, Venezuela voiced its claim to a large swath of Guyanese territory, but ten years later an international tribunal ruled the land belonged to British Guiana.
Guyana Gains Independence
British Guiana became a Crown colony in 1928, and in 1953 it was granted home rule. In 1950, Cheddi Jagan, who was Indian-Guyanese, and Forbes Burnham, who was Afro-Guyanese, created the colony's first political party, the Progressive People's Party (PPP), which was dedicated to gaining the colony's independence. In the 1953 elections, Cheddi Jagan was elected chief minister. The British, however, alarmed by Jagan's Marxist views, suspended the constitution and government within months and installed an interim government. In 1955, the PPP split, with Burnham breaking off to create the People's National Congress (PNC). The leftist Jagan of the PPP and the more moderate Burnham of the PNC were to dominate Guyanan politics for decades to come. In 1961, Britain granted the colony autonomy, and Jagan became prime minister (1961–1964). Strikes and rioting weakened Jagan's rule, much of it believed to be the result of covert CIA operations. In 1964, Burnham succeeded Jagan as prime minister, a position he retained after the country gained full independence on May 26, 1966. With independence, the country returned to its traditional name, Guyana.
In 1978, the country gained worldwide attention when American religious cult leader Jim Jones and 900 of his followers committed mass suicide in Jonestown, Guyana.
Burnham ruled Guyana until his death in 1985 (from 1980 to 1985, after a change in the constitution, he served as president). Guyana's first independent decades were marked by continued racial unrest between Indian-Guyanese and Afro-Guyanese as well as economic malaise.
Desmond Hoyte of the PNC became president in 1985, but in 1992 the PPP reemerged, winning a majority in the general election. Jagan became president, and the former Marxist succeeded in reviving the economy. After his death in 1997, his wife, Janet Jagan, was elected president. Former finance minister Bharrat Jagdeo assumed the presidency in 1999.
Racial Disputes, Border Disputes Hinder Progress
Guyana's potential economic development was hurt in 2000 as border disputes with both Venezuela to the west and Suriname to the east heated up. Suriname and Guyana have been unable to resolve the border dispute in an oil-rich coastal area. Venezuela's president Hugo Chavez has revived the 19th-century claim to more than half of Guyana's territory.
In March 2001, Bharrat Jagdeo won a second term in elections that underscored Guyana's bitter racial tensions. The reelection of Jagdeo, an ethnic East Indian, caused rioting among Afro-Guyanese, who claimed widespread election fraud.
In Jan.–Feb. 2005, the country experienced its worst natural disaster. More than a third of the country's population was affected by devastating flooding.
Ramotar Elected President, but His Party Fails to Win Majority
In Nov. 2011, Donald Ramotar, the General Secretary of the People's Progressive Party (PPP), was elected president. Ramotar was the PPP's unanimous choice as the party's presidential candidate. Ramotar was elected by a slim margin while his party fell one seat short of a parliamentary majority, which means two opposition parties would now hold a majority of seats in the National Assembly. The opposition parties said that the presidential election had been tampered with. However, Guyana's electoral authority reported that the election was fair.
See also Encyclopedia: Guyana.
U.S. State Dept. Country Notes: Guyana
Information Please® Database, © 2011 Pearson Education, Inc. All rights reserved.
More on Guyana from Fact Monster: