Honduras
Republic of Honduras

President: Juan Orlando Hernández (2014)

Land area: 43,201 sq mi (111,891 sq km); total area: 43,278 sq mi (112,090 sq km)

Population (2014 est.): 8,598,561 (growth rate: 1.74%); birth rate: 23.66/1000; infant mortality rate: 18.72/1000; life expectancy: 70.91

Capital and largest city (2011 est.): Tegucigalpa, 1.088 million

Monetary unit: Lempira

National name: República de Honduras

Languages: Spanish (official), Amerindian dialects; English widely spoken in business

Ethnicity/race: mestizo 90%, Amerindian 7%, black 2%, white 1%

Religions: Roman Catholic 97%, Protestant 3%

National Holiday: Independence Day, September 15

Literacy rate: 85.1% (2011 est.)

Economic summary: GDP/PPP (2013 est.): $39.23 billion; per capita $4,800. Real growth rate: 2.8%. Inflation: 5.2%. Unemployment: 4.5%. Arable land: 9.07%. Agriculture: bananas, coffee, citrus; beef; timber; shrimp. Labor force: 3.507 million (2013 est.); agriculture 39.2%, industry 20.9%, services 39.8%. Industries: sugar, coffee, textiles, clothing, wood products. Natural resources: timber, gold, silver, copper, lead, zinc, iron ore, antimony, coal, fish, hydropower. Exports: $7.881 billion (2013 est.): apparel, coffee, shrimp, automobile wire harnesses, cigars, bananas, gold, palm oil, fruit, lobster, lumber. Imports: $11.34 billion (2013 est.): machinery and transport equipment, industrial raw materials, chemical products, fuels, foodstuffs. Major trading partners: U.S., Germany, Belgium, Nicaragua, Mexico, El Salvador, Guatemala, China, Costa Rica (2012).

Communications: Telephones: main lines in use: 610,000 (2012); mobile cellular: 7.37 million (2012). Broadcast media: multiple privately-owned terrestrial TV networks, supplemented by multiple cable TV networks; Radio Honduras is the lone government-owned radio network; roughly 300 privately-owned radio stations (2007). Internet hosts: 30,955 (2012). Internet users: 731,700 (2009).

Transportation: Railways: total: 44 km (2012). Roadways: total: 14,742 km; paved: 3,367 km; unpaved: 11,375 km (2012 est.). Waterways: 465 km (most navigable only by small craft) (2012). Ports and harbors: La Ceiba, Puerto Cortes, San Lorenzo, Tela. Airports: 103 (2013).

International disputes: International Court of Justice (ICJ) ruled on the delimitation of "bolsones" (disputed areas) along the El Salvador-Honduras border in 1992 with final settlement by the parties in 2006 after an Organization of American States survey and a further ICJ ruling in 2003; the 1992 ICJ ruling advised a tripartite resolution to a maritime boundary in the Gulf of Fonseca with consideration of Honduran access to the Pacific; El Salvador continues to claim tiny Conejo Island, not mentioned in the ICJ ruling, off Honduras in the Gulf of Fonseca; Honduras claims the Belizean-administered Sapodilla Cays off the coast of Belize in its constitution, but agreed to a joint ecological park around the cays should Guatemala consent to a maritime corridor in the Caribbean under the OAS-sponsored 2002 Belize-Guatemala Differendum.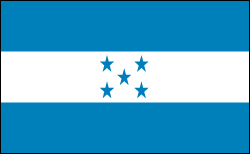 Geography
Honduras, in the north-central part of Central America, has a Caribbean as well as a Pacific coastline. Guatemala is to the west, El Salvador to the south, and Nicaragua to the east. The second-largest country in Central America, Honduras is slightly larger than Tennessee. Generally mountainous, the country is marked by fertile plateaus, river valleys, and narrow coastal plains.
Government
Democratic constitutional republic.
History
During the first millennium, Honduras was inhabited by the Maya. Columbus explored the country in 1502. Honduras, with four other Central American nations, declared its independence from Spain in 1821 to form a federation of Central American states. In 1838, Honduras left the federation and became independent. Political unrest rocked Honduras in the early 1900s, resulting in an occupation by U.S. Marines. Dictator Gen. Tiburcio Carias Andino established a strong government in 1932.
In 1969, El Salvador invaded Honduras after Honduran landowners deported several thousand Salvadorans. Five thousand people ultimately died in what is called "the football war" because it broke out during a soccer game between the two countries. By threatening economic sanctions and military intervention, the Organization of American States (OAS) induced El Salvador to withdraw.
Tensions Flare Between Honduras and Nicaragua
After a decade of military rule, parliamentary democracy returned with the election of Roberto Suazo Córdova as president in 1982. However, Honduras faced severe economic problems and tensions along its border with Nicaragua. "Contra" rebels, waging a guerrilla war against the Sandinista regime in Nicaragua, used Honduras as a training and staging area. The U.S. also used Honduras for military exercises, and it built bases to train Honduran and Salvadoran troops.
In 1997, Carlos Flores Facussé of the Liberal Party was elected president. He began to reform the economy and modernize the government. In recent years, Honduras has faced high unemployment, inflation, and economic overdependence on coffee and bananas. In Oct. 1998, Hurricane Mitch killed some 13,000 Hondurans, left 2 million homeless, and caused more than $5 billion in damage.
In 2002, Ricardo Maduro became president, promising to lessen crime and corruption, but his hard-line efforts, growing increasingly more repressive, did not improve these problems. In 2006, a new president, Manuel Zelaya, also vowed to fight corruption and gang violence, but he promised to do so with a more humane approach. A free-trade agreement (CAFTA) with the U.S went into effect in April 2006.
Military Coup Brings Instability
On June 28th, 2009, Honduran President Manuel Zelaya was deposed in a military coup. Zelaya had faced widespread criticism for attempting to extend presidential term limits by holding a constitutional referendum, which the Supreme Court had ruled was illegal. A group of countries, including the United States and Venezuela–an unlikely alliance, signed a resolution condemning the actions of the Honduran military and demanded that Zelaya be reinstated as president. The U.S. suspended military and development aid to Honduras after the coup. Roberto Micheletti, with the backing of the Honduran Congress, courts, and army, assumed leadership of the country. Zelaya, on the other hand, had the support of most of Latin America's leftist governments, including the leaders of Argentina, Ecuador, and Venezuela.
Zelaya attempted to return to his country by plane on July 5, but he found a closed runway and well-armed Honduran troops on the ground waiting for him. In Sept., Zelaya secretly returned to Honduras, taking refuge in the Brazilian embassy. Micheletti responded by temporarily cutting off power and water to the embassy, suspending constitutional freedoms, and shuttering a television channel and a radio station. The moves met widespread criticism from within Honduras and abroad, and Micheletti rescinded his restrictions.
The U.S. brokered an agreement between Zelaya and Micheletti in late October that left Zelaya's reinstatement up to a Congressional vote, called for the establishment of a government of national unity and a truth commission, and required Zelaya to abandon a referendum on constitutional reform. The accord, however, fell apart within days, as Micheletti reportedly attempted to form a government that did not include Zelaya.
In November presidential elections, Porfirio Lobo, the candidate of the conservative National Party, defeated Elvin Santos, who represented the Liberal Party, 56% to 38%. Zelaya refused to recognize the results of the election. In December, Congress rejected a plan to allow Zelaya to return to office. Lobo took office in January 2010, thus ending seven months of political turmoil.
On May 28, 2011, nearly two years after he was ousted in a court- and legislature-backed coup, Manuel Zelaya returned to his home country. As part of a prearranged deal, prosecutors dropped corruption and constitution violation charges against the former president and Honduras was readmitted to the Organization of American States (OAS).
Fire in Prison Kills Hundreds
On Feb. 14, 2012, over 300 people were killed when a fire broke out at a prison in Comayagua. According to officials, the cause was an inmate setting fire to his mattress. The fire spread quickly, burning out of control for forty minutes. Most of the victims died in their cells, waiting for rescue. Some inmates busted through the prison's roof and escaped. In an attempt to rescue loved ones, relatives clashed with police at the prison gate.
With overcrowded prisons, the country has experienced other tragic prison fires in recent years. In 2003, almost 70 inmates were killed in an El Porvenir prison fire. More than 100 prisoners were killed at a prison in San Pedro Sula in 2004. Those fires, along with the latest one in Comayagua, have been considered some of the worst fires to in recent Latin American history.
Honduras Becomes Focus in U.S. Drug War
With Mexico cracking down on narcotics barons, the United States turned its focus to Honduras, setting up three new bases in the country: one in the rain forest, another in the savanna, and the third on the coast. The locations for the bases were chosen based on cocaine smuggling routes from South America to the United States. The new, forward bases were patterned after the ones in Iraq and Afghanistan, giving troops secure, but small spaces. Due to strict rules of engagement, American soldiers are not allowed to participate in combat in Central America. In fact, U.S. troops are only allowed to fire in self-defense so the mission in Honduras was designed for a limited number of soldiers to partner with local police forces and foreign military.
In mid-May 2012, protestors in Ahuas rioted in the streets and set fire to government buildings. They demanded that all the U.S. drug enforcement agents leave. The protest was over a dispute involving an anti-drug operation on May 11 which killed four innocent people while they were fishing. Two of the people killed were pregnant women. The protesting began after the mayor of Ahuas, Lucio Baquedano, and others accused the U.S. Drug Enforcement Administration and the local police of killing the four people. Security officials for both the U.S. and Honduras disputed the accusation, saying that the operation had seized 1,000 pounds of cocaine and resulted in the death of two drug traffickers. U.S. officials added that only Honduran police had fired weapons. Despite these disputes, human rights organizations and Honduran officials called for a further investigation into the May 11 operation.
Juan Orlando Hernández Wins 2013 Presidential Election
Presidential elections were held on Nov. 24, 2013. Juan Orlando Hernández won, beating second place candidate Xiomara Castro by 250,000 votes. A member of the National Party, Hernández was President of the National Congress of Honduras from Jan. 2010 until June 2013 when he left to focus on his presidential campaign.
Hernández, a lawyer and businessman, studied legislation in Spain and public administration at the State University of New York. He gained attention in Honduras when he was described as a "cipote malcriado" (badly brought up kid) by Liberal Party leader Rafael Pineda Ponce. Hernández took office on Jan. 27, 2014.
See also Encyclopedia: Honduras
U.S. State Dept. Country Notes: Honduras
Instituto Nacional de Estadistica http://www.ine-hn.org/ .
Information Please® Database, © 2014 Pearson Education, Inc. All rights reserved.
More on Honduras from Fact Monster: