Liberia
Republic of Liberia
President: Ellen Johnson-Sirleaf (2006)
Land area: 37,189 sq mi (96,320 sq km); total area: 43,000 sq mi (111,370 sq km)
Population (2014 est.): 4,092,310 (growth rate: 2.52%); birth rate: 35.07/1000; infant mortality rate: 69.19/1000; life expectancy: 58.21
Capital and largest city (2011 est.): Monrovia, 750,000
Monetary unit: Liberian dollar
Languages: English 20% (official), some 20 ethnic group languages few of which can be written or used in correspondence
Ethnicity/race: Kpelle 20.3%, Bassa 13.4%, Grebo 10%, Gio 8%, Mano 7.9%, Kru 6%, Lorma 5.1%, Kissi 4.8%, Gola 4.4%, other 20.1% (2008 Census)
Religions: Christian 85.6%, Muslim 12.2%, Traditional 0.6%, other 0.2%, none 1.4% (2008 Census)
National Holiday: Independence Day, July 26
Literacy rate: 60.8% (2010 est.)
Economic summary: GDP/PPP (2013 est.): $2.898 billion; per capita $700. Real growth rate: 8.1%. Inflation: 5.2%. Unemployment: 85% (2003 est.). Arable land: 4.04%. Agriculture: rubber, coffee, cocoa, rice, cassava (tapioca), palm oil, sugarcane, bananas; sheep, goats; timber. Labor force: 1.372 million (2007): agriculture 70%, industry 8%, services 22% (2000 est.). Industries: rubber processing, palm oil processing, timber, diamonds. Natural resources: iron ore, timber, diamonds, gold, hydropower. Exports: $929.8 million (2013 est.): rubber, timber, iron, diamonds, cocoa, coffee. Imports: $2.457 billion (2013 est.): fuels, chemicals, machinery, transportation equipment, manufactured goods; foodstuffs. Major trading partners: South Korea, Japan, China, Spain, Algeria, Thailand, Malaysia, France, Singapore (2012).
Communications: Telephones: main lines in use: 3,200 (2011); mobile cellular: 2.394 million (2012). Broadcast media: 3 private TV stations; satellite TV service available; 1 state-owned radio station; about 15 independent radio stations broadcasting in Monrovia, with another 25 local stations operating in other areas; transmissions of 2 international broadcasters are available (2007). Internet Service Providers (ISPs): 7 (2012). Internet users: 20,000 (2009).
Transportation: Railways: total: 429 km; note: most sections of the railways were inoperable because of damage suffered during the civil wars from 1980 to 2003, but many are being rebuilt (2008). Highways: total: 10,600 km; paved: 657 km; unpaved: 9,943 km (2000 est.). Ports and harbors: Buchanan, Monrovia. Airports: 28 (2013).
International disputes: although civil unrest continues to abate with the assistance of 6,500 UN Mission in Liberia peacekeepers, as of January 2013, Liberian refugees still remain in Guinea, Cote d'Ivoire, Sierra Leone, and Ghana; Liberia, in turn, shelters refugees fleeing turmoil in Cote d'Ivoire; despite the presence of over 9,000 UN forces in Cote d'Ivoire since 2004, ethnic conflict continues to spread into neighboring states who can no longer send their migrant workers to Ivorian cocoa plantations; UN sanctions ban Liberia from exporting diamonds and timber.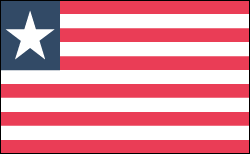 Geography
Lying on the Atlantic in the southern part of West Africa, Liberia is bordered by Sierra Leone, Guinea, and Côte d'Ivoire. It is comparable in size to Tennessee. Most of the country is a plateau covered by dense tropical forests, which thrive under an annual rainfall of about 160 in. a year.
Government
Republic.
History
Africa's first republic, Liberia was founded in 1822 as a result of the efforts of the American Colonization Society to settle freed American slaves in West Africa. The society contended that the emigration of blacks to Africa was an answer to the problem of slavery and the incompatibility of the races. Over the course of forty years, about 12,000 slaves were voluntarily relocated. Originally called Monrovia, the colony became the Free and Independent Republic of Liberia in 1847.
The English-speaking Americo-Liberians, descendants of former American slaves, make up only 5% of the population, but have historically dominated the intellectual and ruling class. Liberia's indigenous population is composed of 16 different ethnic groups.
The government of Africa's first republic was modeled after that of the United States, and Joseph Jenkins Roberts of Virginia was elected the first president. Ironically, Liberia's constitution denied indigenous Liberians equal to the lighter-skinned American immigrants and their descendants.
After 1920, considerable progress was made toward opening up the interior of the country, a process that facilitated by the 1951 establishment of a 43-mile (69-km) railroad to the Bomi Hills from Monrovia. In July 1971, while serving his sixth term as president, William V. S. Tubman died following surgery and was succeeded by his longtime associate, Vice President William R. Tolbert, Jr.
A Military Coup Leads to the Disastrous Rule of Charles Taylor
Tolbert was ousted in a military coup on April 12, 1980, by Master Sgt. Samuel K. Doe, backed by the U.S. government. Doe's rule was characterized by corruption and brutality. A rebellion led by Charles Taylor, a former Doe aide, and the National Patriotic Front of Liberia (NPFL), started in Dec. 1989; the following year, Doe was assassinated. The Economic Community of West African States (ECOWAS) negotiated with the government and the rebel factions and attempted to restore order, but the civil war raged on. By April 1996, factional fighting by the country's warlords had destroyed any last vestige of normalcy and civil society. The civil war finally ended in 1997.
In what was considered by international observers to be a free election, Charles Taylor won 75% of the presidential vote in July 1997. The country had next to no health care system, and the capital was without electricity and running water. Taylor supported Sierra Leone's brutal Revolutionary United Front (RUF) in the hopes of toppling his neighbor's government and in exchange for diamonds, which enriched his personal coffers. As a consequence, the UN issued sanctions against Liberia.
In 2002, rebels—Liberians United for Reconciliation and Democracy (LURD)—intensified their attacks on Taylor's government. By June 2003, LURD and other rebel groups controlled two-thirds of the country. Finally, on Aug. 11, Taylor stepped down and went into exile in Nigeria. By the time he was exiled, Taylor had bankrupted his own country, siphoning off $100 million and leaving Liberia the world's poorest nation. Gyude Bryant, a businessman seen as a coalition builder, was selected by the various factions as the new president.
Liberia Elects Africa's First Female President
In a Nov. 2005 presidential runoff election, Ellen Johnson-Sirleaf, a Harvard-educated economist who had worked at the World Bank, defeated George Weah, a former world-class soccer star. In Jan. 2006 she became Africa's first female president.
Taylor Convicted of War Crimes
In 2006, former president Taylor, in exile in Nigeria, was turned over to an international court in The Hague to face trial on charges of crimes against humanity for supporting rebel troops in Sierra Leone's brutal civil war that claimed the lives of about 300,000 people in the 1990s. The rebels were seeking control of Sierra Leone's rich diamond fields to finance their acquisition of arms. His trial opened in June 2007. In April 2012, after deliberating for more than a year, the court, made up of three judges from Ireland, Samoa, and Uganda, convicted Taylor of aiding and abetting war crimes and crimes against humanity, including murder, rape, sexual slavery, and the conscription of child soldiers. His conviction is the first by an international court since the Nuremberg trials. He was sentenced to 50 years in prison.
Gyude Bryant, who was president of Liberia from 2003 to 2005 during the transition period after the 14-year civil war, was cleared of embezzlement charges in May 2009. He was accused of stealing about $1 million while in office.
Johnson-Sirleaf, along with Leymah Gbowee, also of Liberia, and Tawakkul Karman, of Yemen, won the 2011 Nobel Peace Prize in October "for their non-violent struggle for the safety of women and for women's rights to full participation in peace-building work." She won the prize during her bid for reelection. In the first round of voting, she took 44% of the vote. Her opponent in the second round, Winston Tubman, a former UN official, withdrew from the race, claiming the first round was rigged. Election authorities did not find evidence of fraud. Johnson-Sirleaf sailed to victory in the second round, winning 90% of the vote. Turnout was quite low—33%.
Ebola Outbreak Kills Hundreds
An outbreak of Ebola hit Liberia in May 2014. The outbreak was particularly bad in parts of Monrovia, and the government quarantined the crowded, poor West Point neighborhood, which was hard hit. Residents protested the quarantine and clashed with police. In late August, the World Health Organization declared the outbreak an international emergency. It is the worst outbreak since the virus was first identified almost 40 years ago. By early December the disease is estimated to have killed about 3,160 people in Liberia, and there were nearly 7,690 suspected and confirmed cases of it in the country, according to the Centers for Disease Control.
See also Encyclopedia: Liberia.
U.S. State Dept. Country Notes: Liberia
Information Please® Database, © 2008 Pearson Education, Inc. All rights reserved.
More on Liberia from Fact Monster: