Madagascar
Republic of Madagascar

President: Hery Rajaonarimampianina (2014)

Prime Minister: Jean Ravelonarivo (2015)

Land area: 224,533 sq mi (581,540 sq km); total area: 226,656 sq mi (587,040 sq km)

Population (2014 est.): 23,201,926 (growth rate: 2.62%); birth rate: 33.12/1000; infant mortality rate: 44.88/1000; life expectancy: 65.2

Capital and largest city (2011 est.): Antananarivo, 1.987 million

Monetary unit: Malagasy franc

National name: Repoblikan'i Madagasikara

Languages: Malagasy and French (both official), English

Ethnicity/race: Malayo-Indonesian (Merina and related Betsileo), Côtiers (mixed African, Malayo-Indonesian, and Arab ancestry: Betsimisaraka, Tsimihety, Antaisaka, Sakalava), French, Indian, Creole, Comoran

Religions: indigenous beliefs 52%, Christian 41%, Islam 7%

National Holiday: Independence Day, June 26

Literacy rate: 64.5% (2009 est.)

Economic summary: GDP/PPP (2013 est.): $22.03 billion; per capita $1,000. Real growth rate: 2.6%. Inflation: 8.8%. Unemployment: N.A. Arable land: 5.96%. Agriculture: coffee, vanilla, sugarcane, cloves, cocoa, rice, cassava (tapioca), beans, bananas, peanuts; livestock products. Labor force: 9.504 million (2007). Industries: meat processing, soap, breweries, tanneries, sugar, textiles, glassware, cement, automobile assembly plant, paper, petroleum, tourism. Natural resources: graphite, chromite, coal, bauxite, salt, quartz, tar sands, semiprecious stones, mica, fish, hydropower. Exports: $644.4 million (2013 est.): coffee, vanilla, shellfish, sugar, cotton cloth, chromite, petroleum products. Imports: $2.794 billion (2012 est.): capital goods, petroleum, consumer goods, food. Major trading partners: U.S., France, Germany, China, Kuwait, India, Bahrain, Mauritius, Singapore, Indonesia, South Africa, Canada (2012).

Communications: Telephones: main lines in use: 143,700 (2012); mobile cellular: 8.564 (2012). Broadcast media: state-owned Radio Nationale Malagasy (RNM) and Television Malagasy (TVM) have an extensive national network reach; privately-owned radio and TV broadcasters in cities and major towns; state-run radio dominates in rural areas; relays of 2 international broadcasters are available in Antananarivo (2007). Internet Service Providers (ISPs): 38,392 (2012). Internet users: 319,900 (2009).

Transportation: Railways: total: 854 km (2008). Roadways: total: 34,476 km; paved: 5,613 km; unpaved: 2,886 km (2010 est.). Waterways: 600 km (432 km navigable) (2011). Ports and terminals: Antsiranana (Diego Suarez), Mahajanga, Toamasina, Toliara (Tulear). Airports: 83 (2013).

International disputes: claims Bassas da India, Europa Island, Glorioso Islands, and Juan de Nova Island (all administered by France); the vegetated drying cays of Banc du Geyser, which were claimed by Madagascar in 1976, also fall within the EEZ claims of the Comoros and France (Glorioso Islands, part of the French Southern and Antarctic Lands).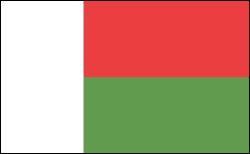 Geography
Madagascar lies in the Indian Ocean off the southeast coast of Africa opposite Mozambique. The world's fourth-largest island, it is twice the size of Arizona. The country's low-lying coastal area gives way to a central plateau. The once densely wooded interior has largely been cut down.
Government
Multiparty republic.
History
The Malagasy are of mixed Malayo-Indonesian and African-Arab ancestry. Indonesians are believed to have migrated to the island about 700. King Andrianampoinimerina (1787–1810) ruled the major kingdom on the island, and his son, Radama I (1810–1828), unified much of the island. The French made the island a protectorate in 1885, and then, in 1894–1895, ended the monarchy, exiling Queen Rànavàlona III to Algiers. A colonial administration was set up, to which the Comoro Islands were attached in 1908, and other territories later. In World War II, the British occupied Madagascar, which retained ties to Vichy France.
Independence Leads to Ratsiraka's Repressive Regime
An autonomous republic within the French Community since 1958, Madagascar became an independent member of the community in 1960. In May 1973, an army coup led by Maj. Gen. Gabriel Ramanantsoa ousted Philibert Tsiranana, president since 1959. Cdr. Didier Ratsiraka, named president on June 15, 1975, announced that he would follow a socialist course and, after nationalizing banks and insurance companies, declared all mineral resources nationalized. Repression and censorship characterized his regime. Ratsiraka was reelected in 1989 in a suspicious election that led to riots as well as the formation of a multiparty system in 1990. In 1991, Ratsiraka agreed to share power with the democratically minded opposition leader, Albert Zafy, who then overwhelmingly won the presidential elections in Feb. 1993. But Zafy was impeached by Parliament for abusing his constitutional powers during an economic crisis and lost the 1996 presidential election to Ratsiraka, who again became president in Feb. 1997.
Ratsiraka's Defeat
The Dec. 2001 presidential election between incumbent president Didier Ratsiraka and Marc Ravalomanana, the mayor of Antananarivo, proved inconclusive and a runoff vote was scheduled. But Ravalomanana claimed the election was rigged, and in Feb. 2002 he declared himself president. In response, Ratsiraka proclaimed martial law and set up a rival capital in Toamasina. Madagascar in effect found itself with two presidents and two capitals. After a recount in April, the high constitutional court declared Ravalomanana the winner with 51.5% of the vote. Ratsiraka, after first refusing to accept the outcome, fled to France in July, and Madagascar's six-month civil war ended. In Dec. 2006, Ravalomanana won reelection with 54.8% of the vote. In January 2007, he appointed Charles Rabemananjara as prime minister.
President Brought Down by a Power Struggle and Coup
After a bitter power struggle with opposition leader Andry Rajoelina, the former mayor of the capital, Antananariv, Ravalomanana resigned as president in March 2009. He handed power over to the military, which in turn transferred control to Rajoelina, who then suspended Parliament. The turmoil began when Rajoelina was elected mayor of the capital in December 2007, defeating the president's candidate. Tension peaked between the two in Dec. 2008 when Ravalomanana, becoming increasingly autocratic, shuttered a television channel and radio station owned by Rajoelina. Rajoelina then staged weekly protests that grew increasingly violent. In Feb. 2009, Ravalomanana fired Rajoelina as mayor, and the opposition protests intensified, prompting Ravalomanana to submit power to the military in March. Military leaders handed over the presidency to Rajoelina in March 2009. He was 35 years-old at the time, making him the youngest president in the country's history. In August 2009, the two sides agreed to a power-sharing deal. However, the agreement was never implemented as supporters of Ravalomanana and Rajoelina bickered over the details and Rajoelina withdrew his support of the deal in December.
In November, 2010, Military officers, who just overthrew the government in 2009, claimed to have done so again by deposing of President Andry Rajoelina. Rajoelina responded by declaring on television that he is still in charge. He told reporters he was "not bothered by declarations from a handful of people."
In March, 2011, Rajoelina reappointed Camille Vital as prime minister of a transitional government, aiming to end a two-year political and economic crisis. The reappointment came after Vital and his government resigned because 8 of 11 political parties signed an agreement to form a new administration that will take the country to elections in either late 2011 or early 2012. Vital has been asked to form a new cabinet for the transitional government. The country has been in economic and political turmoil since Rajoeling replaced Ravalomanana, which led to Madagascar's suspension from the African Union and the South African Development Community. Aid from various donors has also been suspended.
Prime Minister Vital Resigns
In Oct. 2011, Prime Minister Albert Camille Vital and his government resigned. Omer Beriziky was named the new prime minister. Beriziky took office on Nov. 2, 2011. On Nov. 21, he named his government: Hery Rajaonarimampianina as finance minister, Florent Rakotoarisoa as interior minister, Pierrot Rajaonarivelo as foreign minister. General Lucien Rakotoarimasy remained on as armed forces minister.
Rajaonarimampianina Wins 2013 Presidential Election
In Dec. 2013, Madagascar held its presidential and parliamentary elections. The presidential elections were a run-off between the top two candidates of an earlier round, Jean Louis Robinson and Hery Rajaonarimampianina. Rajaonarimampianina won the runoff, receiving 54% of the vote.
Rajaonarimampianina took office on Jan. 25, 2014. He previously served as Minister of Finance. He has been the CEO of Air Madagascar since 2011. In April 2014, President Rajaonarimampianina named Roger Kolo prime minister. However, less than a year later, Kolo and his cabinet resigned over criticism of its poor handling of frequent power outages. In Jan. 2015, Rajaonarimampianina appointed air commodore Jean Ravelonarivo prime minister.
See also Encyclopedia: Madagascar
U.S. State Dept. Country Notes: Madagascar
National Institute of Statistics (In French Only) http://www.cite.mg/instat/index.htm .
Information Please® Database, © 2015 Pearson Education, Inc. All rights reserved.
More on Madagascar from Fact Monster: