Mozambique
Republic of Mozambique

President: Filipe Nyusi (2015)

Prime Minister: Carlos Agostinho do Rosário (2015)

Land area: 302,737 sq mi (784,089 sq km); total area: 309,494 sq mi (801,590 sq km)

Population (2014 est.): 24,692,144 (growth rate: 2.45%); birth rate: 38.83/1000; infant mortality rate: 72.42/1000; life expectancy: 52.6. note: estimates for this country explicitly take into account the effects of excess mortality due to AIDS; this can result in lower life expectancy, higher infant mortality, higher death rates, lower population growth rates, and changes in the distribution of population by age and sex than would otherwise be expected (July 2014 est.)

Capital and largest city (2011 est.): Maputo, 1.15 million

Monetary unit: Metical

National name: República de Moçambique

Languages: Emakhuwa 25.3%, Portuguese (official) 10.7%, Xichangana 10.3%, Cisena 7.5%, Elomwe 7%, Echuwabo 5.1%, other Mozambican languages 30.1%, other 4% (1997 census)

Ethnicity/race: African 99.66% (Makhuwa, Tsonga, Lomwe, Sena, and others), Europeans 0.06%, Euro-Africans 0.2%, Indians 0.08%

Religions: Catholic 28.4%, Protestant 27.7% (Zionist Christian 15.5%, Evangelical Pentecostal 10.9%, Anglican 1.3%), Muslim 17.9%, other 7.2%, none 18.7% (1997 census)

National Holiday: Independence Day, June 25

Literacy rate: 56.1% (2010 est.)

Economic summary: GDP/PPP (2013 est.): $28.15 billion; per capita $1,200. Real growth rate: 7%. Inflation: 4.4%. Unemployment: 17% (1997 est.). Arable land: 6.51%. Agriculture: cotton, cashew nuts, sugarcane, tea, cassava (tapioca), corn, coconuts, sisal, citrus and tropical fruits, potatoes, sunflowers; beef, poultry. Labor force: 10.55 million (2013 est.); agriculture 81%, industry 6%, services 13% (1997 est.). Industries: aluminum, petroleum products, chemicals (fertilizer, soap, paints), textiles, cement, glass, asbestos, tobacco, food, beverages. Natural resources: coal, titanium, natural gas, hydropower, tantalum, graphite. Exports: $3.92 billion (2013 est.): aluminum, prawns, cashews, cotton, sugar, citrus, timber; bulk electricity. Imports: $7.068 billion (2013 est.): machinery and equipment, vehicles, fuel, chemicals, metal products, foodstuffs, textiles. Major trading partners: Belgium, South Africa, Italy, Spain, China, India, U.S., Australia, Portugal (2012).

Communications: Telephones: main lines in use: 88,100 (2012); mobile cellular: 8.108 million (2012). Broadcast media: 1 state-run TV station supplemented by private TV station; Portuguese state TV's African service, RTP Africa, and Brazilian-owned TV Miramar are available; state-run radio provides nearly 100% territorial coverage and broadcasts in multiple languages; a number of privately-owned and community-operated stations; transmissions of multiple international broadcasters are available (2007). Internet hosts: 89,737 (2012). Internet users: 613,600 (2009).

Transportation: Railways: total: 4,787 km (2008). Highways: total: 30,331 km; paved: 6,303 km; unpaved: 24,028 km (2008 est.). Waterways: 460 km (Zambezi River navigable to Tete and along Cahora Bassa Lake) (2010). Ports and terminals: Beira, Maputo, Nacala. Airports: 98 (2013).

International disputes: South Africa has placed military units to assist police operations along the border of Lesotho, Zimbabwe, and Mozambique to control smuggling, poaching, and illegal migration.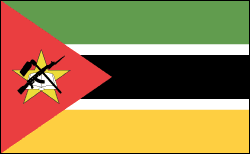 Geography
Mozambique stretches for 1,535 mi (2,470 km) along Africa's southeast coast. It is nearly twice the size of California. Tanzania is to the north; Malawi, Zambia, and Zimbabwe to the west; and South Africa and Swaziland to the south. The country is generally a low-lying plateau broken up by 25 sizable rivers that flow into the Indian Ocean. The largest is the Zambezi, which provides access to central Africa.
Government
Multiparty republic.
History
Bantu speakers migrated to Mozambique in the first millennium, and Arab and Swahili traders settled the region thereafter. It was explored by Vasco da Gama in 1498 and first colonized by Portugal in 1505. By 1510, the Portuguese had control of all of the former Arab sultanates on the east African coast. Portuguese colonial rule was repressive.
Guerrilla Activity Leads to Independence
Guerrilla activity began in 1963, and became so effective by 1973 that Portugal was forced to dispatch 40,000 troops to fight the rebels. A cease-fire was signed in Sept. 1974, and after having been under Portuguese colonial rule for 470 years, Mozambique became independent on June 25, 1975. The first president, Samora Moises Machel, had been the head of the National Front for the Liberation of Mozambique (FRELIMO) in its ten-year guerrilla war for independence. He died in a plane crash in 1986, and was succeeded by his foreign minister, Joaquim Chissanó.
Civil War
On Jan. 25, 1985, after a decade of independence, the government became locked in a paralyzing war with antigovernment guerrillas, the Mozambique National Resistance (MNR, or Renamo), who were backed by the white minority government in South Africa. The guerrilla movement weakened President Chissanó's attempts to institute socialism, which he then decided to abandon in 1989. A new constitution was drafted calling for three branches of government and the granting civil liberties. A cease-fire agreement signed in Oct. 1992 between the government and the MNR ended 6 years of civil war.
Democracy and Economic Growth
In multiparty elections in 1994, President Chissanó won. In Nov. 1995, the country was the first nonformer British colony to become a member of the British Commonwealth. The president's disciplined economic plan was highly successful, winning the country foreign confidence and aid. While Mozambique posted some of the world's largest economic growth rates in the late 1990s, it has suffered enormous setbacks because of natural disasters, such as the enormous damage caused by severe flooding in the winters of 2000 and 2001. Hundreds died and thousands were displaced.
In 2002, Chissanó announced he would not seek a third term. FRELIMO's candidate, independence hero Armando Guebuza, was elected president and sworn in on Feb. 2, 2005.
In Oct. 2012, President Armando Guebuza relieved Prime Minister Aires Ali of his duties amid a cabinet reshuffle and named Alberto Vaquina as new prime minister. Economic growth continues in Mozambique. New coal and gas resources promise to support an estimated 7% growth in 2013.
Peace Pact Collapses Between Opposition and Government
On October 21, 2013, the Renamo opposition movement announced it was abandoning the 1992 peace treaty with the governing FRELIMO party. The opposition and government troops had been battling for about a year. Renamo made the announcement after government troops attacked a Renamo base where Afonso Dhlakama, Renamo's leader, was staying. Dhlakama was forced to flee. Fernando Mazanga, a Renamo spokesperson, said "Peace is over in the country. The responsibility lies with the Frelimo government because they didn't want to listen to Renamo's grievances."
The day after Renamo announced that the treaty was no longer, they attacked a police station in Maringue. There were no casualties or injuries reported. The government did not respond to the police station attack or Renamo's announcement. The 1992 Rome General Peace Accords ended Mozambique's 1975-92 civil war. Renamo's announcement to abandon the treaty raised concerns that the conflict between the two parties would be renewed.After protracted negotiations, Renamo and the government signed a ceasefire in August 2014.
FRELIMO Keeps Majority in 2014 General Election
Mozambique held its general elections on Oct. 15, 2014. The ruling party, FRELIMO, kept its majority in parliament. FRELIMO took 144 out of 250 seats while the opposition party, Renamo, took 89 seats. FRELIMO's candidate, Filipe Nyusi, was elected president, receiving 57.03% of the vote. Afonso Dhlakama, Renamo's candidate, received 36.61% of the vote.
After the election, Dhlakama accused the results of being fraudulent. He threatened to set up a rival Renamo government, but later backed down. However, Renamo did protest the election results by boycotting the swearing in of provincial parliaments.
See also Encyclopedia: Mozambique.
U.S. State Dept. Country Notes: Mozambique
Information Please® Database, © 2015 Pearson Education, Inc. All rights reserved.
More on Mozambique from Fact Monster: