Myanmar
Union of Myanmar

President: Lt. Gen. Thein Sein (2011)

Vice President: Vice President Sai Mouk Kham (2011)

Land area: 253,954 sq mi (657,741 sq km); total area: 261,969 q mi (678,500 sq km)

Population (2014 est.): 55,746,253 (growth rate: 1.03%); birth rate: 19.11/1000; infant mortality rate: 47.74/1000; life expectancy: 65.24; density per sq km: 72

Capital and largest city (2011 est.): Rangoon, 4.457 million

Other large cities: Mandalay, 1.063 million; Nay Pyi Taw 1.06 million

Monetary unit: Kyat

National name: Pyidaungsu Myanmar Naingngandau

Languages: Burmese, minority languages

Ethnicity/race: Burman 68%, Shan 9%, Karen 7%, Rakhine 4%, Chinese 3%, Mon 2%, Indian 2%, other 5%

Religions: Buddhist 89%, Christian 4% (Baptist 3%, Roman Catholic 1%), Islam 4%, Animist 1%, other 2%

Literacy rate: 92.7% (2011 est.)

Economic summary: GDP/PPP (2013 est.): $111.1 billion; per capita $1,700. Real growth rate: 6.8%. Inflation: 5.7%. Unemployment: 5.2%. Arable land: 15.94%. Agriculture: rice, pulses, beans, sesame, groundnuts, sugarcane; hardwood; fish and fish products. Labor force: 34.31 million; agriculture 70%, industry 7%, services 23% (2001). Industries: agricultural processing; knit and woven apparel; wood and wood products; copper, tin, tungsten, iron; construction materials; pharmaceuticals; fertilizer; cement; natural gas. Natural resources: petroleum, timber, tin, antimony, zinc, copper, tungsten, lead, coal, some marble, limestone, precious stones, natural gas, hydropower. Exports: $9.043 billion (2013); note: official export figures are grossly underestimated due to the value of timber, gems, narcotics, rice, and other products smuggled to Thailand, China, and Bangladesh: clothing, gas, wood products, pulses, beans, fish, rice. Imports: $10.11 billion (2013 est.); note: import figures are grossly underestimated due to the value of consumer goods, diesel fuel, and other products smuggled in from Thailand, China, Malaysia, and India: fabric, petroleum products, plastics, machinery, transport equipment, construction materials, crude oil; food products. Major trading partners: Thailand, India, China, Japan, Singapore, South Korea, Malaysia (2012).

Communications: Telephones: main lines in use: 556,000 (2012); mobile cellular: 5.44 million (2012). Broadcast media: government controls all domestic broadcast media; 2 state-controlled TV stations with 1 of the stations controlled by the armed forces; 2 pay-TV stations are joint state-private ventures; access to satellite TV is limited; 1 state-controlled domestic radio station and 9 FM stations that are joint state-private ventures; transmissions of several international broadcasters are available in parts of Burma; the Voice of America (VOA), Radio Free Asia (RFA), BBC Burmese service, the Democratic Voice of Burma (DVB), and Radio Australia use shortwave to broadcast in Burma; VOA, RFA, and DVB produce daily TV news programs that are transmitted by satellite to audiences in Burma. Internet hosts: 1,055; note: as of Sept. 2000, Internet connections were legal only for the government, tourist offices, and a few large businesses (2012). Internet users: 110,000 (2009).

Transportation: Railways: total: 5,031 km (2008). Highways: total: 34,377 km; (2010 est.). Waterways: 12,800 km; 3,200 km navigable by large commercial vessels. Ports and harbors: Moulmein, Sittwe, Rangoon. Airports: 64 (2013).

International disputes: over half of Burma's population consists of diverse ethnic groups who have substantial numbers of kin in neighboring countries; the Naf River on the border with Bangladesh serves as a smuggling and illegal transit route; Bangladesh struggles to accommodate 29,000 Rohingya, Burmese Muslim minority from Arakan State, living as refugees in Cox's Bazar; Burmese border authorities are constructing a 200 km (124 mi) wire fence designed to deter illegal cross-border transit and tensions from the military build-up along border with Bangladesh in 2010; Bangladesh referred its maritime boundary claims with Burma and India to the International Tribunal on the Law of the Sea; Burmese forces attempting to dig in to the largely autonomous Shan State to rout local militias tied to the drug trade, prompts local residents to periodically flee into neighboring Yunnan Province in China; fencing along the India-Burma international border at Manipur's Moreh town is in progress to check illegal drug trafficking and movement of militants; over 90,000 mostly Karen refugees and asylum seekers fleeing civil strife, political upheaval, and economic stagnation in Burma were living in remote camps in Thailand near the border as of year-end 2013.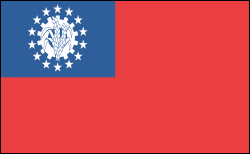 Geography
Slightly smaller than Texas, Myanmar occupies the Thailand/Cambodia portion of the Indochinese peninsula. India lies to the northwest and China to the northeast. Bangladesh, Laos, and Thailand are also neighbors. The Bay of Bengal touches the southwest coast. The fertile delta of the Irrawaddy River in the south contains a network of interconnecting canals and nine principal river mouths.
Government
Military regime.
History
The ethnic origins of modern Myanmar (known historically as Burma) are a mixture of Indo-Aryans, who began pushing into the area around 700 B.C., and the Mongolian invaders under Kublai Khan who penetrated the region in the 13th century. Anawrahta (1044–1077) was the first great unifier of Myanmar.
In 1612, the British East India Company sent agents to Burma, but the Burmese doggedly resisted efforts of British, Dutch, and Portuguese traders to establish posts along the Bay of Bengal. Through the Anglo-Burmese War in 1824–1826 and two subsequent wars, the British East India Company expanded to the whole of Burma. By 1886, Burma was annexed to India, then became a separate colony in 1937.
WWII Leads to Independence
During World War II, Burma was a key battleground; the 800-mile Burma Road was the Allies' vital supply line to China. The Japanese invaded the country in Dec. 1941, and by May 1942, had occupied most of it, cutting off the Burma Road. After one of the most difficult campaigns of the war, Allied forces liberated most of Burma prior to the Japanese surrender in Aug. 1945.
Burma became independent on Jan. 4, 1948. In 1962, left-wing general Ne Win staged a coup, banned political opposition, suspended the constitution, and introduced the "Burmese way of socialism." After 25 years of economic hardship and repression, the Burmese people held massive demonstrations in 1987 and 1988. These were brutally quashed by the State Law and Order Council (SLORC). In 1989, the military government officially changed the name of the country to Myanmar. (The U.S. State Department does not recognize the name Myanmar or the military regime that represents it.)
The Military Maintains a Tight Grip on Myanmar
In May 1990 elections, the opposition National League for Democracy (NLD) won in a landslide. But the military, or SLORC, refused to recognize the election results. The leader of the opposition, Aung San Suu Kyi, was awarded the Nobel Peace Prize in 1991, which focused world attention on SLORC's repressive policies. Daughter of the assassinated general Aung San, who was revered as the father of Burmese independence, Suu Kyi remained under house arrest from 1989 until 1995. Suu Kyi continued to protest against the government, but almost every move she made was answered with a counterblow from SLORC.
Although the ruling junta has maintained a tight grip on Myanmar since 1988, it has not been able to subdue an insurgency in the country's south that has gone on for decades. The ethnic Karen movement has sought an independent homeland along Myanmar's southern border with Thailand. In Jan. 2004, the military government and the insurgents from the Karen National Union agreed to end the fighting, but they stopped short of signing a cease-fire.
The economy has been in a state of collapse except for the junta-controlled heroin trade, the universities have remained closed, and the AIDS epidemic, unrecognized by the junta, has gripped the country.
The Junta Crack Down on Democracy
From 2000 to 2002, Suu Kyi was again placed under house arrest. In spring 2003, the government cracked down once again on the democracy movement, detaining Suu Kyi and shuttering NLD headquarters. The regime opened a constitutional convention in May 2004, but many observers doubted its legitimacy.
In Oct. 2004, the government arrested Prime Minister Gen. Khin Nyunt and charged him with corruption. He had angered the leadership of the junta with his recent experiments on reform, first by freeing Suu Kyi from house arrest and later for proposing a seven-step "road map to democracy."
A series of coordinated bomb attacks in May 2005 killed about a dozen people and wounded more than 100 in Rangoon. The military junta blamed the Karen National Union and the Shan State Army. The ethnic rebel groups, however, denied any involvement.
Moving Toward a Modern Nation
On Nov. 13, 2005, the military junta—in a massive and secretive move—relocated the seat of government from the capital Rangoon to a mountain compound called Pyinmanaa in Naypyidaw. The move perplexed many, and the junta was vague in its explanation, saying, "Due to changed circumstances, where Myanmar is trying to develop a modern nation, a more centrally located government seat has become a necessity."
More than 1,000 delegates gathered in December to begin drafting a constitution, which the junta said was a step toward democracy. The convention adjourned in late Jan. 2006 with little progress. In Sept. 2007, representatives to the convention, which has met on and off since 1993, released a draft constitution that ensures that the military will continue to control the ministries and legislature and have the right to declare a state of emergency. The document also limits the rights of political parties. Opposition parties were excluded from the convention.
Military Crackdowns Receive World Criticism
In a stunning show of defiance, widespread pro-democracy protests, prompted by a sharp increase in fuel prices, erupted throughout the country in Aug. 2007. Participation in the peaceful protests ballooned over several weeks, and Buddhist monks joined the throngs of protesters when government troops used force against demonstrators in early September. The monks emerged as the leaders of the protest movement and gained international sympathy and support. On Sept. 26, the military cracked down on the protesters, firing into crowds, raiding pagodas, and arresting monks. At least nine people were killed. The protests were by far the largest in the country in 20 years, with as many as 100,000 people marching. In a statement, the United Nations Security Council condemned the crackdown, saying it "strongly deplores" the violence unleashed on the protesters.
On May 3, 2008, Cyclone Nargis ravaged the Irrawaddy Delta and Yangon, killing 22,500 people and leaving up to a million homeless. Another 41,000 people were reported missing and feared dead. Most of the death and destruction were caused by a 12-foot high tidal wave that formed during the storm. The isolated military junta accepted international aid, a tacit acknowledgement that it is ill-equipped to handle a disaster of such enormous scope. But once the aid began to arrive, the government limited distribution of the supplies, accepting only about 10% of what was needed. In addition, it denied entry visas to relief workers, leaving the country crippled and vulnerable to widespread disease. The junta faced further criticism when it went ahead with a constitutional referendum on May 10 intended to cement its grip on power.
In September, the military government released just over 9,000 prisoners, including the longest-serving political prisoner, Win Tin. Most of those released, however, were not political prisoners. By most estimates, as many as 2,000 political prisoners remain in detention. These releases were followed in November by the sentencing of 30 activists to up to 65 years in jail. The activists include veterans of the 1988 students' movement and other democracy advocates who participated in the thwarted monk-led protests in Aug. and Sept. 2007.
Suu Kyi Freed Shortly After Elections
Days after elections in Oct. 2010–the country's first elections in 20 years–opposition leader Aung San Suu Kyi was freed after nearly 20 years in detention. Thousands of supporters gathered outside her home, where she gave a speech calling for a "peaceful revolution." The elections, which the junta-backed Union Solidarity and Development Party won in a landslide, were widely criticized as rigged and an attempt to further empower the military government. Nevertheless, the junta presented the elections as evidence that the country had completed the transition from military government to a democracy. Suu Kyi's party, the National League for Democracy, boycotted the elections, thus further diminishing the legitimacy of the results.
Dramatic Shift Away from Authoritarian Rule Brings Diplomatic Opportunities
The country's first Parliament in 20 years convened in Jan. 2011 and elected Prime Minister Thein Sein as president. The military junta officially disbanded in March 2011. However, Parliament is civilian largely in name only. The military won about 60% of the seats in October 2010 elections, and another 25% are reserved for members of the military. In addition, the cabinet is largely comprised of former members of the junta. The National League for Democracy dismissed the transition to a civilian government, calling it a futile gesture that will introduce no real change in power.
The NLD's predictions proved false, however. In his first year as president, Thein Sein initiated stunning changes in political and economic philosophy that saw a loosening of the tight grip the authoritarian junta held on the country. He initiated talks with opposition leader Daw Aung San Suu Kyi; allowed her and her party, the NLD, to run in upcoming parliamentary elections; freed about more than 800 political prisoners; signed a cease-fire with ethnic Karen rebels, who for 60 years have sought an independent homeland along Myanmar's southern border with Thailand; and suspended work on the controversial $3.6 billion Myitsone Dam on the Irrawaddy River. In response, the U.S. took dramatic steps to normalize relations with the formerly isolated and repressive regime. Secretary of State Hillary Clinton visited the country in December 2011—it was the first visit of a senior U.S. official in about 50 years. In Jan. 2012 the U.S. restored full diplomatic relations with Myanmar. That was followed by an easing of sanctions that allowed U.S. companies to "responsibly do business" in Myanmar.
Opposition Dominates 2012 Elections
In April 2012 parliamentary elections, the National League of Democracy prevailed in 43 out of 45 districts that held races, including the capital, Naypyidaw. Suu Kyi, who in October 2010 was released after spending nearly 20 years under house arrest, won a seat in parliament and took office in May. It was a stunning victory for the opposition—and an equally symbolic defeat for the military. Observers speculated that the opposition's victory would either prompt military rulers to respond to the will of the people and enact change or view the victory as a threat to its power. The U.S. rewarded Myanmar for its progress with a thaw in relations, easing a number of sanctions and allowing nongovernmental organizations to resume operations in the country. "The results of the April 1 parliamentary by-elections represent a dramatic demonstration of popular will that brings a new generation of reformers into government," U.S. secretary of state Hillary Clinton said.
Ethnic violence broke out between Buddhists and Muslims in the western state of Rakhine after the rape and murder of a Buddhist woman by a Muslim man. Revenge attacks followed, prompting Prime Minister Thein Sein to declare a state of emergency in June. Dozens were killed, hundreds of homes were burned, and about 100,000 people were displaced. Tension between the Buddhist majority and Muslim minority, called Rohingyas, in Rakhine has been high for years. The government considers the Rohingyas illegal immigrants, discrimination against them is rampant, and they live in horrible conditions. On Aug. 1, 2012, the international organization Human Rights Watch published a 56-page report "The Government Could Have Stopped This" based on eyewitness reports of the acts of violence committed in Myanmar.
Small Steps Toward Democratization
In Aug. 2012 Myanmar's government did away with the country's censorship of private publications. While laws enabling the imprisonment of journalists for printing items that the government deems harmful are still in effect, the final two topics (religion and politics) were removed from the pre-publication censorship list on Aug. 20. Prime Minister Thein Sein continued his shift in political philosophy in September, announcing in a speech to the UN that the changes in Myanmar are "irreversible." In response to the progress, President Barack Obama visited Myanmar in November—the first U.S. president to enter the country. He praised the drift from isolation as a "remarkable journey."
In answer to two years' worth of social, political, and economic reform, the European Union lifted the last of its trade, economic and individual sanctions against Myanmar. President Obama lifted the 1996 ban on entry visas to the former Burma's military rulers, their business partners, and immediate families on May 2, 2013. At the same time, however, the Obama administration approved another year of the National Emergencies Act, which prohibits business transactions with anyone in Myanmar involved in repression of the democracy movement. This give-one, take-one approach was meant to encourage the democratization of Myanmar while simultaneously registering censure of the sectarian violence that erupted in March and has caused more than 40 deaths and has displaced an estimated 13,000. Radical Buddhist monks have been indicted in these attacks between Buddhists and minority (5% of population) Muslims.
See also Encyclopedia: Myanmar.
U.S. State Dept. Country Notes: Myanmar (Burma)
Information Please® Database, © 2012 Pearson Education, Inc. All rights reserved.