Nepal
Federal Democratic Republic of Nepal
President: Ram Baran Yadav (2008)
Prime Minister: Sushil Koirala (2014)
Land area: 52,819 sq mi (136,801 sq km); total area: 54,363 sq mi (140,800 sq km)
Population (2014 est.): 30,986,975 (growth rate: 1.82 birth rate: 21.07/1000; infant mortality rate: 40.43/1000; life expectancy: 67.19
Capital and largest city (2011 est.): Kathmandu, 1.015 million
Other large cities: Biratnagar, 174,600; Lalitpur, 169,100
Monetary unit: Nepalese rupee
Languages: Nepali (official) 44.6%, Maithali 11.7%, Bhojpuri 6%, Tharu 5.8%, Tamang 5.1%, Newar 3.2%, Magar 3%, Bajjika 3%, Urdu 2.6%, Avadhi 1.9%, Limbu 1.3%, Gurung 1.2%, other 10.4%, unspecified 0.2% note: 123 languages reported as mother tongue in 2011 national census; many in government and business also speak English (2011 est.)
Ethnicity/race: Chhettri 16.6%, Brahman-Hill 12.2%, Magar 7.1%, Tharu 6.6%, Tamang 5.8%, Newar 5%, Kami 4.8%, Muslim 4.4%, Yadav 4%, Rai 2.3%, Gurung 2%, Damai/Dholii 1.8%, Thakuri 1.6%, Limbu 1.5%, Sarki 1.4%, Teli 1.4%, Chamar/Harijan/Ram 1.3%, Koiri/Kushwaha 1.2%, other 19% note: 125 caste/ethnic groups were reported in the 2011 national census (2011 est.)
Religions: Hindu 81.3%, Buddhist 9%, Muslim 4.4%, Kirant 3.1%, Christian 1.4%, other 0.5%, unspecifed 0.2% (2011 est.)
Literacy rate: 57.4% (2011 est.)
Economic summary: GDP/PPP (2013 est.): $42.06 billion; per capita $1,500. Real growth rate: 3.6%. Inflation: 9.5% (2012). Unemployment: 46% (2008 est.). Arable land: 16%. Agriculture: rice, corn, wheat, sugarcane, root crops; milk, water buffalo meat. Labor force: 16 million; note: severe lack of skilled labor (2011 est.); agriculture 75%, industry 7%, services 18%. Industries: tourism, carpet, textile; small rice, jute, sugar, and oilseed mills; cigarettes, cement and brick production. Natural resources: quartz, water, timber, hydropower, scenic beauty, small deposits of lignite, copper, cobalt, iron ore. Exports: $1.06 billion (2013 est.): carpets, clothing, leather goods, jute goods, grain. Imports: $6.329 billion (2013 est.): gold, machinery and equipment, petroleum products, fertilizer. Major trading partners: India, U.S., Germany, China, Indonesia (2006).
Communications: Telephones: main lines in use: 834,000 (2013); mobile cellular: 18.1382 million (2013). Broadcast media: state operates 2 TV stations as well as national and regional radio stations; roughly 30 independent TV channels are registered with only about half in regular operation; nearly 400 FM radio stations are licensed with roughly 300 operational (2007). Internet hosts: 41,256 (2012). Internet users: 577,800 (2009).
Transportation: Railways: total: 59 km (2008). Roadways: total: 10,844 km; paved: 4,952 km; unpaved: 5,892 km (2010). Ports and harbors: none. Airports: 47 (2013).
International disputes: joint border commission continues to work on small disputed sections of boundary with India; India has instituted a stricter border regime to restrict transit of Maoist insurgents.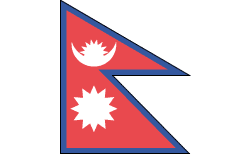 Geography
A landlocked country the size of Arkansas, lying between India and the Tibetan Autonomous Region of China, Nepal contains Mount Everest (29,035 ft; 8,850 m), the tallest mountain in the world. Along its southern border, Nepal has a strip of level land that is partly forested, partly cultivated. North of that is the slope of the main section of the Himalayan range, including Everest and many other peaks higher than 8,000 m.
Government
In Nov. 1990, King Birendra promulgated a new constitution and introduced a multiparty parliamentary democracy in Nepal. Under pressure amid massive pro-democracy protests in April 2006, King Gyanendra gave up direct rule and reinstated Parliament, which then quickly moved to diminish the King's power. In Dec. 2007, Parliament voted to abolish the monarchy and become a federal democratic republic. The transition to a republic was completed in May 2008, when the Constituent Assemby voted to dissolve the monarchy.
History
The first civilizations in Nepal, which flourished around the 6th century B.C., were confined to the fertile Kathmandu Valley where the present-day capital of the same name is located. It was in this region that Prince Siddhartha Gautama was born c. 563 B.C. Gautama achieved enlightenment as Buddha and spawned Buddhism.
Nepali rulers' early patronage of Buddhism largely gave way to Hinduism, reflecting the increased influence of India, around the 12th century. Though the successive dynasties of the Gopalas, the Kiratis, and the Licchavis expanded their rule, it was not until the reign of the Malla kings from 1200–1769 that Nepal assumed the approximate dimensions of the modern state.
The kingdom of Nepal was unified in 1768 by King Prithvi Narayan Shah, who had fled India following the Moghul conquests of the subcontinent. Under Shah and his successors, Nepal's borders expanded as far west as Kashmir and as far east as Sikkim (now part of India). A commercial treaty was signed with Britain in 1792 and again in 1816 after more than a year of hostilities with the British East India Company.
The Independence of Nepal and the First Free Election
In 1923, Britain recognized the absolute independence of Nepal. Between 1846 and 1951, the country was ruled by the Rana family, which always held the office of prime minister. In 1951, however, the king took over all power and proclaimed a constitutional monarchy. Mahendra Bir Bikram Shah became king in 1955. After Mahendra died of a heart attack in 1972, Prince Birendra, at 26, succeeded to the throne.
In 1990, a pro-democracy movement forced King Birendra to lift the ban on political parties. The first free election in three decades provided a victory for the liberal Nepali Congress Party in 1991, although the Communists made a strong showing. A small but growing Maoist guerrilla movement, seeking to overthrow the constitutional monarchy and install a Communist government, began operating in the countryside in 1996.
On June 1, 2001, King Birendra was shot and killed by his son, Crown Prince Dipendra. Angered by his family's disapproval of his choice of a bride, the crown prince also killed his mother and several other members of the royal family before shooting himself. Prince Gyanendra, the younger brother of King Birendra, was then crowned king.
King Gyanendra Asserts Control over the Government
King Gyanendra dismissed the government in Oct. 2002, calling it corrupt and ineffective. He declared a state of emergency in November and ordered the army to crack down on the Maoist guerrillas. The rebels intensified their campaign, and the government responded with equal intensity, killing hundreds of Maoists, the largest toll since the insurgency began in 1996. In Aug. 2003, the Maoist rebels withdrew from peace talks with the government and ended a cease-fire that had been signed in Jan. 2003. The following August, the rebels blockaded Kathmandu for a week, cutting off shipments of food and fuel to the capital.
King Gyanendra fired the entire government in Feb. 2005 and assumed direct power. Many of the country's politicians were placed under house arrest, and severe restrictions on civil liberties were instituted. In Sept. 2005, the Maoist rebels declared a unilateral cease-fire, which ended in Jan. 2006. In April, massive pro-democracy protests organized by seven opposition parties and supported by the Maoists took place. They rejected King Gyanendra's offer to hand over executive power to a prime minister, saying he failed to address their main demands: the restoration of Parliament and a referendum to redraft the constitution. Days later, as pressure mounted and the protests intensified, King Gyanendra agreed to reinstate Parliament. The new parliament quickly moved to diminish the king's powers and selected Girija Prasad Koirala as prime minister. In May, it voted unanimously to declare Nepal a secular nation and strip the king of his authority over the military.
Steps Toward Peace and a New Constitution
The Maoist rebels and the government signed a landmark peace agreement in Nov. 2006, ending the guerrilla's 10-year insurgency that claimed some 12,000 lives. In March 2007, the Maoists achieved another milestone when they joined the interim government. Just months later, in Sept. 2007, however, the Maoists quit the interim government, claiming that not enough progress had been made in abolishing the monarchy and forming a republic. They agreed to rejoin the interim government in December, when Parliament voted to abolish the monarchy and become a federal democratic republic.
In April 2008, millions of voters turned out to elect a 601-seat Constituent Assembly that will write a new constitution. The Maoist rebels, who recently signed a peace agreement with the government that ended the guerrilla's 10-year insurgency, won 120 out of 240 directly elected seats. In May, the assembly voted to dissolve the 239-year-old monarchy, thus completing the transition to a republic. King Gyanendra vacated Narayanhiti Palace in June and began life as a commoner.
Prime Minister Girija Prasad Koirala resigned in June, after two years in office. In July, the Maoists said they would not participate in the government when their candidate for president, Ramraja Prasad Singh, was defeated. Other parties in the Constituent Assembly united to elect Ram Baran Yadav as the country's first president. The move seemed to jeopardize the peace process. A Maoist was elected prime minister in August, however. The Constituent Assembly voted 464 to 113 in favor of Maoist leader Pushpa Kamal Dahal, known as Prachanda, over Sher Bahadur Deuba, a member of the Nepali Congress Party who served as prime minister three times. In a compromise, the Maoists said they would not hold posts in the party's armed faction and would return private property it seized from opponents.
In May of 2009, the fragile compromise government fell apart when Pushpa Kamal Dahal, the country's Maoist prime minister, resigned and the Maoists quit the government. Dahal's resignation came after Nepal's President, Ram Baran Yadav, reinstated fired General Rookmangud Katawal. Katawal had been fired for refusing to work with the Maoists; his reinstatement came partially as a result of outside pressure from India. Dahal said he would not rejoin the government unless General Katawal was permanently removed.
On May 23, 2009, Madhav Kumar Nepal became the new prime minister, with the backing of 21 of the 24 political parties in Nepal's National Assembly. Just over a year later, in June 2010, Prime Minister Nepal reached a deal with the Maoists in which he agreed to resign and in exchange the Maoists extended both the term of Parliament and the deadline to complete a draft constitution until May 2011. The agreement averted a political crisis.
Parliament elected a prime minister after 17 attempts in Feb. 2011. Jhalanath Khanal secured 368 of 601 votes, against 122 for Ram Chandra Poudel and 67 for Bijaya Kumar Gachhadar. Khanal, the chairman of the Communist Party of NePaul (Unified Marxist-Leninist), was sworn in on February 6. The election ended a stalemate that had paralyzed the country for months with political parties competing for control of the government. Khanal asked rival parties to support his administration and work together toward finishing the new constitution.
A Constitution Crisis and the Historic 2011 Census
On May 29, 2011, a last-minute deal was reached by Nepal's political parties to extend the new constitution deadline. The three month extension avoided what analysts were calling a political crisis. For over a year the Constituent Assembly, a special legislative body, had been trying to agree on a constitution and finalize a peace agreement that ended the Maoist insurgency. During the three month extension the rival parties within in Constituent Assembly agreed to draft a new constitution and address questions about the 19,000 former Maoists who are currently living in camps throughout the country.
In the fall of 2011, the first census results since Nepal's civil war and the fall of its Hindu monarchy will be released. It is also the first census by any country in the world to include an option for people who identify as third gender—people who do not have a fixed gender identity or sexual orientation. The inclusion is another step in embracing equal rights for lesbian, gay, bisexual, transgender, and intersex (LGBTI) people. In 2007, Sunil Babu Pant won a case in the Supreme Court that forced the government to guarantee equal rights to all sexual and gender minorities. In 2008, Pant became the first openly gay lawmaker elected to parliament. Since then, the Supreme Court has also approved same-sex marriage and Nepal now issues third gender national ID cards. Even though some logistical problems and fear among some third genders will make the census data inaccurate at best, the inclusion sends a message about the government's commitment on the issue and stands as a lesson to be learned by other nations.
No Agreement Reached on New Constitution
In May 2012, rival political parties could not agree on a new constitution before the Constituent Assembly's term expired. Because no agreement was reached, the Constituent Assembly, Nepal's legislature, would be dissolved. Prime Minister Baburam Bhattarai announced that he would hold elections in Nov. 2012 for a new legislature. In his announcement Bhattarai said, "Political consensus is still needed to move ahead. Let us learn from mistakes and move ahead."
First elected to a two-year term in 2008, the Constituent Assembly was given multiple extensions after failing to agree on a new constitution. In 2012, the Supreme Court ruled against another extension.
Politicians Still Struggling to Agree on a New Government in Late 2012
In Nov. 2012, President Yadav set a Nov. 29 deadline for Nepal's politicians to reach an agreement for a new government. The process started back in 2008 with the election of a Constituent Assembly. However, since then, the assembly has not agreed on a constitution or how and when to hold more elections. Many deadlines have passed and the only thing they've agreed on was to name Maoist Baburam Bhattarai as prime minister and to select a cabinet.
Yadav's Nov. 29 deadline passed without any progress so he extended it again for another week. Rajendra Dahal, a spokesman for the president, said, "The political parties said they were very much committed to having some conclusion or output with this next week." But Dahal also said that reaching an agreement on a new government was something that could take weeks or months.
The number of political groups is one of the factors that has kept Nepal's politicians in disagreement. The country has more than 35 major political groups.
Interim Government Formed to End Political Deadlock
In early 2013, Nepal's political parties agreed on an interim government to hold elections. Chief Justice Khil Raj Regm was appointed prime minister to lead the interim government. He assumed the position on March 14, 2013.
The interim government was formed to hold Constituent Assembly elections in an effort to put an end to months of political deadlock. The elections were planned to be held by June 21, 2013, but were delayed further by the election commission. The election commission blamed the latest delay on a constitution that had no legal provisions for holding an election.
The Constituent Assembly election was finally held on Nov. 19, 2013. Voter turnout was 78.34%, beating the previous record of 68.15% during the 1991 general elections. In the election, the Nepali Congress came in first, winning 105 of the 240 seats. The Nepali Congress, the country's oldest political party, has close ties to India. The usually dominant Unified Communist Party of Nepal (Maoist) won only 26 seats. Following the election the Unified Communist Party said the elections were fraudulent, but independent election observers, including former U.S. President Jimmy Carter, dismissed those claims.
On Feb. 10, 2014, Sushil Koirala was elected as Nepal's fifth prime minister with a decisive 405-148 vote. President of the Nepali Congress party, Koirala was sworn in the following day.
Deadly Avalanche Hits Mount Everest and Sparks Protests
At least 16 Sherpa guides died in an avalanche on Mount Everest on April 18, 2014. It was the deadliest avalanche ever recorded on Mount Everest. The Sherpa guides were fixing ropes for climbers at an elevation of 19,000 feet when the avalanche hit.
After the incident, dozens of Sherpa guides walked off the job in protest over the Nepalese government's response to the tragedy. The government pledged a relief sum of around $400 to the families of the guides who died in the avalanche. The Sherpa guides were angered by the relief sum, called it an insult, and returned to their homes. Two expeditions were cancelled and 31 expeditions have been put on hold since the Sherpa guides walked out.
See also Encyclopedia: Nepal
U.S. State Dept. Country Notes: Nepal
Central Bureau of Statistics http://www.cbs.gov.np/ .
Information Please® Database, © 2014 Pearson Education, Inc. All rights reserved.
More on Nepal from Fact Monster: