Nigeria
Federal Republic of Nigeria
President: Goodluck Jonathan (2010)
Land area: 351,649 sq mi (910,771 sq km); total area: 356,667 sq mi (923,768 sq km)
Population (2010 est.): 152,217,341 (growth rate: 1.9%); birth rate: 36.0/1000; infant mortality rate: 92.9/1000; life expectancy: 47.2; density per sq km: 151
Capital (2003 est.): Abuja, 590,400 (metro. area), 165,700 (city proper)
Largest cities: Lagos (2003 est.), 11,135,000 (metro. area), 5,686,000 (city proper); Kano, 3,329,900; Ibadan, 3,139,500; Kaduna, 1,510,300
Monetary unit: Naira
Languages: English (official), Hausa, Yoruba, Ibo, Fulani, and more than 200 others
Ethnicity/race: More than 250 ethnic groups, including Hausa and Fulani 29%, Yoruba 21%, Ibo 18%, Ijaw 10%, Kanuri 4%, Ibibio 3.5%, Tiv 2.5%
Religions: Islam 50%, Christian 40%, indigenous beliefs 10%
National Holiday: Independence Day (National Day), October 1
Literacy rate: 68% (2003 est.)
Economic summary: GDP/PPP (2009 est.): $357.2 billion; per capita $2,400. Real growth rate: 5%. Inflation: 11.5%. Unemployment: 4.9%. Arable land: 33%. Agriculture: cocoa, peanuts, palm oil, corn, rice, sorghum, millet, cassava (tapioca), yams, rubber; cattle, sheep, goats, pigs; timber; fish. Labor force: 50.13 million; agriculture 70%, industry 10%, services 20% (1999 est.). Industries: crude oil, coal, tin, columbite; palm oil, peanuts, cotton, rubber, wood; hides and skins, textiles, cement and other construction materials, food products, footwear, chemicals, fertilizer, printing, ceramics, steel, small commercial ship construction and repair. Natural resources: natural gas, petroleum, tin, columbite, iron ore, coal, limestone, lead, zinc, arable land. Exports: $45.4 billion (2009 est.): petroleum and petroleum products 95%, cocoa, rubber. Imports: $42.0 billion (2009 est.): machinery, chemicals, transport equipment, manufactured goods, food and live animals. Major trading partners: U.S., Brazil, Spain, China, UK, Netherlands, France, Germany (2006).
Member of Commonwealth of Nations
Communications: Telephones: main lines in use: 1.688 million (2006); mobile cellular: 32.322 million (2006). Radio broadcast stations: AM 83, FM 36, shortwave 11 (2001). Radios: 23.5 million (1997). Television broadcast stations: 3 (the government controls 2 broadcasting stations and 15 repeater stations) (2002). Televisions: 6.9 million (1997). Internet Service Providers (ISPs): 1,968 (2007). Internet users: 8 million (2006).
Transportation: Railways: total: 3,505 km (2006). Highways: total: 194,394 km; paved: 60,068 km (including 1,194 km of expressways); unpaved: 134,326 km (1999 est.). Waterways: 8,600 km (Niger and Benue rivers and smaller rivers and creeks) (2007). Ports and harbors: Calabar, Lagos, Onne, Port Harcourt, Sapele, Warri. Airports: 70 (2007).
International disputes: ICJ ruled in 2002 on the Cameroon-Nigeria land and maritime boundary by awarding the potentially petroleum-rich Bakassi Peninsula and offshore region to Cameroon; Nigeria rejected the cession of the peninsula but the parties formed a Joint Border Commission to peaceably resolve the dispute and commence with demarcation in other less-contested sections of the boundary; several villages along the Okpara River are in dispute with Benin; Lake Chad Commission continues to urge signatories Cameroon, Chad, Niger, and Nigeria to ratify delimitation treaty over lake region, which remains the site of armed clashes among local populations and militias; Nigeria agreed to ratify the treaty and relinquish sovereignty of disputed lands to Cameroon by December 2003.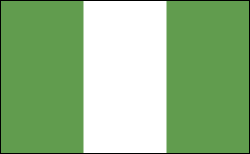 Geography
Nigeria, one-third larger than Texas and the most populous country in Africa, is situated on the Gulf of Guinea in West Africa. Its neighbors are Benin, Niger, Cameroon, and Chad. The lower course of the Niger River flows south through the western part of the country into the Gulf of Guinea. Swamps and mangrove forests border the southern coast; inland are hardwood forests.
Government
Multiparty government transitioning from military to civilian rule.
History
The first inhabitants of what is now Nigeria were thought to have been the Nok people (500 BC–c. AD 200). The Kanuri, Hausa, and Fulani peoples subsequently migrated there. Islam was introduced in the 13th century, and the empire of Kanem controlled the area from the end of the 11th century to the 14th.
The Fulani empire ruled the region from the beginning of the 19th century until the British annexed Lagos in 1851 and seized control of the rest of the region by 1886. It formally became the Colony and Protectorate of Nigeria in 1914. During World War I, native troops of the West African frontier force joined with French forces to defeat the German garrison in Cameroon.
Independent Nigeria Faces Ethnic Conflicts
On Oct. 1, 1960, Nigeria gained independence, becoming a member of the Commonwealth of Nations and joining the United Nations. Organized as a loose federation of self-governing states, the independent nation faced the overwhelming task of unifying a country with 250 ethnic and linguistic groups.
Rioting broke out in 1966, and military leaders, primarily of Ibo ethnicity, seized control. In July, a second military coup put Col. Yakubu Gowon in power, a choice unacceptable to the Ibos. Also in that year, the Muslim Hausas in the north massacred the predominantly Christian Ibos in the east, many of whom had been driven from the north. Thousands of Ibos took refuge in the eastern region, which declared its independence as the Republic of Biafra on May 30, 1967. Civil war broke out. In Jan. 1970, after 31 months of civil war, Biafra surrendered to the federal government.
Military Coups Shift Power
Gowon's nine-year rule was ended in 1975 in a bloodless coup that made Army Brig. Muritala Rufai Mohammed the new chief of state. The return of civilian leadership was established with the election of Alhaji Shehu Shagari as president in 1979. An oil boom in the 1970s buoyed the economy and by the 1980s, Nigeria was considered an exemplar of African democracy and economic well-being.
The military again seized power in 1984, only to be followed by another military coup the following year. Maj. Gen. Ibrahim Babangida announced that the country would be returned to civilian rule, but after the presidential election of June 12, 1993, he voided the results. Nevertheless, Babangida did resign as president in August. In November the military, headed by defense minister Sani Abacha, seized power again.
Corruption and notorious governmental inefficiency as well as a harshly repressive military regime characterized Abacha's reign over this oil-rich country, turning it into an international pariah. A UN fact-finding mission in 1996 reported that Nigeria's "problems of human rights are terrible and the political problems are terrifying." During the 1970s, Nigeria had the 33rd highest per capita income in the world, but by 1997 it had dropped to the 13th poorest. The hanging of writer Ken Saro-Wiwa in 1995 because he protested against the government was condemned around the world.
West African Superpower
As leader of the multination peacekeeping force ECOMOG, Nigeria established itself as West Africa's superpower, intervening militarily in the civil wars of Liberia and Sierra Leone. But Nigeria's costly war efforts were unpopular with its own people, who felt Nigeria's limited economic resources were being unnecessarily drained.
Abacha died of a heart attack in 1998 and was succeeded by another military ruler, Gen. Abdulsalam Abubakar, who pledged to step aside for an elected leader by May 1999. The suspicious death of opposition leader Mashood Abiola, who had been imprisoned by the military ever since he legally won the 1993 presidential election, was a crushing blow to democratic proponents. In Feb. 1999, free presidential elections led to an overwhelming victory for Gen. Olusegun Obasanjo, a former member of the military elite who was imprisoned for three years for criticizing the military rule. Obasanjo's commitment to democracy, his anticorruption drives, and his desire to recover billions allegedly stolen by the family and cronies of Abacha initially gained him high praise from the populace as well as the international community. But within two years, the hope of reform seemed doomed as economic mismanagement and rampant corruption persisted. Obasanjo's priorities in 2001 were epitomized by his plans to build a $330 million national soccer stadium, an extravagance that exceeded the combined budget for both health and education. In April 2003, he was reelected.
Religion and Fighting Threaten Nigeria's Stability
Nigeria's stability has been repeatedly threatened by fighting between fundamentalist Muslims and Christians over the spread of Islamic law (sharia) across the heavily Muslim north. One-third of Nigeria's 36 states is ruled by sharia law. More than 10,000 people have died in religious clashes since military rule ended in 1999.
In 2003, after religious and political leaders in the Kano region banned polio immunization—contending that it sterilized girls and spread HIV—an outbreak of polio spread through Nigeria, entering neighboring countries the following year. The Kano region lifted its ten-month ban against vaccination in July 2004. On Aug. 24, there were 602 polio cases worldwide, 79% of which were in Nigeria.
Since 2004, insurgency has wreaked havoc in the Niger delta, Nigeria's oil-producing region. The desperately impoverished local residents of the delta have seen little benefit from Nigeria's vast oil riches, and rebel groups are fighting for a more equal distribution of the wealth as well as greater regional autonomy. Violence by rebel groups has disrupted oil production and reduced output by about 20%. Nigeria is one of the world's largest oil producers and supplies the U.S. with one-fifth of its oil.
In Aug. 2006 Nigeria handed over the oil-rich Bakassi peninsula to Cameroon, in compliance with a 2002 World Court ruling.
Corruption and Violence Taint Democratic Elections
April 2007 national elections—the country's first transition from one democratically elected president to another—were marred by widespread allegations of fraud, ballot stuffing, violence, and chaos. Just days before the election, the Supreme Court ruled that the election commission's decision to remove from the ballot Vice President Atiku Abubakar, a leading candidate and a bitter rival of President Olusegun Obsanjo, was illegal. Ballots were reprinted, but they only showed party symbols rather than the names of candidates. Umaru Yar'Adua, the candidate of the governing party, won the election in a landslide, taking more than 24.6 million votes. Second-place candidate Muhammadu Buhari tallied only about 6 million votes. International observers called the vote flawed and illegitimate. The chief observer for the European Union said the results "cannot be considered to have been credible." An election tribunal ruled in Feb. 2008 that although the election was indeed flawed, the evidence of rigging was not substantial enough to overturn the election results.
The rebel group in Nigeria's oil-producing region, the Movement for the Emancipation of the Niger Delta, declared a cease-fire in September. Since the insurgency broke out in 2004, Nigeria's oil production has been significantly reduced, from about 2.5 million barrels a day to 1.5 million.
Deadly violence broke out in July 2009 in northeastern Nigeria between government troops and an obscure fundamentalist sect, Boko Haram, which is opposed to Western education and seeks to have Sharia law implemented throughout the country. The group's name translates to "Western education is sinful." As many as 1,000 civilians died in the battles. The fighting began after militants attacked police stations and seemed to be preparing for a pitched religious war against the government. The police, followed by the army, retaliated and unleashed a five-day assault against the sect. The group's leader, Mohammed Yusuf, was killed in the campaign and the group was nearly decimated.
President Relents on Ending Oil Subsidies
In January 2012, in an effort to repair its tattered economy, President Jonathan eliminated the country's fuel subsidy, which costs the government about $8 billion a year. The move caused fuel and food prices to double. Streets protests and strikes broke out all over the country, and Jonathan relented and partially reinstated the subsidy. Nigeria produces two million barrels of crude oil a day, but because of inadequate refineries—the result of poor management and corruption, the country exports most of the crude and imports gas. A series of corrupt governments has profited handsomely by the oil sales while about 75% of the country lives in extreme poverty.
Government Cracks Down on Islamist Militants in the North
Boko Haram, the fundamentalist Islamist sect that many thought had been obliterated in 2009, made a resurgence in 2011. In fact, the group, which had previously launched attacks locally, emerged as a transnational force possibly linked to al-Qaeda in 2011. It launched nearly daily deadly attacks in 2011, including one on the UN headquarters in August in Abuja, Nigeria's capital, that killed 24 people. On Christmas Day, the sect claimed responsibility for a series of bombings near churches that killed at least 40 people. The government declared a state of emergency in northern Nigeria and dispatched troops to the region, where the group is based. Boko Haram continued its assault on the Lake Chad basin area in the north throughout 2012, prompting retaliatory attacks but government troops.
Fierce—and brutal—fighting between the militants and soldiers in April 2013 in Baga, a fishing village on Lake Chad, left as many as 200 civilians dead and 2,275 homes destroyed. Both sides accused each other of setting homes on fire. The government came under fire for its scorched-earth tactics. In May, the government declared a state of emergency in the northern states of Adamawa, Borno, and Yobe, where Boko Haram has been most actively launching attacks. The move allowed government troops to hold and question terror suspects. The state of emergency did not thwart the violence at the hands of Boko Haram. In July, the government closed secondary schools in Yobe after 22 students were killed in attack attributed to the militants. Another massacre in Borno claimed nearly 90 lives in September. The military reported it had killed Abubakar Shekau, the leader of Boko Haram, in August. However, his death was not confirmed and it was not the first time the government inaccurately claimed to have killed Shekau.
A split emerged in the governing People's Democratic Party (PDP) in August over President Jonathan's plans to potentially run for reelection in 2015. He had previously vowed to sit out the election. The decision angered members of his party from the north, and they formed the the New PDP. Vice President Atiku Abubakar, 22 of PDP's 50 senators, and several state governors joined the new faction. In the midst of the political turmoil, Jonathan fired nine of his cabinet ministers, saying he wanted to "refocus his government, to inject in fresh blood to achieve greater service delivery to the people of Nigeria."
Ban on Same-Sex Marriages Sparks Homophobic Violence
On Jan. 7, 2014, President Jonathan, signed the Same Sex Marriage Prohibition Act into law. While homosexual sex has been illegal in Nigeria for generations, the law was only haphazardly enforced. The new legislation has far greater reach; calling for 10 to 14-year prison sentences for offenders and harsh punishments for those who support them. Mob violence directed against dozens believed to be gay has erupted; international community decries "homosexual roundup."
Boko Haram Massacres Hundreds of Civilians
Boko Haram was responsible for the brutal deaths of more than 400 people in and around Maiduguri in northeast Nigeria in February and early March. Among its victims were children watching a soccer match and dozens of male students at a public college in Yobe State, many of whom were burned or shot to death. The group was also blamed for a rush-hour bomb set off at a bus station in Nyanya, a city on the outskirts of the capital, Abuja, that killed more than 70 people. The fundamentalist Islamist sect views public education as blasphemous. The army and President Goodluck Jonathan were widely criticized for their inability to curb the violence at the hands of Boko Haram.
U.S. State Dept. Country Notes: Nigeria
Information Please® Database, © 2008 Pearson Education, Inc. All rights reserved.
More on Nigeria from Fact Monster: