Peru
Republic of Peru

President: Ollanta Humala (2011)

Prime Minister: Pedro Cateriano (2015)

Land area: 494,208 sq mi (1,279,999 sq km); total area: 496,223 sq mi (1,285,220 sq km)

Population (2014 est.): 30,147,935 (growth rate: 0.99%); birth rate: 18.57/1000; infant mortality rate: 20.21/1000; life expectancy: 73.23

Capital and largest city (2011 est.): Lima, 9.13 million

Other large city: Arequipa, 804,000

Monetary unit: Nuevo sol (1991)

National name: República del Perú

Languages: Spanish 84.1%, Quéchua 13%; Aymara 1.7% (all three official); many minor Amazonian languages

Ethnicity/race: Amerindian 45%, mestizo 37%, white 15%, black, Japanese, Chinese, and other 3%

Religion: Roman Catholic 81.3%, Evangelical 12.5%, other 3.3%, unspecified or none 2.9% (2007 est.)

Literacy rate: 89.6% (2007 est.)

Economic summary: GDP/PPP (2013 est.): $344 billion; per capita $11,100. Real growth rate:5.1%. Inflation: 2.9%. Unemployment: 3.6% (2012) in metropolitan Lima; widespread underemployment. Arable land: 2.84%. Agriculture: asparagus, coffee, cocoa, cotton, sugarcane, rice, potatoes, corn, plantains, grapes, oranges, pineapples, guavas, bananas, apples, lemons, pears, coca, tomatoes, mangoes, barley, medicinal plants, palm oil, marigold, onion, wheat, dry beans; poultry, beef, pork, dairy products; guinea pigs; fish. Labor force: 15.90 million (2013 est.); agriculture 6.2%, industry 37.5%, services 56.3% (2013). Industries: mining and refining of minerals; steel, metal fabrication; petroleum extraction and refining, natural gas and natural gas liquefaction; fishing and fish processing, cement, glass, textiles, clothing, food processing, beer, soft drinks, rubber, machinery, electrical machinery, chemicals, furniture. Natural resources: copper, silver, gold, petroleum, timber, fish, iron ore, coal, phosphate, potash, hydropower, natural gas. Exports: $41.48 billion (2013 est.): copper, gold, lead, zinc, tin, iron ore, molybdenum, silver; crude petroleum and petroleum products, natural gas; coffee, asparagus and other vegetables, fruit, apparel and textiles, fishmeal, fish, chemicals, fabricated metal products and machinery, alloys. Imports: $42.13 billion (2013 est.): petroleum and petroleum products, chemicals, plastics, machinery, vehicles, color TV sets, power shovels, front-end loaders, telephones and telecommunication equipment, iron and steel, wheat, corn, soybean products, paper, cotton, vaccines and medicines. Major trading partners: U.S., China, Canada, Japan, Spain, Chile, Colombia, Brazil, Ecuador, Argentina, Mexico. (2012).

Communications: Telephones: main lines in use: 3.42 million (2012); mobile cellular: 29.4 million (2012). Radio broadcast stations: in excess of 2,000 (2010). Television broadcast stations: 10 (2010). Internet Service Providers (ISPs): 234,102 (2012). Internet users: 9.158 million (2009).

Transportation: Railways: total: 1,907 km (2012). Highways: total: 140,672 km (2012). Waterways: 8,808 km, 8,600 km of navigable tributaries of Amazon system and 208 km of Lago Titicaca (2011). Ports and harbors: Callao, Chimbote, Ilo, Matarani, Paita, Puerto Maldonado, Salaverry, San Martin, Talara, Iquitos, Pucallpa, Yurimaguas; note: Iquitos, Pucallpa, and Yurimaguas are all on the upper reaches of the Amazon and its tributaries. Airports: 191 (2013).

International disputes:Chile and Ecuador rejected Peru's November 2005 unilateral legislation to shift the axis of their joint treaty-defined maritime boundaries along the parallels of latitude to equidistant lines which favor Peru; organized illegal narcotics operations in Colombia have penetrated Peru's shared border; Peru rejects Bolivia's claim to restore maritime access through a sovereign corridor through Chile along the Peruvian border.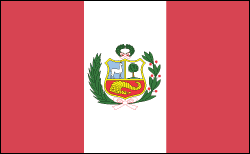 Geography
Peru, in western South America, extends for nearly 1,500 mi (2,414 km) along the Pacific Ocean. Colombia and Ecuador are to the north, Brazil and Bolivia to the east, and Chile to the south. Five-sixths the size of Alaska, Peru is divided by the Andes Mountains into three sharply differentiated zones. To the west is the coastline, much of it arid, extending 50 to 100 mi (80 to 160 km) inland. The mountain area, with peaks over 20,000 ft (6,096 m), lofty plateaus, and deep valleys, lies centrally. Beyond the mountains to the east is the heavily forested slope leading to the Amazonian plains.
Government
Constitutional republic.
History
Peru was once part of the great Incan Empire and later the major vice-royalty of Spanish South America. It was conquered in 1531–1533 by Francisco Pizarro. On July 28, 1821, Peru proclaimed its independence, but the Spanish were not finally defeated until 1824. For a hundred years thereafter, revolutions were frequent; a new war was fought with Spain in 1864–1866, and an unsuccessful war was fought with Chile from 1879 to 1883 (the War of the Pacific).
Peru emerged from 20 years of dictatorship in 1945 with the inauguration of President José Luis Bustamente y Rivero after the first free election in many decades. But he served for only three years and was succeeded in turn by Gen. Manuel A. Odria, Manuel Prado y Ugarteche, and Fernando Belaúnde Terry. On Oct. 3, 1968, Belaúnde was overthrown by Gen. Juan Velasco Alvarado. In 1975, Velasco was replaced in a bloodless coup by his prime minister, Gen. Francisco Morales Bermudez, who promised to restore civilian government. In elections held on May 18, 1980, Belaúnde Terry, the last civilian president, was elected president again.
The Maoist guerrilla group Shining Path, or Sendero Luminoso, began their brutal campaign to overthrow the government in 1980. The military's subsequent crackdown led to further civilian human rights abuses and disappearances. A smaller rebel group, Tupac Amaru, also fought against the government. About 69,000 people were killed during the 1980–2000 wars between rebel groups and the government. The deaths were carried out by the rebels (54%) as well as the military (30%); other militias were responsible for the remainder.
A New Era of Government
Peru's fragile democracy survived. In 1985, Belaúnde Terry was the first elected president to turn over power to a constitutionally elected successor since 1945. Alberto Fujimori won the 1990 elections. Citing continuing terrorism, drug trafficking, and corruption, Fujimori dissolved Congress, suspended the constitution, and imposed censorship in April 1992. By September, all but Shining Path had been vanquished. A new constitution was approved in 1993.
Fujimori was reelected in 1995 and again in May 2000 to a third five-year term, after his opponent, Alejandro Toledo, withdrew from the contest, charging fraud. In Sept. 2000, Fujimori's intelligence chief, Vladimiro Montesinos, was videotaped bribing a congressman. Fujimori announced he would dismantle the powerful National Intelligence Service, which has been accused of human rights violations. Two months later, he stunned his nation by resigning during a trip to Japan. Revelations that Fujimori secretly held Japanese citizenship—and could not be extradited to face corruption charges—enraged the populace.
In 2001, the centrist Alejandro Toledo was elected president with 53% of the vote, narrowly defeating former president Alan García. His rags-to-riches story and mixed Indian and Latino heritage made him popular among the poor. Inheriting a country racked by economic troubles and corruption, Toledo did little, however, to restore confidence in the government. Early in his presidency, he gave himself a significant pay raise while at the same time calling for economic austerity. In June 2002, a popular revolt took place in the cities of Arequipa and Tacna and in other areas of southern Peru after the sale of two state-run electricity firms to a Belgian company, Tractebel. Toledo had specifically promised during his campaign not to sell these firms. Opinion polls at the time indicated that more than 60% of Peruvians were adamantly opposed to privatization and foreign investment, which in the past had led to price increases, mass layoffs, corruption, and few discernible benefits for the populace. A series of scandals and political missteps between 2003 and 2005 caused Toledo's approval ratings to plummet, at one point as low as 8%.
The Return of Alan García
In the first round of presidential elections in April 2006, voters chose a former army officer, Ollanta Humala, from among 20 candidates. But in the second round in June, former president Alan García, whose 1985–1990 administration left Peru in economic ruin, made a startling comeback, winning with 52.6% of the votes. Election analysts have suggested that voters felt Humala, a former military leader who had once led a coup, was unpredictable and capable of eroding Peru's democracy, and that García, despite his proven economic incompetence and a reputation for corruption, was the marginally better bet.
In Aug. 2007, an 8.0-magnitude earthquake struck 95 miles southeast of Lima, killing at least 430 people and leveling churches and homes.
In Sept. 2007, Chile's Supreme Court approved the extradition of former president Alberto Fujimori to Peru in order to try him on charges of corruption and human rights abuses. He had been in Chile since 2005, when he was detained after stopping there on his way from voluntary exile in Japan back to Peru in order to attempt a political comeback.
On Oct. 10, 2008, García's entire cabinet was forced to resign over an oil corruption scandal. On Oct. 11, 2008, in an attempt to regain popularity, President García appointed a leftist regional governor, Yehude Simon, as his prime minister—a move that shocked many. García's popularity took a hit in 2009 when he passed land laws that allowed large sections of the Amazon to be auctioned off to oil and gas companies. Violent protests against the laws broke out in the Amazon, and Simon resigned in July 2009 after he negotiated a settlement that included repeal of the laws. García replaced Simon with Javier Velásquez .
In April 2009, after a televised trial that lasted 16 months, Alberto Fujimori was found guilty of human rights abuses and corruption. He was sentenced to 25 years in prison. Three months later, he was convicted of illegally paying off his former intelligence chief, Vladimiro Montesinos, with $15 million in state funds. Montesinos is serving a prison term for corruption.
An Ex-Officer Becomes President
In June 2011, Ollanta Humala, an ex-army lieutenant-colonel, was elected president. He narrowly defeated Keiko Fujimori, daughter of former president Alberto Fujimori, who remains in prison for human rights abuses and corruption. This was Humala's second run at the presidency. In 2006, even though Humala had no political experience at the time, he barely lost the election to Alan García. During that election, Humala aligned himself with President Hugo Chávez of Venezuela. For this election, Humala downplayed his radical past and reinvented his image to be viewed as a more moderate leftist, like former Brazilian president Luiz Inácio Lula da Silva.
Even though Peru has experienced an economic boom, poverty remains a huge issue. Humala's election over the well-known, conservative Fujimori exposed a discontent over how the economic growth has failed to help people living in dire conditions. Humula has vowed to help poorer Peruvians. "It's not possible to say that the country is progressing when 12 million people are living in miserable conditions without electricity or running water," he said to supporters after his victory. Humala plans to raise taxes on mining companies and have the government play a bigger role in the economy.
Government Refuses to Negotiate over Hostages
On February 12, 2012, Florindo Eleuterio Flores Hala, known as Comrade Artemio, was badly wounded after fighting with Peruvian troops. Head of the Shining Path faction based in the Upper Huallaga Valley, Artemio was arrested after the battle. President Humala released a statement, saying that the capture of Artemio meant the Shining Path were now defeated in the Alto Huallaga valley. This marked a major victory for the Peruvian Government because the Alto Huallaga valley is a major area of cocaine production. On March 3, Walter Diaz was captured. Diaz was a major candidate to replace Artemio as leader. Exactly one month later, another leading candidate to succeed Artemio, Jaime Arenas Caviedes was arrested. With Caviedes in custody, President Humala said that the Shining Path was no longer operational in Alto Huallaga Valley.
On April 9, 2012, another major faction of the Shining Path kidnapped 42 workers in the Ene and Apurimac valleys. The area is the last stronghold of the rebels, who once were a major problem for the government. However, after recent captures of leaders in the Upper Huallaga Valley faction, the Shining Path has been limited to small gangs and only participating in drug trafficking. The hostages were employees of Skanska, Coga, and Construcciones Modulares. They were working on a new gas plant when they were abducted.
The Shining Path demanded ten million in ransom for the safe return of the hostages. The Peruvian government refused to negotiate. On local TV, Justice Minister Juan Jiménez said that they would "not negotiate with terrorists, the government acts within the law." The government sent 1,500 troops to the area. Defense Minister Alberto Otarola also traveled to the area to lead the effort to free the hostages.
On July 23, 2012, Prime Minister Oscar Valdés and his government resigned. The resignation came after Valdés received heavy criticism on how he handled the Conga mining project, a project involving surface mining of a copper quarry that also contains gold. Valdés came down hard against activists who protested against the project as well as other social issues. Juan Jiménez was named the new prime minister. However, Jiménez resigned a little over a year later, on October 29, 2013. He was replaced by César Villanueva, president of San Martin, a region in northern Peru.
Former President Denied Pardon
On June 7, 2013, President Ollanta Humala stated that he would not grant a pardon to former President Alberto Fujimori. Fujimori's family requested the pardon back in October 2012 for medical reasons. In prison for corruption and human rights violations, Fujimori has tongue cancer and other health problems. Humala said he reviewed information from Fujimori's doctors as well as the former president's crimes to make his decision. Prior to Humala's decision, a presidential commission had advised against giving Fujimori a pardon.

While president from 1990 to 2000, Fujimori oversaw the fight against the Shining Path, a guerrilla group. In 2009, he was sentenced to 25 years in prison for overseeing death squads that killed at least 25 people.

René Cornejo was sworn in as prime minister on Feb. 24, 2014. He became the fifth prime minister to serve since President Humala's first term began in July 2011. He resigned five months later after a political scandal. Minister of Labor Ana Jara replaced him as prime minister on July 22, 2014

.

However, on March 31, 2015, the Peruvian Congress voted to remove Jara as prime minister because she allegedly spied on lawmakers, journalists, and other citizens. The following month, Minster of Defense Pedro Cateriano was named the new prime minister. Cateriano became the seventh prime minister during Humala's first term in office.

See also Encyclopedia: Peru.
U.S. State Dept. Country Notes: Peru
National Institute of Statistics and Informatics (In Spanish only) www.inei.gob.pe/ .




Information Please® Database, © 2015 Pearson Education, Inc. All rights reserved.
More on Peru from Fact Monster: