Philippines
Republic of the Philippines

President: Benigno "Noynoy" Aquino III (2010)

Land area: 115,124 sq mi (298,171 sq km); total area: 115,830 sq mi (300,000 sq km)

Population (2014 est.): 107,668,231 (growth rate: 1.81%); birth rate: 24.24/1000; infant mortality rate: 17.64/1000; life expectancy: 72.48

Capital and largest city (2011 est.): Manila, 11.862 million

Other large cities: Davao 1.565 million; Cebu City 855,000; Zamboanga 884,000 (2011)

Monetary unit: Peso

National name: Republika ng Pilipinas

Languages: Filipino (based on Tagalog), English (both official); eight major dialects: Tagalog, Cebuano, Ilocano, Hiligaynon or Ilonggo, Bicol, Waray, Pampango, and Pangasinense

Ethnicity/race: Tagalog 28.1%, Cebuano 13.1%, Ilocano 9%, Bisaya/Binisaya 7.6%, Hiligaynon Ilonggo 7.5%, Bikol 6%, Waray 3.4%, other 25.3% (2000)

Religions: Roman Catholic 80.9%, Evangelical 2.8%, Iglesia ni Kristo 2.3%, Aglipayan 2%, other Christian 5%, Islam 5% (2000)

Literacy rate: 95.4% (2008 est.)

Economic summary: GDP/PPP (2013 est.): $454.3 billion; per capita $4,700. Real growth rate: 6.8%. Inflation: 2.8%. Unemployment: 7.4%. Arable land: 18%. Agriculture: sugarcane, coconuts, rice, corn, bananas, cassavas, pineapples, mangoes; pork, eggs, beef; fish. Labor force: 41.33 million; agriculture 32%, industry 15%, services 53% (2013 est.). Industries: electronics assembly, garments, footwear, pharmaceuticals, chemicals, wood products, food processing, petroleum refining, fishing. Natural resources: timber, petroleum, nickel, cobalt, silver, gold, salt, copper. Exports: $47.45 billion (2013 est.): semiconductors and electronic products, transport equipment, garments, copper products, petroleum products, coconut oil, fruits. Imports: $63.91 billion (2013 est.): electronic products, mineral fuels, machinery and transport equipment, iron and steel, textile fabrics, grains, chemicals, plastic. Major trading partners: Japan, U.S., Hong Kong, China, Singapore, Malaysia, Saudi Arabia, Indonesia, South Korea, Thailand (2012).

Communications: Telephones: main lines in use: 3.939 million (2012); mobile cellular: 103 million (2012). Broadcast media:multiple national private TV and radio networks; multi-channel satellite and cable TV systems available; five national or major TV networks; one government-owned network; 1100 cable TV providers and a government-operated national TV and radio network; about 300 analog television stations; more than 1,000 radio stations; the Philippines is scheduled to complete the switch from analog to digital broadcasting by the end of 2015 (2012). Internet Service Providers (ISPs): 425,812 (2012). Internet users: 8.278 million (2009).

Transportation: Railways: total: 995 km (2010). Highways: total: 213,151 km; paved: 54,481 km; unpaved: 158,670 km (2009). Waterways: 3,219 km; limited to shallow-draft (less than 1.5 m) vessels (2011). Ports and harbors:Batangas, Cagayan de Oro, Cebu, Davao, Liman, Manila. Airports:247 (2013).

International disputes: Philippines claims sovereignty over Scarborough Reef (also claimed by China together with Taiwan) and over certain of the Spratly Islands, known locally as the Kalayaan (Freedom) Islands, also claimed by China, Malaysia, Taiwan, and Vietnam; the 2002 "Declaration on the Conduct of Parties in the South China Sea," has eased tensions in the Spratly Islands but falls short of a legally binding "code of conduct" desired by several of the disputants; in March 2005, the national oil companies of China, the Philippines, and Vietnam signed a joint accord to conduct marine seismic activities in the Spratly Islands; Philippines retains a dormant claim to Malaysia's Sabah State in northern Borneo based on the Sultanate of Sulu's granting the Philippines Government power of attorney to pursue a sovereignty claim on his behalf; maritime delimitation negotiations continue with Palau.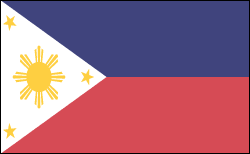 Geography
The Philippine islands are an archipelago of over 7,000 islands lying about 500 mi (805 km) off the southeast coast of Asia. The overall land area is comparable to that of Arizona. Only about 7% of the islands are larger than one square mile, and only one-third have names. The largest are Luzon in the north (40,420 sq mi; 104,687 sq km), Mindanao in the south (36,537 sq mi; 94,631 sq km), and Visayas (23,582 sq mi; 61,077 sq km). The islands are of volcanic origin, with the larger ones crossed by mountain ranges. The highest peak is Mount Apo (9,690 ft; 2,954 m) on Mindanao.
Government
Republic.
History
The Philippines' aboriginal inhabitants arrived from the Asian mainland around 25,000 BC They were followed by waves of Indonesian and Malayan settlers from 3000 BC onward. By the 14th century AD, extensive trade was being conducted with India, Indonesia, China, and Japan.
Ferdinand Magellan, the Portuguese navigator in the service of Spain, explored the Philippines in 1521. Twenty-one years later, a Spanish exploration party named the group of islands in honor of Prince Philip, who was later to become Philip II of Spain. Spain retained possession of the islands for the next 350 years.
The Philippines were ceded to the U.S. in 1899 by the Treaty of Paris after the Spanish-American War. Meanwhile, the Filipinos, led by Emilio Aguinaldo, had declared their independence. They initiated guerrilla warfare against U.S. troops that persisted until Aguinaldo's capture in 1901. By 1902, peace was established except among the Islamic Moros on the southern island of Mindanao.
The first U.S. civilian governor-general was William Howard Taft (1901–1904). The Jones Law (1916) established a Philippine legislature composed of an elective Senate and House of Representatives. The Tydings-McDuffie Act (1934) provided for a transitional period until 1946, at which time the Philippines would become completely independent. Under a constitution approved by the people of the Philippines in 1935, the Commonwealth of the Philippines came into being with Manuel Quezon y Molina as president.
On Dec. 8, 1941, the islands were invaded by Japanese troops. Following the fall of Gen. Douglas MacArthur's forces at Bataan and Corregidor, Quezon instituted a government-in-exile that he headed until his death in 1944. He was succeeded by Vice President Sergio Osmeña. U.S. forces under MacArthur reinvaded the Philippines in Oct. 1944 and, after the liberation of Manila in Feb. 1945, Osmeña reestablished the government.
An Independent Nation: Not Without Corruption
The Philippines achieved full independence on July 4, 1946. Manuel A. Roxas y Acuña was elected its first president, succeeded by Elpidio Quirino (1948–1953), Ramón Magsaysay (1953–1957), Carlos P. García (1957–1961), Diosdado Macapagal (1961–1965), and Ferdinand E. Marcos (1965–1986).
Under Marcos, civil unrest broke out in opposition to the leader's despotic rule. Martial law was declared on Sept. 21, 1972, and Marcos proclaimed a new constitution that ensured his role as president. Martial law was officially lifted on Jan. 17, 1981, but Marcos and his wife, Imelda, retained broad powers.
In an attempt to resecure American support, Marcos set presidential elections for Feb. 7, 1986. With the support of the Catholic Church, Corazon Aquino declared her candidacy. Marcos was declared the official winner, but independent observers reported widespread election fraud and vote rigging. Anti-Marcos protests exploded in Manila, Defense Minister Juan Enrile and Lt. Gen. Fidel Ramos defected to the opposition, and Marcos lost virtually all support; he was forced to flee and entered the U.S. on Feb. 25, 1986.
The End of U.S. Presence and Rebel Fighting Continues
The Aquino government survived coup attempts by Marcos supporters and other right-wing elements. Legislative elections on May 11, 1987, gave pro-Aquino candidates a large majority. Negotiations on renewal of leases for U.S. military bases threatened to sour relations between the two countries. Volcanic eruptions from Mount Pinatubo, however, severely damaged Clark Air Base, and in July 1991, the U.S. decided to abandon it.
In elections in May 1992, Gen. Fidel Ramos, who had the support of the outgoing Aquino, won the presidency in a seven-way race. In Sept. 1992, the U.S. Navy turned over the Subic Bay naval base to the Philippines, marking the end of U.S. military presence.
Meanwhile, the separatist Moro National Liberation Front was fighting a protracted war for an Islamic homeland on Mindanao, the southernmost of the two main islands. The Philippine army also battled another rebel group, the Moro Islamic Liberation Front. In Aug. 2001, both rebel groups signed unity agreements with the Philippine government. Frequent and violent clashes with these and other terrorist groups have continued, however. Abu Sayyaf, a small group of guerrillas that has been fighting since the 1970s for an independent Islamic state and reportedly has links to Osama bin Laden, gained international notoriety throughout 2000 and 2001 with its spree of kidnappings and murders. Two leaders of Abu Sayyaf were killed in late 2006 and early 2007, dealing a serious blow to the group. The Philippine military has also battled the New People's Army, a group of Communist guerrillas that have targeted Philippine security forces since 1969. International officials reported in June 2003 that Jemaah Islamiyah, an affiliate of al-Qaeda, was training recruits in Mindanao, in the southern Philippines. About 120,000 people have died in the conflicts with rebel groups, and more than 3 million have been displaced.
Government Unrest and a Military Coup
In May 1998, 61-year-old former action-film star Joseph Estrada was elected president of the Philippines. Within two years, however, the Philippine Senate began proceedings to impeach Estrada on corruption charges. Massive street demonstrations and the loss of political support eventually forced Estrada from office. Vice President Gloria Macapagal Arroyo, daughter of former president Diosdado Macapagal, became president in Jan. 2001. In May 2004 presidential elections, President Arroyo narrowly defeated film star Fernando Poe.
Arroyo faced a political crisis in the summer of 2005, after admitting to calling an election official during 2004's presidential race. A taped phone conversation between Arroyo and the official seemed to suggest that she had tried to use her power to influence the outcome. She survived an impeachment motion in July.
Arroyo declared a state of emergency in February, saying the government had foiled an attempted coup by the military. She also banned rallies commemorating the 20th anniversary of the ouster of Ferdinand Marcos. Some observers dismissed the report of the coup attempt as political maneuvering to gain support and weaken the opposition. On June 24, President Arroyo met with Pope Benedict XVI at the Vatican, where she announced that the Philippines was abolishing the death penalty.
In Sept. 2007, former president Joseph Estrada was convicted of corruption and sentenced to life in prison.
The government said in Nov. 2007 that it had reached a deal with the separatist Moro National Liberation Front that set boundaries for a Muslim homeland on the southern island of Mindanao. The deal fell apart in Aug. 2008 when fighting broke out between the rebels and government troops following a ruling by the Supreme Court that blocked the agreement. More than 160,000 Filipinos fled their homes and sought refuge from the violence. Peace talks resumed in Dec. 2009.
Local Government Leader and Ally of President Accused of Organizing Massacre
The government declared a state of emergency in November 2009 in the southern province of Maguindanao on the island of Mindanao following the massacre of a group of 57 people who about to fill out election nomination forms for a local leader who was challenging rival Andal Ampatuan, Jr., in the race for provincial governor. Officials and relatives of the victims blame Ampatuan's father, Andal Ampatuan, Sr., for organizing the attack. Ampatuan, himself a a former provincial governor, is an ally of President Arroyo. In February 2010, police arrested nearly 200 people, including both Ampatuans, in connection with the attack.
In elections in May 2010, Benigno "Noynoy" Aquino, a senator and the son of former president, Corazon Aquino, was elected president. He won about 40% of the vote. Former president Joseph Estrada placed second in the race, with about 25%. Aquino campaigned on a promise to crack down on corruption, which he said would help to reduce poverty.
Sitting astride the typhoon belt, the Philippines are usually affected by 15 and struck by 5 to 6 cyclonic storms per year. The end of 2011 brought typhoon Typhoon Washi, which raged for three days with winds gusting up to 90 kmh (56 mph). The deadly storm killed more than 1,200 and left an estimated 60,000 homeless.
Tension Increases with China Over Island
In May 2012, China held up Philippine bananas at customs for prolonged inspections. The same week in May, China began a media campaign suggesting any claim on Huangyan Island was an infringement of Chinese sovereignty. Called Panatag Shoal by the Philippines, the island has been the source of a longstanding dispute between the two countries.
China's vice minister of foreign affairs, Fu Ying urged the Philippines to remove its vessels from waters near the island, adding that the Philippines were "severely damaging the atmosphere of the bilateral relations" between the two countries. The Philippines said that they had found eight Chinese fishing vessels near the island back in April. When Philippine Navy personnel boarded the Chinese vessels, they found illegal coral and fish.
Government and Muslim Rebel Group Close to Peace Deal
On May 29, 2012, the chief justice of the Philippine Supreme Court, Renato Corona, was removed from office after an impeachment trial and conviction by the Senate for failure to declare about $4.2m. The vote was a watershed moment in Philippine politics, marking the first time an upper level official has been impeached and removed through official channels.
The Philippine government and the Moro Islamic Liberation Front, the country's largest Muslim separatist group, which seeks a homeland on the southern island of Mindanao, agreed to a framework peace agreement in October 2012. The deal will create an autonomous Muslim homeland on Mindanao, which will be called Bangsamoro, and residents will receive a large share of the region's mineral wealth. In exchange, the rebels agreed to put down their arms. The government and the rebels have been at war for about 40 years, and 120,000 people have been killed in the fighting. After protracted negotiations, the deal was finalized in March 2014.
Death Toll Rises from Typhoon Bopha
A typhoon, which was named Bopha, hit the southern Philippines in early December 2012. As of December 7, the death toll had risen to 456 with more than 500 missing, according to the government's disaster agency. The damage from the typhoon was increased by deforestation, lack of planning, and other factors.
Officials said that the final death toll would most likely exceed 500. Almost four hundred thousand people had to evacuate to temporary centers or received some form of assistance from the government. Typhoon Bopha came nearly one year after 1,200 people were killed by Typhoon Washi.
7.2 Magnitude Earthquake Kills at least 144 People
A powerful earthquake hit the Philippines on Tuesday, October 15, 2013. At least 144 people were killed and nearly 300 were injured. The quake also destroyed one of the country's oldest churches and caused widespread damage.
According to Renato Solidum, director of the Philippine Institute of Volcanology and Seismology, the center of the earthquake was near Carmen, a small town on Bohol Island. Solidum also explained the intensity of the earthquake in a statement, "A magnitude 7 earthquake has an energy equivalent to around 32 Hiroshima atomic bombs. This one had a magnitude of 7.2." Tremors from the earthquake reached all of the islands in the central Philippines, destroying several buildings, roads and bridges.
Typhoon Haiyan Kills Thousands
On Friday, November 8, 2013, a powerful typhoon struck the Philippines. Typhoon Haiyan was one of the strongest storms to ever make landfall, hitting several islands throughout the central Philippines. Tacloban, a coastal city with a population of 220,000, was destroyed. According to the Social Welfare and Development Department, Typhoon Haiyan, called Typhoon Yolanda in the Philippines, affected 4.28 million people and at least 270 towns.
Electricity and phone service was out in many areas. Philippine Red Cross Secretary General Gwendolyn Pang was able to text this message, "The local Red Cross chapter has seen many bodies. An actual body count has to be done to determine the exact number." According to meteorologists, Typhoon Haiyan hit the Philippines with winds of up to 190 miles per hour. By Saturday, November 9, 2013, a United Nations disaster team had arrived to assess the damage. "This is destruction on a massive scale. There are cars thrown like tumbleweed. The last time I saw something of this scale was in the aftermath of the Indian Ocean tsunami," said United Nations team member Sebastian Rhodes Stampa in a statement in which he referred to the 2004 tsunami that hit Indonesia.
By November 20, 2013, according to the Philippines National Disaster Risk Reduction and Management Council, the death toll had reached 4,011. Rescue teams continued to search for the 1,602 people who remained missing. While electricity was still out in some areas, some stores had reopened and residents had begun rebuilding their homes.
See also Encyclopedia: The Philippines.
U.S. State Dept. Country Notes: Philippines
National Statistical Coordination Board (NSCB) www.nscb.gov.ph/ .
See also Timeline: Philippines History (1521–1946) and Timeline: Philippines History (1965–Present).
Information Please® Database, © 2014 Pearson Education, Inc. All rights reserved.
More on Philippines from Fact Monster: