Romania
President: Klaus Johannis (2014)
Prime Minister: Victor Ponta (2012)
Land area: 88,934 sq mi (230,339 sq km); total area: 91,699 sq mi (237,500 sq km)
Population (2014 est.): 21,729,871 (growth rate: –0.29%); birth rate: 9.27/1000; infant mortality rate: 10.16/1000; life expectancy: 74.69; density per sq mi: 218.6
Capital and largest city (2011 est.): Bucharest, 1.937 million
Other large cities: Cluj-Napoca, 324,576; Timisoara, 319,279; Iasi, 290,422; Constanta, 283,872; Craiova, 269,506, Brasov, 253,200; Galati, 249,342
Monetary unit: lei
Languages: Romanian 85.4% (official), Hungarian 6.3%, Romany (Gypsy) 1.2%, other 1%, unspecified 6.1% (2011 est.)
Ethnicity/race: Romanian 83.4%, Hungarian 6.1%, Roma (Gyspy) 3.1%, Ukrainian 0.3%, German 0.2%, other 0.7%, unspecified 6.1% (2011 est.)
Religions: Eastern Orthodox (including all sub-denominations) 81.9%, Protestant (various denominations including Reformate and Pentecostal) 6.4%, Roman Catholic 4.3%, other (mostly Muslim) 0.9%, unspecified 6.3%, none 0.2% (2011 est.)
Literacy rate: 97.7% (2011 est.)
Economic summary: GDP/PPP (2013 est.): $288.5 billion; per capita $14,400. Real growth rate: 3.5%. Inflation: 3.2%. Unemployment: 7.3%. Arable land: 37.73%. Agriculture: wheat, corn, barley, sugar beets, sunflower seed, potatoes, grapes; eggs, sheep. Labor force: 9.451 million (2013 est.); agriculture 29%, industry 28.6%, services 42.4% (2012). Industries: electric machinery and equipment, textiles and footwear, light machinery, auto assembly, mining, timber, construction materials, metallurgy, chemicals, food processing, petroleum refining. Natural resources: petroleum (reserves declining), timber, natural gas, coal, iron ore, salt, arable land, hydropower. Exports: $65.84 billion (2013 est.): machinery and equipment, metals and metal products, textiles and footwear, chemicals, agricultural products, minerals and fuels. Imports: $73.42 billion f.o.b. (2013 est.): machinery and equipment, chemicals, fuels and minerals, metals, textile and products, agricultural products. Major trading partners: Italy, Germany, France, Turkey, Poland, Hungary, Russia, Austria, Kazakhstan (2012).
Communications: Telephones: main lines in use: 4.68 million (2012); mobile cellular: 22.7 million (2012). Radio broadcast stations: 698 (frequency type NA) (2006). Radios: 7.2 million (1997). Television broadcast stations: 623 (plus 200 repeaters)(2006). Televisions: 5.25 million (1997). Internet Service Providers (ISPs): 2.667 million (2012). Internet users: 7.787 million (2009).
Transportation: Railways: total: 10,777 km (4,020 km electrified) (2012). Highways: total: 84,185 km; paved: 49,873 km (including 337 km of expressways); unpaved: 11,232 km (2012). Waterways: 1,731 km (2010). Ports and harbors: Constanta, Midia, Braila, Galati (Galatz), Mancanului (Giurgiu), Tulcea (Danube River). Airports: 45 (2013).
International disputes: The ICJ ruled largely in favor of Romania in its dispute submitted in 2004 over Ukrainian-administered Zmiyinyy/Serpilor (Snake) Island and Black Sea maritime boundary delimitation; Romania opposes Ukraine's reopening of a navigation canal from the Danube border through Ukraine to the Black Sea.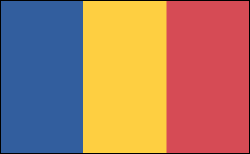 Geography
Romania is in southeast Europe and is slightly smaller than Oregon. The Carpathian Mountains divide Romania's upper half from north to south and connect near the center of the country with the Transylvanian Alps, running east and west. North and west of these ranges lies the Transylvanian plateau, and to the south and east are the plains of Moldavia and Walachia. In its last 190 mi (306 km), the Danube River flows through Romania only. It enters the Black Sea in northern Dobruja, just south of the border with Ukraine.
Government
Republic.
History
Most of Romania was the Roman province of Dacia from about A.D. 100 to 271. From the 3rd to the 12th century, wave after wave of barbarian conquerors overran the native Daco-Roman population. Subjection to the first Bulgarian Empire (8th–10th century) brought Eastern Orthodox Christianity to the Romanians. In the 11th century, Transylvania was absorbed into the Hungarian empire. By the 16th century, the main Romanian principalities of Moldavia and Walachia had become satellites within the Ottoman Empire, although they retained much independence. After the Russo-Turkish War of 1828–1829, they became Russian protectorates. The nation became a kingdom in 1881 after the Congress of Berlin.
At the start of World War I, Romania proclaimed its neutrality, but it later joined the Allied side and in 1916 declared war on the Central Powers. The armistice of Nov. 11, 1918, gave Romania vast territories from Russia and the Austro-Hungarian Empire, doubling its size. The areas acquired included Bessarabia, Transylvania, and Bukovina. The Banat, a Hungarian area, was divided with Yugoslavia. King Carol II was crowned in 1930 and transformed the throne into a royal dictatorship. In 1938, he abolished the democratic constitution of 1923. In 1940, the country was reorganized along Fascist lines, and the Fascist Iron Guard became the nucleus of the new totalitarian party. On June 27, the Soviet Union occupied Bessarabia and northern Bukovina. King Carol II dissolved parliament, granted the new prime minister, Ion Antonescu, full power, abdicated his throne, and went into exile.
Romania subsequently signed the Axis Pact on Nov. 23, 1940, and the following June joined in Germany's attack on the Soviet Union, reoccupying Bessarabia. About 270,000 Jews were massacred in Fascist Romania. Following the invasion of Romania by the Red Army in Aug. 1944, King Michael led a coup that ousted the Antonescu government. An armistice with the Soviet Union was signed in Moscow on Sept. 12, 1944. A Communist-dominated government bloc won elections in 1946, Michael abdicated on Dec. 30, 1947, and in 1955 Romania joined the Warsaw Treaty Organization and the United Nations.
Running a neo-Stalinist police state from 1967–1989, Nicolae Ceausescu wound the iron curtain tightly around Romania, turning a moderately prosperous country into one at the brink of starvation. To repay his $10 billion foreign debt in 1982, he ransacked the Romanian economy of everything that could be exported, leaving the country with desperate shortages of food, fuel, and other essentials. An army-assisted rebellion in Dec. 1989 led to Ceausescu's overthrow, trial, and execution.
Attempting Post-Communist Government
An ex-Communist, Ion Iliescu of the National Salvation Front, served as president from 1990–1995. Emil Constantinescu of the Democratic Convention Party was president from 1996–2000. The post-Communist governments' conflicted and halfhearted attempts to change to a free-market economy have been largely unrealized. Growing dissatisfaction with the government's inefficiencies and economic policies led to a wave of protests by workers, students, and others that peaked in 1997, and again in 1999. In 2000 former president Iliescu returned to power with a landslide victory, easily defeating a xenophobic nationalist opponent. Discrimination against the Magyars (ethnic Hungarians) and the Roma (Gypsies) continues, fueled by several ultranationalist political parties.
Romania joined NATO in 2004, and in 2005 the EU approved the entry of Romania in 2007. Final acceptance into the EU was based on a number of reforms, including increased law enforcement and environmental measures and the protection of the rights of the Roma minority.
In April 2007, Parliament voted to suspend President Traian Basescu, citing abuse of power. Tension had been growing between Basescu and the government of Prime Minister Calin Tariceanu. The president of the Senate, Nicolae Vacaroiu, was named acting president. In a May referendum, 74% of the electorate voted against impeaching Basescu, and he was reinstated as president. Observers saw the vote as an endorsement of Basescu's agenda of reform and rooting out corruption.
Following inconclusive general elections in November 2008, economist and former prime minister Theodor Stolojan was asked by President Basescu to form a new cabinet. On December 15, Stolojan withdrew from the race and Emil Boc was named prime minister.
Government in Turmoil
The Social Democrat Party (PSD) pulled out of the governing coalition in October 2009, leaving Boc as the head of a minority government, which thereafter lost a confidence vote in Parliament. Member of Parliament cited Boc's failure to pull the country out of recession. In November, Parliament rejected Basescu's choice for prime minister, Lucian Croitoru, and Boc stayed in office as caretaker. Basescu was narrowly reelected in December's run-off election against Mircea Geoana, of the opposition Social Democrats', and asked Boc to form a new coalition government. Boc quickly introduced stringent budget cuts and vowed to address the country's financial crisis.
Basescu has earned wide international praise for his anti-corruption drive and for paving the way for Romania to join the European Union.
Protests Demand New Government
On January 19, 2012, thousands of protestors gathered in Bucharest. The demonstration came after a week of protests, which at times turned violent and were against austerity measures. Protestors demanded new elections and called for President Traian Basescu and Prime Minister Emil Boc to resign. Much like the situation in Spain and Greece, Romania's struggling economy has left many of its citizens frustrated. However, the incident that sparked the protests was the resignation of Raed Arafat, a popular health official. Arafat resigned earlier in January over a government proposal to partly privatize the country's medical emergency-response system. Arafat was reinstated and plans for the proposal were shelved, but the protests continued. According to Romania's media, fifty-five people were arrested and five were injured in the January 19 demonstration.
In February 2012, after weeks of protests, Prime Minister Emil Boc resigned. President Basescu immediately named Justice Minister Catalin Predoiu as the interim prime minister. Later Basescu nominated Mihai-Razvan Ungureanu as Boc's permanent replacement. Ungureanu's appointment was approved by the parliament. Ungureanu, a former foreign minister and the current director of Romania's foreign-intelligence service, assumed office on February 9, 2012. Protests continued through February, but on a smaller scale. The latest demonstrations reflected the protesters discontent with their wages, unemployment and corruption in the government.
Prime Minister Ungureanu promised to focus on reforms and maintaining the country's economic stability despite the ongoing political crisis. However, after just two and a half months, Ungureanu and his cabinet could not pass a no-confidence vote. In April 2012, President Basescu appointed Victor Ponta as the new prime minister. Ponta has been the leader of the Social Democratic Party since 2010.
Basescu Faces Second Referendum
In early July 2012, Parliament voted to impeach President Basescu. Prime Minister Ponta and his Social Liberal Union accused Basescu of violating the Constitution and being a dictator. The accusation came even though the Romanian prime minister has more power than the president. Ponta's governing coalition also fired the speakers in both chambers of Parliament, a move which the opposition deemed unconstitutional.
On July 29, 2012, a majority voted for Basescu's dismissal, but the Constitutional Court ruled the referendum invalid due to low voter turnout. Turnout was 46%, just below the 50% needed in order to make the vote valid. Basescu returned to office on Aug. 27, 2012. It was the second referendum Basescu had faced. In 2007, 74% of the voters elected to keep him in office.
As a result of Dec. 2012 parliamentary elections, the new year brought a ruling alliance of social democrats and liberals, with President Traian Basescu and Prime Minister Victor Ponta agreeing to cooperate on common goals, and follow a code of good manners.
Iohannis Becomes President in Election Shocker
On Nov. 16, 2014, Klaus Iohannis beat Prime Minister Victor Ponta in a presidential election runoff. Iohannis received 54.4% of the vote and Ponta received 45.6%. It was a surprise victory for Iohannis, the mayor of Sibiu and National Liberal Party leader, especially since Ponta had been the favorite in polls leading up to the election. Previously, Iohannis was a physics teacher and school inspector.
After his presidential election defeat, Ponta remained on as prime minister. He planned to stay in that position until the 2016 general election.
See also Encyclopedia: Romania.
U.S. State Dept. Country Notes: Romania
Information Please® Database, © 2015 Pearson Education, Inc. All rights reserved.
More on Romania from Fact Monster: