Tunisia
President: Beji Caid Essebsi (2014)
Prime Minister: Habib Essid (2014)
Land area: 59,985 sq mi (155,361 sq km); total area: 63,170 sq mi (163,610 sq km)
Population (2014 est.): 10,937,521 (growth rate: 0.92%); birth rate: 16.9/1000; infant mortality rate: 23.19/1000; life expectancy: 75.68; density per sq mi: 163
Capital and largest city (2013 est.): Tunis, 2,321,227 (metro. area), 651,183 (city proper)
Monetary unit: Tunisian dinar
Tunisian Republic
National name: Al-Jumhuriyah at-Tunisiyah
Languages: Arabic (official, commerce), French (commerce), Berber (Tamazight)
Ethnicity/race: Arab-Berber 98%, European 1%, Jewish and other 1%
Religions: Islam (Sunni) 99.1%, other (includes Christian, Jewish, Shia Muslim, and Baha'i) 1%
Literacy rate: 79.1% (2010 est.)
Economic summary: GDP/PPP (2013 est.): $108.4 billion; per capita $9,900. Real growth rate: 2.8%. Inflation: 6.1%. Unemployment: 17.2%. Arable land: 17.35%. Agriculture: olives, olive oil, grain, tomatoes, citrus fruit, sugar beets, dates, almonds; beef, dairy products. Labor force: 3.974 million (2013 est.); services 49.8%, industry 31.9%, agriculture 18.3% (2009 est.). Industries: petroleum, mining (particularly phosphate and iron ore), tourism, textiles, footwear, agribusiness, beverages. Natural resources: petroleum, phosphates, iron ore, lead, zinc, salt. Exports: $17.46 billion (2013 est.): clothing, semi-finished goods and textiles, agricultural products, mechanical goods, phosphates and chemicals, hydrocarbons, electrical equipment. Imports: $24.95 billion (2013 est.): textiles, machinery and equipment, hydrocarbons, chemicals, foodstuffs. Major trading partners: France, Italy, Germany, Spain, Libya, China, Algeria, U.S. (2012).
Communications: Telephones: main lines in use: 1.105 million (2012); mobile cellular: 12.84 million (2012). Radio broadcast stations: broadcast media is mainly government-controlled; the state-run Tunisian Radio and Television Establishment (ERTT) operates 2 national TV networks, several national radio networks, and a number of regional radio stations; 1 TV and 3 radio stations are privately-owned and report domestic news stories directly from the official Tunisian news agency; the state retains control of broadcast facilities and transmitters through L'Office National de la Telediffusion; Tunisians also have access to Egyptian, pan-Arab, and European satellite TV channels (2007). Radios: 2.06 million (1997). Television broadcast stations: 26 (plus 76 repeaters) (1995). Televisions: 920,000 (1997). Internet Service Providers (ISPs): 576 (2012). Internet users: 3.5 million (2009).
Transportation: Railways: total: 2,165 km (2011). Highways: total: 19,418 km; paved: 14,756 km; unpaved: 4,662 km (2010). Ports and harbors: Bizerte, Gabes, Rades, Sfax, Sousse. Airports: 29 (2013).
International disputes: none.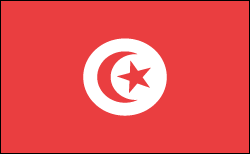 Geography
Tunisia, at the northernmost bulge of Africa, thrusts out toward Sicily to mark the division between the eastern and western Mediterranean Sea. Twice the size of South Carolina, it is bordered on the west by Algeria and by Libya on the south. Coastal plains on the east rise to a north-south escarpment that slopes gently to the west. The Sahara Desert lies in the southernmost part. Tunisia is more mountainous in the north, where the Atlas range continues from Algeria.
Government
Republic.
History
Tunisia was settled by the Phoenicians in the 12th century B.C. By the sixth and fifth centuries B.C., the great city-state of Carthage (derived from the Phoenician name for "new city") dominated much of the western Mediterranean. The three Punic Wars between Rome and Carthage (the second was the most famous, pitting the Roman general Scipio Africanus against Carthage's Hannibal) led to the complete destruction of Carthage by 146 B.C.
Except for an interval of Vandal conquest in A.D. 439–533, Carthage was part of the Roman Empire until the Arab conquest of 648–669. It was then ruled by various Arab and Berber dynasties, followed by the Turks, who took it in 1570–1574 and made it part of the Ottoman Empire until the 19th century. In the late 16th century, it was a stronghold for the Barbary pirates. French troops occupied the country in 1881, and the bey, the local Tunisian ruler, signed a treaty acknowledging it as a French protectorate.
Nationalist agitation forced France to recognize Tunisian independence and sovereignty in 1956. The constituent assembly deposed the bey on July 25, 1957, declared Tunisia a republic, and elected Habib Bourguiba as president. Bourguiba maintained a pro-Western foreign policy that earned him enemies. Tunisia refused to break relations with the U.S. during the Arab-Israeli War in June 1967. Concerned with Islamic fundamentalist plots against the state, the government stepped up efforts to eradicate the movement, including censorship and frequent detention of suspects.
In 1987, the aged Bourguiba was declared mentally unfit to continue as president and was removed from office in a bloodless coup. He was succeeded by Gen. Zine al-Abidine Ben Ali, whose tenure has been marked by repression, a poor human rights record, the rise in Islamic fundamentalism, and growing anti-Western sentiments among the populace. Ben Ali was reelected in Oct. 1999 with 99% of the vote in an election criticized by many human rights observers. In May 2000 Ben Ali's Constitutional Democratic Assembly Party swept local elections with 92% of the vote, in a contest many opposition leaders boycotted. However, Tunisia's economy continued to improve in the late 1990s, making the country one of the most attractive in Africa for foreign investors. In May 2002, a referendum passed that ended the three-term limit for the presidency. It permitted Ben Ali, who has served as president for more than 15 years, to run for two more terms. Opposition parties protested. In Oct. 2004, the president was reelected with 94% of the vote. Ali won a fifth term in Oct. 2009, taking 89.6% of the vote.
Protests Bring Down President Ben Ali
In December 2010, a college graduate who worked as a street vendor set himself on fire in the city of Sidi Bouzid to protest unemployment, corruption and the continued police state. A spate of other protests followed and spread throughout the country. As many as 10,000 people took to the streets of Tunis, the capital. President Ben Ali attempted to quell the protests with a promise of new elections—but not until 2014—and the creation of 300,000 jobs, but the demonstrations continued and the police retaliated with live gunfire, batons, and tear gas. As many as 80 protesters died in the violence.
After 23 years in power, Ben Ali stepped down and left the country on January 14, 2011. His resignation only complicated the political unrest in Tunisia. Prime Minister Mohamed Ghannouchi said he would assume power, but the following day backed down from that plan and set up a unity government with Fouad Mebazaa, speaker of Parliament, as interim president. The opposition rejected the government and continued their protests, saying high-level posts were given to members of Ben Ali's party, while low-ranking ministries were reserved for the opposition. On Feb. 27, Prime Minister Ghannouchi resigned amid ongoing protests and continued criticism that he was too closely linked to the Ben Ali regime. He was replaced by Beji Caid-Essebsi, a former government minister. He responded to demands of the opposition and lifted the 20-year ban on the main Islamist party and froze the assets of Ben Ali. He did not, however, dissolve Parliament or suspend the constitution.
In June, Ben Ali and his wife, Leila Trabelsi, were found guilty in absentia of corruption and sentenced to 35 years in prison and fined $66 million.
Tunisia's First Democratic Elections in More Than 50 Years Deemed Free and Fair
Tunisia's first free elections since independence in 1956 were held on October 23, 2011. Voter turnout was estimated at 90%, and the election was deemed fair. Voters selected an assembly that will write a draft constitution and establish the procedure for upcoming parliamentary and presidential elections. Ennahda (Renaissance), a moderate, formerly banned Islamist party, prevailed, taking about 41% of the vote. Rachid Ghannouchi, the leader of Ennahda, said the party is committed to democracy and pluralism and would not implement strict Muslim moral codes on citizens. In November, Hamadi Jbeli, secretary general of the Islamist Ennahda party, was named prime minister, and longtime dissident Moncef Marzouki became president.
Ennahda formed a coalition government with center-left secular parties and vowed to refrain from implementing Islamic law or mentioning it in the new constitution. However, unemployment has increased under the new government, the economy has tanked, and Islamic extremism has spread, fueling popular discontent. In addition, the ultraconservative Salafis, who promote Islamic law, burned down bars and have threatened to demolish shrines that they deem sacrilegious. Ennahda has been accused of condoning the violence against secularists and secularist institutions carried out by the Salafis. Popular discontent with Ennahda grew during the summer of 2013 because the government made little progress on the constitution and had not set a date for elections, and it intensified after the ouster of Egyptian president Mohamed Morsi, an Islamist member of the Muslim Brotherhood, in July 2013. Ennahda responded by working diligently on a draft constitution and establishing a committee to oversee elections. However, the opposition, made up of secular parties, thwarted Ennahda's attempts to make headway on both. In October, Ennahda agreed to step down and hand power to a caretaker government, led by technocrats, that will run the country through elections in the spring of 2014.
The violence continued through 2012 and reached a peak in early 2013 following the assassination in February of the leftist opposition leader Chokri Belaid, who had been critical of the Islamists. Tens of thousands of anti-government protesters marched through Tunis after his death, saying the government and its religious platform fueled the killing. Prime Minister Hamadi Jebali, a leader of Ennahda, called on the Islamic-led cabinet to resign and be replaced by nonpartisan technocrats, but the party rebuffed him and he resigned. Interior Minister Ali Larayedh took over as interim prime minister and formed a government. Mohamed Brahmi, a National Assembly member and the head of the opposition People's Party, was assassinated in July 2013. The government said a militant group linked to al-Qaeda was responsible, and the opposition blamed the government for allowing such Islamic extremists to continue operating in the country.
As Tunisia was on the brink of spiralling into political chaos, political foes Ghannouchi, the leader of the Islamist party Ennahda, and Beji Caid Essebsi, a former foreign minister who served as interim prime minister in the transition period after the 2011 uprising, met several times and hashed out a deal in December 2013 that named industry minister Mehdi Jomaa as prime minister. He will preside over the government until elections are held sometime in 2014. The compromise was a stunning show of political fortitude on the part of Ghannouchi and Essebsi, who put the country's future over their own.
Government Approves New Constitution; Islamists Ousted from Power
After two years of painstaking negotiations between secularists and Islamists, the National Constituent Assembly voted overwhelmingly in favor of the new constitution in January 2014. Ennahda abandoned its requirement that the constitution recognize Tunisia as an Islamic state that observes Sharia law, and the secularists agreed that the document would say that Islam is the national religion. The constitution also spells out that Tunisia is a civil state with a separation of powers between the president and parliament, recognizes men and women as equals, calls for parity for women in elected bodies, and protects freedom of religion and expression. Tunisia was widely praised for producing a fair and progressive constitution, one of the most liberal in the Middle East.
In October 2014 elections, the secularist coalition Nidaa Tounes (Tunisian Call) won 85 out of 217 seats in parliament, defeating Ennahda, the governing Islamist party, which took 69 seats. Ennahda came under fire for failing to lift the lackluster economy and for being unable to stem the spread of jihadism in the country. Nidaa Tounes is headed by Beji Caid Essebsi, an 88-year-old former government minister who headed the interim government in 2011. The election was considered fair and free of irregularities.
November's presidential elections were closer than expected. Essebsi prevailed over Moncef Marzouki, 39.5% to 33.4%, and a runoff is necessary. Marzouki, a former dissident, has served as interim president since 2011. He has vowed to preserve the democratic reforms that resulted from the revolution and warned that the country would revert back to authoritarianism if Nidaa Tounes held both the presidency and premiership. Essebsi won the runoff election, 55.7% to 44.3%, and many of his opponents echoed Marzouki's concern.
Gunmen Open Fire at Tunis Museum
At least 20 people were killed in March 2015 when gunmen went on a shooting spree at the National Bardo Museum in the capital, Tunis. Security forces killed two of the gunmen, Yassine Laabidi and Hatem Khachnaoui. Officials said they believe an accomplice escaped. The Islamic State and a smaller extremist group, Okba Ibn Nafaa, claimed responsibility for the attack. The victims were passengers of a cruise ship, and Tunisian authorities believe the gunmen targeted the country's tourism industry, a substantial source of revenue for Tunisia.
"They wanted to attack an economic sector that is very important for Tunisia, a sector that is already in difficulties, and try to sink once and for all the economic development of the country," said Prime Minister Habib Essid.
See also Encyclopedia: Tunisia.
U.S. State Dept. Country Notes: Tunisia
National Statistics Institute (In French only) www.ins.nat.tn/ .
Information Please® Database, © 2014 Pearson Education, Inc. All rights reserved.
More on Tunisia from Fact Monster: