Mr. Death: The Rise and Fall of Fred A. Leuchter Jr.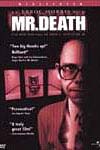 | | |
| --- | --- |
| Rating: | PG-13 (for thematic elements) |
| Genre: | Documentary |
| Release Date: | December 29, 1999 |
| Running time: | 90 minutes |
| Cast: | Fred A. Leuchter Jr., Robert Jan Van Pelt, David Irving, David Roth, Shelly Shapiro |
| Director: | Errol Morris |
| Producer: | David Collins, Michael Williams, Dorothy Aufiero |
| Distributor: | Lions Gate Releasing |
Description: From Gates of Heaven to Fast, Cheap & Out of Control, Errol Morris has generated some of the most compelling, entertaining, and influential movies of our time. Morris's latest effort, Mr. Death, is no exception, bringing his trademark investigative prowess, visionary direction, and sardonic humor to document one of the most fascinating characters in recent memory: Fred A. Leuchter, Jr., self-styled humanist and "execution technologist." Morris's agenda is never mere portraiture; rather, in unveiling Leuchter's involvement in Holocaust denial, his mission is to understand humankind's capacity for evil. In February 1988, Ernst Zundel, author of the anti-Semitic pamphlets Did Six Million Really Die? and The Hitler We Loved and Why, commissioned Fred Leuchter's pseudo-scientific investigation into the use of poison gas in World War II Nazi concentration camps. Without authorization, Leuchter stole into the "alleged" former gas chambers, illegally collecting mortar samples for forensic analysis. The now infamous Leuchter Report claimed that there was no evidence of poison gas in the camps and concluded that the Holocaust was a fictional creation. Leuchter fully expected his involvement with Ernst Zundel to be the crowning achievement of his career, but instead it proved his downfall. Where did this man come from? What are his credentials and motives? Is he a hatemonger, an anti-Semite, or merely a poor, deluded tool of the neo-Nazi movement? Morris bypasses a more obvious historical discourse on bigotry, examining instead the origins of evil: vanity and self-deception.
Movie summaries and listings powered by Cinema-Source