The Bombings of Hiroshima and Nagasaki
August 6 and 9, 1945
---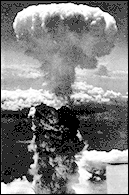 "In some sort of crude sense which no vulgarity, no humor, no overstatement can quite extinguish, the physicists have known sin; and this is a knowledge which they cannot lose."

–J. Robert Oppenheimer
Fat Man and Little Boy
The Controversy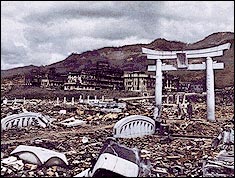 Needless Tragedy or Prudent Military Decision?
Because of robust Japanese defenses and the topography of the islands themselves, an amphibious assault would have taken a heavy toll on U.S. forces. Military officials estimated that such an invasion might have incurred up to a million U.S. casualties, with corresponding Japanese military and civilian losses. Two fire bombing raids on Tokyo earlier in 1945 had already killed 140,000 citizens and injured a million more. The bombings of Hiroshima and Nagasaki, then, might actually have spared hundreds of thousands of Japanese and American lives.
Fact Monster™ Database, © 2007 Pearson Education, Inc. All rights reserved.