Ahmed Tejan Kabbah
Lawyer Leads Troubled Sierra Leone
---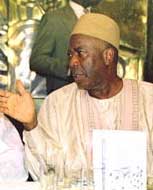 President Kabbah. (Source/AP)
Early Years
| | | |
| --- | --- | --- |
| | If Kabbah is able to bring peace to this battered this West African land, and help forge lasting democratic institutions, it will cap a lifetime of public service and devotion to the law. | |
In 1959, Kabbah became a district commissioner for the British colonial government in Sierra Leone. He continued working for the government after Sierra Leone gained its independence in 1961. Kabbah later became a permanent secretary, a position he was to hold until 1969.




A U.N. Official





Sierra Leone's Tumultuous Politics





A Fragile Peace in 1999




Sources: Embassy of Sierra Leone to the U.S., Panafrican News Agency, BBC, Washington Post, africana.com


Fact Monster™ Database, © 2007 Pearson Education, Inc. All rights reserved.