The American Lunchbox
A magical place where art and sandwich meet
---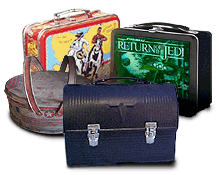 How to carry along your lunch? That's been a dilemma for thousands of years. In the ancient world, a simple basket or a nice goatskin might do the trick. But in recent times, lunchboxes have provided an attractive solution for millions.
Basic Buckets
The lunch pail, an early ancestor of the lunchbox, was anything but stylish. It was just a sturdy metal pail with a snug top. Some had originally been made to hold lard. Lunch pails were carried mainly by schoolchildren and by working men who didn't have the luxury of sitting down for a hot lunch.

After commercial baked goods became available, some schoolchildren toted their lunches in pretty tins that had held cookies or other treats. Following this trend, tobacco companies helped create a hunger for decorated lunch tins.
Tin Trends
MONSTER'S POLL
What's the coolest way to take lunch to school?
Beginning in the late 1800s some tobacco companies sold products in tins that were designed to be reused as lunchboxes. These tins, which might have one or two handles, came in a variety of colors and sometimes featured elaborate artwork. Such items of "tobacciana" have been popular collectibles for more than a century.

Manufacturers, perhaps watching their own children tote R. J. Reynolds tobacco tins to school, soon realized that they could sell lunchboxes made especially for children. These colorful boxes debuted around 1900. A number of children's lunchboxes appeared in the following decades, including a 1935 model featuring Mickey Mouse.
A Cowboy Blitz

Lunchboxes didn't become a mania until after
World War II
, when the Aladdin company in
Nashville
,
Tenn
., decided to make lunchboxes that featured movie and
television
heroes. In 1950 Aladdin issued a Hopalong Cassidy lunchbox, which was available in red or blue and included a matching thermos. Lunchrooms would never be the same.
As sales of the Hopalong Cassidy lunchbox soared, another cowboy wanted to get on the gravy train.
Roy Rogers
teamed up with the Thermos company for a groundbreaking 1953 lunchbox. While Hopalong's box had been decorated with a simple decal on one side, Roy's featured brilliant colors and full-color
lithography
on every side.
The Golden Age
Between 1950 and 1985 some 450 different decorated metal lunchboxes hit stores. Most were made by the three big lunchbox companies—Aladdin, Ohio Art, and Thermos. As these companies competed for the rights to depict television and movie characters, they tried to outdo each other with eye-catching new ideas.
In 1957 Aladdin introduced the "dome-top" box, which offered more space for lunchbox art and a shape that had creative potential. Disney's dome-top "Schoolbus" lunchbox became the best-selling lunchbox of all time. In 1962 Aladdin again made history when it began making lunchboxes with embossed designs that gave a three-dimensional effect.
For a while in the 1960s, vinyl lunchboxes had a share of the market. Made of cardboard coated in shiny vinyl, they were prone to split seams and crushed corners. Relatively few survive. The most popular vinyl lunchboxes were pink and featured
Barbie
.
End of an Era
Sales of metal lunchboxes slowed in the 1970s. In 1985 what was believed to be the last one rolled off the line. Why? Some say that it was because
Florida
mothers had lobbied to outlaw the metal boxes, which had caused injury when they were used in fights. Others say that it was just cheaper for companies to make molded plastic boxes.
What some refer to as "the dark ages" was underway. Still, it became a profitable time for dealers in vintage lunchboxes. Scarce classics could sell for hundreds of dollars.
Nostalgia Wins Out

Just in time for the new millennium, however, metal lunchboxes began making a modest comeback. The Thermos company reissued a few old favorites, including Spiderman, and some new models debuted. At long last, children who had been denied metal lunchboxes could become proud owners.
But did they? Collectors may spring for special metal lunchboxes—new ones in 2001 honored such pop topics as the
Planet of the Apes
movie. But for kids, soft plastic boxes and bags are the order of the day. They're rust-free and offer good insulation. Plus, they squash nicely into a backpack and won't do much harm in a playground brawl.