Wilt Chamberlain
August 21, 1936—October 12, 1999
---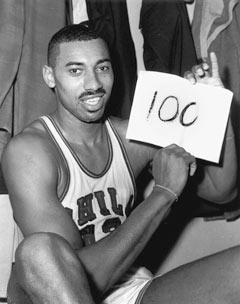 Twenty-five-year-old Wilt Chamberlain holds up a sign with the number "100" on it, which is how many points the Philadelphia Warriors center just scored in a record-shattering victory over the New York Knicks on March 2, 1962.

Wilt Chamberlain

was one of the most dominating centers in basketball history. Taller and stronger than most of his opponents, Chamberlain was an unstoppable force who made floating in fade-away jumpshots and ripping down rebounds his career. He filled countless pages of basketball record books with his impressive achievements. Here is a look at some of his most noteworthy:


Career
Height: 7-1, Weight: 275 lbs.
Played 14 NBA seasons from 1959-1973.
Second all-time in career points (behind Kareem Abdul-Jabbar) with 31,419.
First all-time in career rebounds with 23,924.
Played in 13 NBA All-Star Games
Won NBA Titles with Philadelphia in 1967 and Los Angeles in 1972
Elected to Naismith Memorial Hall of Fame in 1978
Member of NBA 50th Anniversary All-Time Team
Seasons
Led the NBA in scoring his first seven seasons.
Led the NBA in rebounding in 11 of his 14 NBA seasons.
During the 1961-62 season became the only player to score more than 4,000 points in a season (4,029), averaging 50.4 points per game.
Games
Scored 100 points for the Philadelphia Warriors in a 169-147 victory over the New York Knicks on March 2, 1962.
Of the 30 best regular-season scoring performances of all time, he owns 20.
Scored more than 50 points in a game 118 times.
Did not foul out of any of his more than 1,200 NBA games.
In his first collegiate game for the University of Kansas in 1956 he set a school record by scoring 52 points.
Awards
Won NBA Most Valuable Player Award (1960, 1966, 1967, 1968)
Won NBA Rookie of the Year Award (1960)
Won All-Star Game MVP (1960)
Won NBA Finals MVP (1972)
Other
As a 6-11 high school senior at Philadelphia's Overbrook High, he scored 90 points in one game, including 60 points in a span of 12 minutes in the second half.
Won the high jump event at the Big Eight Track and Field Championships in 1958, clearing the bar at 6-6.
Played the role of Bombaata in the 1984 Arnold Schwarzenegger movie "Conan the Destroyer."
Fact Monster™ Database, © 2007 Pearson Education, Inc. All rights reserved.