South Sudan
Facts & Figures
South Sudan

President: Salva Kiir Mayardiit (2005)

Total area: 400,367 sq mi (644,329 sq km)

Population: 10,625,176 (2012 est.); infant mortality rate: 71.83/1000 (2012 est.).

Capital and largest city: Juba, 372,410 (2011 est.).

Monetary unit: Dinar (South Sudan's central bank has said it will introduce a new currency, the South Sudanese Pound)

National name: Republic of South Sudan

Languages: English (official), Arabic (official), regional languages include Dinka, Nuer, Bari, Zande, Shilluk

Ethnicity/race: Dinka, Kakwa, Bari, Azande, Shilluk, Kuku, Murle, Mandari, Didinga, Ndogo, Bviri, Lndi, Anuak, Bongo, Lango, Dungotona, Acholi

Religion: animist, Christian

Literacy rate: 27% (2012 est.).

Economic summary: Industry and infrastructure are severely underdeveloped and poverty is widespread, following several decades of civil war with the north. Subsistence agriculture provides a living for the vast majority of the population. Property rights are tentative and price signals are missing because markets are not well organized. South Sudan has little infrastructure — just 60 km of paved roads. Electricity is produced mostly by costly diesel generators and running water is scarce. The government spends large sums of money to maintain a large army; delays in paying salaries have resulted in riots by unruly soldiers.

South Sudan depends largely on imports of goods, services, and capital from the north. Despite these disadvantages, South Sudan does have abundant natural resources. South Sudan produces nearly three-fourths of the former Sudan's total oil output of nearly a half million barrels per day. The government of South Sudan derives nearly 98% of its budget revenues from oil. Oil is exported through two pipelines that run to refineries and shipping facilities at Port Sudan on the Red Sea, and the 2005 oil sharing agreement with Khartoum called for a 50-50 sharing of oil revenues between the two entities. That deal expired on 9 July 2011, however, when South Sudan became an independent country. The economy of South Sudan undoubtedly will remain linked to Sudan for some time, given the long lead time and great expense required to build another pipeline. South Sudan also holds one of the richest agricultural areas in Africa in the White Nile valley, which has very fertile soils and more-than-adequate water supplies. Currently the region supports 10–20 million head of cattle. The White Nile has sufficient flow to generate large quantities of hydroelectricity. South Sudan does not have large external debt or structural trade deficits. South Sudan has received more than $4 billion in foreign aid since 2005, largely from the UK, U.S., Norway, and Netherlands, but Khartoum has imposed blockades on goods and capital going to South Sudan. Source: CIA World Factbook

International disputes: South Sudan-Sudan boundary represents 1 January 1956 alignment, final alignment pending negotiations and demarcation; final sovereignty status of Abyei region pending negotiations between South Sudan and Sudan; periodic violent skirmishes with South Sudanese residents over water and grazing rights persist among related pastoral populations along the border with the Central African Republic; the boundary that separates Kenya and South Sudan's sovereignty is unclear in the "Ilemi Triangle," which Kenya has administered since colonial times.

Transportation: Railways: 236 km (2010 est.). Highways: total: 7,000 km; paved: na; unpaved: na (2010 est.). Airports: 84 (2012).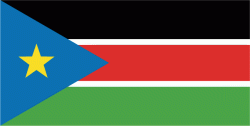 Geography
South Sudan is a landlocked country in eastern Africa with plains in the north and center and highlands in the south, along the border with Uganda and Kenya. The White Nile, a tributary of the Nile, flows north through the country. It's the major geographic feature of the country and supports agriculture and large wild animal populations. South Sudan is bordered by Central African Republic, Democratic Republic of the Congo, Ethiopia, Kenya, Sudan, and Uganda.
Government
Republic. South Sudan gained independence from Sudan on July 9, 2011
History
The Egyptians conquered Sudan in 1874 and established the province of Equatoria. Islamic Mahdist revolutionaries entered the territory in 1885, but British troops defeated the invaders and took over Sudan in 1898. (Britain had occupied Egypt since 1882.) Britain and Egypt ruled the country in conjunction as Anglo-Egyptian Sudan. In the early 20th century, Christian missionaries converted a large segment of the population and introduced English to the region. The result was a clearly defined line between the Arab north and the black African animists and Christians in the south.
Egypt and Britain ruled Sudan until 1953, when Anglo-Egyptian Sudan was granted Sudan self-government. In 1955, army officers in the south mutinied, sparking a civil war between the north and south. Southerners accused the government, based in the north, of trying to force Islamic and Arab culture on the south. In addition, the south said the government reneged on promises to grant the south more autonomy through a federal system of government. Independence was proclaimed on Jan. 1, 1956, and the civil war dragged on until the 1972 signing of the Addis Ababa Agreement. About 500,000 people died in the war. Under the accord, the Southern Sudan Autonomous Region was formed.
War broke out again in 1983 when President Gaafar Mohamed Nimeiri abrogated the treaty and declared all of Sudan a Muslim state, ruled by shariah, or Islamic law. In response, southern rebels formed the Sudan People's Liberation Army (SPLA) and fought the government for more than two decades. Government troops unleashed vicious massacres against civilians and entire villages. The government also provoked internecine violence between tribes and ethnic groups. A cease-fire was declared between the Sudanese government and the SPLA in July 2002. During peace talks, the government agreed to a power-sharing government for six years, to be followed by a referendum on self-determination for the south. Fighting on both sides continued throughout the peace negotiations.
Peace Accord Reached
On Jan. 9, 2005, after three years of negotiations, a peace deal was reached between the southern rebels, led by John Garang of the SPLA, and the Khartoum government, ending Africa's longest-running civil war. Under the deal, roughly half of Sudan's oil wealth was given to the south, as well as nearly complete autonomy and the right to secede after six years. But just two weeks after Garang was sworn in as first vice president as part of the power-sharing agreement, he was killed in a helicopter crash during bad weather. Rioting erupted in Khartoum, killing nearly 100. Garang's deputy, Salva Kiir, was quickly sworn in as the new vice president, and both north and south vowed that the peace agreement would hold.
In July 2009, an international tribunal at The Hague redefined the border of Sudan's oil-rich Abyei region, giving the North rights to the lucrative Heglig oil field, and the South retained rights to other large oil fields in Abyei.
In April 2010 elections, Salva Kiir, head of the Sudan People's Liberation Movement, was reelected president of the semi-autonomous South, taking 93% of the vote. He opted not to run for national president, choosing instead to remain the leader of southern Sudan — leaving no doubt that he supported independence.
Historic Vote for Independence
In a historic seven-day secessionist referendum that began in southern Sudan on January 9, 2011, 98.8% of voters chose independence from the north. Sudan's president Omar al-Bashir accepted the results and said he would not seek reelection when his term expires in 2015.
The Bush administration negotiated the 2005 Comprehensive Peace Agreement, which in addition to setting the date of the referendum also called for people in the contested region of Abyei to participate in the vote. That vote, however, has been delayed because a decision on what constitutes a resident of Abyei has not been reached. Tribal leaders in the region have made it clear that their loyalty lies with the south, but there has not been a date set for a vote in Abyei. Any declaration of affiliation with the south by Abyei could trigger an attack from the north. Abyei sits between northern and southern Sudan and has historically served as a bridge between the two. When voting began in southern Sudan, at least 23 people died in Abyei, confirming speculation that the region continues to be a matter of contention. In May 2011, armed forces from Sudan seized control of Abyei, which the south Sudanese government called an act of war. More than 20,000 people fled and the United Nations sent an envoy to intervene.
In July 2011, after years of fighting, the Republic of South Sudan declared its independence and became Africa's 54th state. Thousands celebrated in the streets of South Sudan's capital, Juba. Kiir, South Sudan's president, signed the interim Constitution. However, even as South Sudan celebrated its independence, Abyei's uncertainty was only one obstacle that awaits the fledgling state. South Sudan becomes one of the poorest countries in the world with half of the population living on less than $1 per day and an adult literacy rate of less than 25%. South Sudan also needs to establish a new government and constitution.
Instability and conflict with Sudan over oil plagued South Sudan since independence. Sudan launched air attacks into South Sudan, the north accused the south of arming militants in the north, and both accused each other of inciting a border war. Tension between the two nations peaked in early 2012 as the economies in both countries continued to shrink and a food crisis intensified in the south, emphasizing the need for oil revenues. As a full-scale war loomed, the two sides negotiated a non-aggression agreement under pressure from the African Union, the U.S., and China. Within days, however, South Sudan accused the north of violating the agreement.
The countries teetered on the brink of border war in April 2012. South Sudan took over disputed oil fields in Heglig, a move the African Union and the UN called illegal. Both sides traded ground and aerial attacks, and Sudan's president Omar al-Bashir said South Sudan he would not negotiate with South Sudan because it only responds to "the gun and bullets." The South withdrew from the contested region, but the aggression continued, prompting the African Union to give the two sides three months to resolve the issues over oil and the disputed border.
July 9, 2012 marked the one-year anniversary of South Sudan's independence. There was little to celebrate as tensions persist and the biggest issues—the border and oil—remain not only unresolved, but a source of violent outbreaks. African Union-sponsored talks have taken place, but both countries face sanctions from the U.N. Security Council if compromise is not achieved by Aug. 2.
Oil Pipeline Deal Achieved
Under significant pressure from the African Union, United Nations, and U.S. Secretary of State Hillary Clinton, Sudan and South Sudan reached an oil deal on Aug. 4, 2012. South Sudan, where the oil reserves are located, has agreed to compensate Sudan for the use of its oil pipeline in the form of both an amortized lump sum as well as a per-barrel payment. Financial details were not released.
After more than a year of no oil, Sudan and South Sudan reached an agreement in March 2013, brokered by the African Union, to resume oil production within the month. South Sudan gets 98% of its revenue from oil. The agreement established a timeline for resumption of oil production, and addressed other issues including security and border demarcation.
In an unofficial referendum held on Oct. 31, 2013, the 65,000 registered voters from the Dinka Ngok tribe of the disputed Abyei region voted to join South Sudan with a 99.9% majority. The unsurprising results were not recognized by the government of either country, nor did the other tribe, the Misseriya—who side with Sudan—nor the African Union support the vote.
Country Falls into Civil War
In late July 2013, President Salva Kiir, dismissed his cabinet and vice-president, Riek Machar. He said the move was intended to streamline the government and rout out corruption. However, many saw it as an attempt to curtail the ambition and power of Machar. Machar and his backers called Kiir a dictator, and political unrest followed for months. In December, Kiir accused Machar of attempting a coup. Machar denied the allegation, and fighting broke out in Juba between government troops and rebels loyal to Machar. Tribal rivalries also factored into the violence, with the Dinka, the majority tribe, backing Kiir, and the second-largest tribe, the Nuer, supporting Machar. Rebels took control of Unity and Upper Nile, two oil-producing states, but government troops remained better armed and in control of most other states. About 10,000 people died in what is considered a civil war and about 700,000 people fled their homes to escape the violence. The government and rebels signed a cease-fire in late January 2014 in Ethiopia. Both sides agreed to halt military operations while they negotiate further. The status of detainees, mostly supporters of Machar, remains a sensitive issue. Both sides violated the cease-fire, and negotiations in February produced few results.
Fighting continued and reached a low point in April, when the pro-Machar rebels took over the oil town of Bentiu and massacred hundreds of people, mostly civilians. The rebels targeted anyone they suspected supported Kiir.
See also Serbia.
Kosovo Factsheet
Information Please® Database, © 2008 Pearson Education, Inc. All rights reserved.
More on South Sudan from Fact Monster: