/ news and current events
Kazakhstan News & Current Events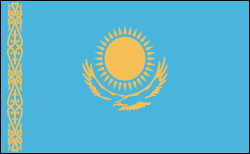 Index
News and Current Events
News and Current Events
Get caught up with the most important historic and current events in Kazakhstan.
Oil Brings Hope for Prosperity
In Jan. 1999, Nazarbayev was sworn into office for another seven years, although the election was widely criticized when an opposition leader was disqualified on a technicality. Despite his authoritarianism, Nazarbayev, who has ruled Kazakhstan since 1989 (when it was still part of the Soviet Union), is a widely popular leader.
Kazakhstan has the potential for becoming one of central Asia's richest countries because of its huge mineral and oil resources and its liberalized economy, which encourages Western investment. In 2000, oil was discovered in Kazakhstan's portion of the Caspian Sea. It is believed to be the largest oil find in 30 years. In March 2001, a pipeline opened to transport oil from the Tengiz fields to the Russian Black Sea port of Novorossiysk. In 2004, Kazakhstan signed a deal allowing China to build an oil pipeline to the Chinese border.
President Nazarbayev Continues to Consolidate Power and Stifle Opposition
But as its economic outlook blossoms, Kazakhstan's scant democratic principles continue to wither. In the past several years, the president has harassed the independent media, arrested opposition leaders, and passed a law making it virtually impossible for new political parties to form. In Dec. 2005, President Nazarbayev was reelected with 91% of the vote. In May 2007, Parliament voted to do away with term limits, thus allowing President Nazarbayev to remain in office indefinitely. In June, Nazarbayev dissolved parliament and called for elections in August, two years ahead of schedule. The opposition complained that the move did not give them adequate time to campaign.
Prime Minister Daniyal Akhmetov resigned in Jan. 2007, without giving a reason. He was replaced by former deputy prime minister Karim Masimov.
In Aug. 2007 parliamentary elections, the governing party, Nur Otan (Light of the Fatherland), won 88.1% of the vote and all 98 contested seats. The victory further consolidated power in the hands of Nazarbayev.
President Nazarbayev's Absence Raises Concern
In April 2011, President Nazarbayev was elected to another five-year term, winning 95.5 percent of the vote. In July 2011, Nazarbayev's office reported that he was on vacation, but would not release where he was or what he was doing. Later that month, Bild, a German newspaper, reported that Nazarbayev was in Hamburg, recovering from prostate surgery. The report raised concerns about political instability in the country. Kazakhstan's government responded to the Bild's report with a one sentence statement: President Nursultan Nazarbayev is on a short-term leave.
The Bild reported that President Nazarbayev, age 71, responded well to the surgery and would soon be back on his feet. In Oct. 2011, he chaired a Security Council meeting in Astana. Still, President Nazarbayev's surgery and the mystery surrounding it raised questions of a potential successor.
2012 Election Brings Criticism and Little Change
In Nov. 2011, President Nazarbayev called for a parliamentary election. The election, which will be held in Jan. 2012, is supposed to encourage a multiparty system. However, the only other party expected to participate is also a supporter of Nazarbayev. President Nazarbayev stated that the rising global economic crisis was his reason for a quick election.
When the election was held in Jan. 2012, the Organization for Security and Cooperation in Europe, the main Western-backed election monitoring group, criticized authorities for removing parties and candidates from the ballots at the last minute, denying voters those options. Other examples of voter fraud were reported. For example, Radio Liberty posted a video showing a woman voter putting multiple ballots in the ballot box. In the election, Nur Otan, the ruling party which held all elected seats before Parliament was dissolved in November 2011, received 80.7 percent of the vote, a strong majority. However, because of the new, lower election threshold, two parties also won seats in Parliament, the Communist People's Party, and Ak Zhol, a pro-business party. Both parties received just over seven percent of the vote. Seven percent was the new minimum required to receive representation in Parliament.
On September 24, 2012, Prime Minister Karim Massimov resigned after holding the position for five years. Massimov's resignation was long expected in Kazakhstan due to Nazarbayev's desire to consolidate power. First Deputy Prime Minister Serik Akhmetov was appointed to replace Massimov. Akhmetov assumed office immediately.
In a cabinet reshuffle in early April 2014, Prime Minister Serik Akhmetov resigned, President Nursultan Nazarbayev named Karim Masimov as new prime minister, and appointed Akhmetov defense minister.
The 2015 presidential election was held on April 26. President Nazarbayev won, receiving 97.7% of the vote. According to the Central Elections Commission, turnout was over 95%. Two other candidates were on the ballot, Communist People's Party Central Committee Secretary Turgun Syzdykov, and Trade Union Federation Chairman Abelgazi Kusainov.
Modern Elections and Protests
In 2019, mass protests broke out within the general population of Kazakhstan. After decades of corruption, human rights abuses, and declining living standards, people in Kazakhstan wanted to see real change in their government. Three months after the protests broke out, President Nazarbayev agreed to resign as president but remain within the government as head of the security council. Kassym-Jomart Tokayev took over and pledged to reform the country's democratic process.
Discontent remained throughout 2020 and 2021 although protests weren't as vigorous. However, in 2022, the situation erupted once more as the cost of living worsened even further and people saw that Nazabayev still remained in significant positions of power. After weeks of disruption, Tokayev gave in to protestor demands and formally removed Nazarbayev from all government positions. He also passed a law that reduced the maximum term a president can serve to seven years and also loosened laws on the formation of opposition political parties.
Kazakhstan's elections have long been regarded as unfair due to the suppression of opposition and the dominance of Nazarbayev's power, so these moves could come as significant reforms. However, there are concerns that Nazarbayev remains in true power behind the scenes, especially because Tokayev was a close ally of his during his presidency.
Modern-day Kazakhstan has been greatly influenced by its time within the USSR. Head over to our breakdown of the former Soviet Union to get the full picture.
See also Encyclopedia: Kazakhstan .
U.S. State Dept. Country Notes: Kazakhstan
---