Moldova News & Current Events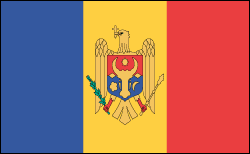 Index
News and Current Events
Disputed Election Leads to Unrest
Crowds of demonstrators attacked Parliament after the ruling Communist Party won general elections in March 2009. Violent protests followed, and the country became mired in political deadlock. In the July revote of parliamentary elections, the Communists lost their majority, taking 44.8 percent of the vote (48 of 101 seats). A coalition of four parties agreed to form a government. President Voronin resigned in September, and Mihai Ghimpu, a longtime member of Parliament who became speaker after the August elections, stepped in as acting president. With the country at a political impasse for a year, the Constitutional Court intervened in March 2010 and ordered that Parliament be dissolved and called for new elections. The move, however, violated the Constitution and the order cannot be implemented until July.
Continuing the electoral conflict, the Dec. 16, 2011, presidential election was ruled invalid due to procedural violations. Finally, in March 2012, the years-long political stalemate came to an end with the successful election of judge Nicolae Timofti in a parliamentary vote of the slimmest margin (one seat). The new president stated that his main goal for Moldava is integration into the EU.
Prime Minister Filat Dismissed
On March 8, 2013, the Parliament dismissed Prime Minister Vlad Filat by motion of censure, but President Timofti asked Filat to form a new government. On April 22, 2013, the Constitutional Court ruled that another person should replace Filat as an interim prime minister. President Timofti appointed Iurie Leanca as acting prime minister on April 25, 2013.
On May 15, 2013, Leanca was designated prime minister. Leanca served as European and foreign integration minister under Filat. The prime minister's cabinet received parliamentary endorsement (58 of 101 members) and was sworn in at the end of May; Natalia Gherman became foreign minister while other key posts remained the same.
New Elections Bring Rise to Pro-Russia Party
Parliamentary elections were held on Nov. 30, 2014, for the eighth time since the country's independence. The election was a defeat for the Party of Communists of the Republic of Moldova, which went from 38 to 21 seats. A small pro-Russia party, the Party of Socialists of the Republic of Moldova, was the big winner, taking 25 seats, the most of any party. The result could move the country toward the Eurasian Customs Union, which Russia wants Moldova to join.
Liberal Democratic Party candidate Chiril Gaburici was appointed prime minister by President Timofti on Feb. 18, 2015. A businessman, Gaburici previously managed Moldcell, a mobile network company in Moldova.
Political Instability Continues
Chiril Gaburici's time as prime minister was brief. He resigned four months after he was appointed, on June 12, 2015, due to a criminal investigation involving accusations that his school diplomas had been falsified. Deputy Prime Minister and Minister of Foreign Affairs and European Integration Natalia Gherman replaced Gaburici as acting prime minister on June 22, 2015.
The following month, President Timofti nominated Liberal Democratic Party President Valeriu Strele as prime minister. Parliament approved the nomination by a 52-41 vote and Strele assumed office on July 30.
However, Strelet's time as prime minister was also brief. In late Oct. 2015, the Moldovan Parliament dismissed Prime Minister Strelet's government after a no-confidence vote. Strelet was dismissed as tensions continued to mount in the country after former Prime Minister Vlad Filat was arrested on Oct. 15. Filat was arrested on charges of taking $260 million in bribes. Parliament member Gheorghe Brega took over as acting prime minister on Oct. 30. Brega became the first ever Liberal Party member to serve as prime minister.
On Dec. 21, 2015, President Timofti nominated Ion Sturza to serve as prime minister for a second time. Sturza previously served in 1999. Sturza failed to get his proposed government confirmed by parliament in Jan. 2016 and gave up the mandate.
See also Encyclopedia: Moldova .
U.S. State Dept. Country Notes: Moldova
Department for Statistics and Sociology http://www.statistica.md/?lang=en .
---