Zambia History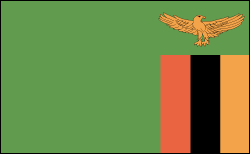 Index
History
Political and Economic Turmoil
In 1972, Kaunda outlawed all opposition political parties. The world copper market collapsed in 1975. The Zambian economy was devastated—it had been the third-largest miner of copper in the world after the United States and Soviet Union. With a soaring debt and inflation rate in 1991, riots took place in Lusaka, resulting in a number of killings. Mounting domestic pressure forced Kaunda to move Zambia toward multiparty democracy. National elections on Oct. 31, 1991, brought a stunning defeat to Kaunda. The new president, Frederick Chiluba, called for sweeping economic reforms, including privatization and the establishment of a stock market. He was reelected in Nov. 1996. Chiluba declared martial law in 1997 and arrested Kaunda following a failed coup attempt. The 1999 slump in world copper prices again depressed the economy because copper provides 80% of Zambia's export earnings.
In 2001, Chiluba contemplated changing the constitution to allow him to run for another presidential term. After protests he relented and selected Levy Mwanawasa, a former vice president with whom he had fallen out, as his successor. Mwanawasa became president in Jan. 2002; opposition parties protested over alleged fraud. In June 2002, Mwanawasa, once seen as a pawn of Chiluba, accused the former president of stealing millions from the government while in office. Chiluba was arrested and charged in Feb. 2003.
Although the country faced the threat of famine in 2002, the president refused to accept any international donations of food that had been genetically modified, which Mwanawasa considered "poison." In Aug. 2003, impeachment proceedings against the president for corruption were rejected by parliament. In April 2005, the World Bank approved a $3.8 billion debt relief package for the country.
In Sept. 2006 presidential elections, incumbent Levy Mwanawasa was reelected. President Mwanawasa suffered a stroke in June 2008 and died in Paris in September. Vice President Rupiah Banda took over as acting president and was elected president in October, defeating Michael Sata, 40.6% to 38.6%. Sata said the vote was rigged.
Presidential elections were held on Sept. 20, 2011. Michael Sata of the Patriotic Front (PF) beat incumbent Rupiah Banda of the Movement for Multiparty Democracy (MMD) with 43.3% of the vote. In parliamentary elections, the PF won 60 of 150 elected seats, the MMD 55, and the UPND 28; 8 members were appointed by the president, for a total of 158. The week after he was sworn in as president, Sata announced his cabinet: Guy Scott, vice president; Chishimba Kambwili, foreign minister; Geoffrey Mwamba, defense minister; Alexander Chikwanda, finance minister; and Kennedy Sakeni, home affairs minister.
---