/ Features
Fans Eagerly Await The Order of the Phoenix
Can film top book or the first four movies?
by Mark Zurlo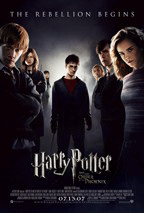 More on Harry Potter
Order of the Phoenix Quizzes
July 2007 will undoubtedly be the most exciting month yet for fans of J.K. Rowling's Harry Potter series. The last book in the series, Harry Potter and the Deathly Hollows, hits bookshelves on July 21, and the film adaptation of Harry Potter and the Order of the Phoenix makes its way into theaters across North America on July 11. The film promises to be the darkest and most dazzling yet, and anticipation runs high as its release date nears.
Familiar Cast Returns After Diverse Experiences
The film will once again feature the familiar trio of Harry Potter (Daniel Radcliffe, 17), Hermione Granger (Emma Watson, 17), and Ron Weasley (Rupert Grint, 18). While all three have signed on to star in the remaining two movies, they have taken different paths in between filming. Daniel Radcliffe has starred in the controversial, yet critically acclaimed London theater production of Equus and in the upcoming film December Boys. Rupert Grint starred in the 2006 film Driving Lessons and also purchased his own ice-cream truck. Watson, much like the overachieving character she plays on screen, has chosen to focus on her studies, concentrating on dance, art, and English literature.
Coming to a Theater Near You
Harry Potter and the Order of the Phoenix premiered in Tokyo on June 28, London on July 3, and Los Angeles on July 8. J.K. Rowling made a rare public appearance at the London opening. Critics were impressed by the emotional depth displayed by the characters, as well as by the eye-popping special effects. The film's distributor, Warner Brothers, estimates the movie will be shown on 10,000 different screens this summer, including IMAX screens across the country, which will feature the final 20 minutes of the film in 3D.
Elaborate Set Design
The movie will feature the most stunning set design the film series has seen, including a 200-foot-long model of the Ministry of Magic Atrium. Fans may also be surprised by some characters that make their big-screen debut: Kreecher, the Black family house elf, makes an unexpected appearance. Filmmakers had originally not included the ornery servant, but Rowling warned that cutting him out would drastically affect the seventh film, which is set to be released sometime in 2010, following the November 2008 release of Harry Potter and the Half-Blood Prince.
Too Much Harry Potter?
While early reviews have generally been positive, it will be up to each individual viewer to decide if the film lives up to the high standards set by one of the series's most beloved books. Some worry that with a new movie and book released within only ten days of each other, fans will not be able to appreciate each work the same way they would had they been released farther apart. Many, however, believe there is never too much Harry Potter.