/ U.S.
Delaware
State abbreviation/Postal code: Del./DE
Governor: John C. Carney Jr., D (to Jan. 2021)
Lieut. Governor: Bethany Hall-Long, D (to Jan. 2021)
Senators: Chris Coons, D (to Jan. 2023); Thomas R. Carper, D (to Jan. 2019)
Historical biographies of Congressional members
Secy. of State: Jeffrey W. Bullock, D (appt'd. by gov.)
Treasurer: Ken Simpler, R (to Jan. 2019)
Atty. General: Matthew Denn, D (to Jan. 2019)
Entered Union (rank): Dec. 7, 1787 (1)
Present constitution adopted: 1897
Motto: Liberty and independence
| | |
| --- | --- |
| colors | colonial blue and buff |
| flower | peach blossom (1895) |
| tree | American holly (1939) |
| bird | blue hen chicken (1939) |
| insect | ladybug (1974) |
| butterfly | tiger swallowtail (1999) |
| fish | weakfish, cynoscion regalis (1981) |
| song | "Our Delaware" |
| beverage | milk |
| fossil | belemnite |
Nicknames: Diamond State; First State; Small Wonder
Origin of name: From Delaware River and Bay; named in turn for Sir Thomas West, Baron De La Warr
10 largest cities (2014): Brandywine, 82,672; Wilmington, 71,292; Pike Creek-Central Kirkwood, 44,493; Lower Christiana, 38,118; Dover, 37,089; Central Pencader, 33,750; Newark, 32,367; Piedmont, 30,902; Upper Christiana, 25,793; Central Kent, 21,857; Middletown, 19,483
Land area: 1,954 sq mi. (5,161 sq km)
Geographic center: In Kent Co., 11 mi. S of Dover
Number of counties: 3
Largest county by population and area: New Castle, 538,479 (2010); Sussex, 938 sq mi.
State forests: 3 (over 15,000 ac.)
State parks: 14 (over 20,000 ac.)
Residents: Delawarean
2015 resident population: 945,934
2010 resident census population (rank): 897,934 (45). Male: 434,939 (48.4%); Female: 462,995 (51.6%). White: 618,617 (68.9%); Black: 191,814 (21.4%); American Indian: 4,181 (0.5%); Asian: 28,549 (3.2%); Other race: 30,519 (3.4%); Two or more races: 23,854 (2.7%); Hispanic/Latino: 73,221 (8.2%). 2010 population 18 and over: 692,169; 65 and over: 129,277 (14.4%); median age: 36.0.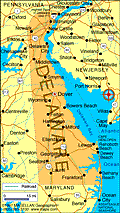 Henry Hudson, sailing under the Dutch flag, is credited with Delaware's discovery in 1609. The following year, Capt. Samuel Argall of Virginia named Delaware for his colony's governor, Thomas West, Baron De La Warr. An attempted Dutch settlement failed in 1631. Swedish colonization began at Fort Christina (now Wilmington) in 1638, but New Sweden fell to Dutch forces led by New Netherlands' governor Peter Stuyvesant in 1655.
England took over the area in 1664, and it was transferred to William Penn as the lower Three Counties in 1682. Semi-autonomous after 1704, Delaware fought as a separate state in the American Revolution and became the first state to ratify the Constitution in 1787.
During the Civil War, although a slave state, Delaware did not secede from the Union.
In 1802, Ëleuthère Irénée du Pont established a gunpowder mill near Wilmington that laid the foundation for Delaware's huge chemical industry. Delaware's manufactured products now also include vulcanized fiber, textiles, paper, medical supplies, metal products, machinery, machine tools, and automobiles.
Delaware also grows a great variety of fruits and vegetables and is a U.S. pioneer in the food-canning industry. Corn, soybeans, potatoes, and hay are important crops. Delaware's broiler-chicken farms supply the big Eastern markets, and fishing and dairy products are other important industries.
Points of interest include the Fort Christina Monument, Hagley Museum, Holy Trinity Church (erected in 1698, the oldest Protestant church in the United States still in use), and Winterthur Museum, in and near Wilmington; central New Castle, an almost unchanged late 18th-century capital; and the Delaware Museum of Natural History.
Popular recreation areas include Cape Henlopen, Delaware Seashore, Trap Pond State Park, and Rehoboth Beach.
In 2000, Ruth Ann Minner was elected, becoming Delaware's first woman governor.
In 2008, Joe Biden became the first Delaware senator elected to the vice presidency of the United States, as well as the first Roman Catholic to hold that office.
See more on Delaware:
Encyclopedia: Delaware
Encyclopedia: Geography
Encyclopedia: Economy
Encyclopedia: Government
Encyclopedia: History
Monthly Temperature Extremes
All U.S. States: Geography & Climate
Printable Outline Maps
Record Highest Temperatures
Record Lowest Temperatures
Highest, Lowest, and Mean Elevations
Land and Water Area
All U.S. States: Population & Economy
Historical Population Statistics, 1790–Present
Per Capita Personal Income
Minimum Wage Rates
State Taxes
Federal Government Expenditure
Percent of People in Poverty
Births and Birth Rates
Homeownership
Percentage of Uninsured by State
All U.S. States: Society & Culture:
Most Livable States
Healthiest States
Most Dangerous States
Smartest States
Crime Index
Residency Requirements for Voting
Compulsory School Attendance Laws
Driving Laws
National Public Radio Stations
Selected famous natives and residents: