/ U.S.
Idaho
State abbreviation/Postal code: Idaho/ID
Governor: C. L. Butch Otter, R (to Jan. 2019)
Lieut. Governor: Brad Little, R (to Jan. 2019)
Senators: Mike Crapo, R (to Jan. 2023); Jim Risch, R (to Jan. 2021)
Historical biographies of Congressional members
Secy. of State: Lawerence Denney, R (to Jan. 2019)
Atty. General: Lawrence Wasden, R (to Jan. 2019)
Treasurer: Ron G. Crane, R (to Jan. 2019)
Organized as territory: March 3, 1863
Entered Union (rank): July 3, 1890 (43)
Present constitution adopted: 1890
Motto: Esto perpetua (It is forever)
| | |
| --- | --- |
| flower | syringa (1931) |
| tree | white pine (1935) |
| bird | mountain bluebird (1931) |
| horse | Appaloosa (1975) |
| gem | star garnet (1967) |
| song | "Here We Have Idaho" |
| folk dance | square dance |
| fish | cutthroat trout (1990) |
| fossil | Hagerman horse fossil (1988) |
Nickname: Gem State
Origin of name: An invented name whose meaning is unknown.
10 largest cities (2014): Boise, 212,303; Nampa, 83,930; Meridian, 80,386; Idaho Falls, 57,899; Pocatello, 54,777; Caldwell, 47,668; Coeur d'Alene, 45,579; 45,158, 44,125; Lewiston, 32,051; Post Falls, 28,651.
Land area: 82,747 sq mi. (214,315 sq km)
Geographic center: In Custer Co., at Custer, SW of Challis
Number of counties: 44, plus small part of Yellowstone National Park
Largest county by population and area: Ada, 408,853 (2014); Idaho, 8,485 sq mi.
State forests: 881,000 ac.
State parks: 30 (43,000+ ac.)
Residents: Idahoan
2015 resident population: 1,654,930
2010 resident census population (rank): 1,567,582(39). Male: 785,324 (50.1%); Female: 782,258 (49.9%). White: 1,396,487 (89.1%); Black: 9,810 (0.6%); American Indian: 21,441 (1.4%); Asian: 19,069 (1.2%); Other race: 79,523 (4.2%); Two or more races: 38,935 (2.5%); Hispanic/Latino: 175,901 (11.2%). 2010 population 18 and over: 1,138,510; 65 and over: 194,668 (12.4%); median age: 34.6.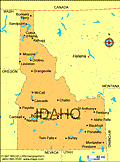 The region was explored by Meriwether Lewis and William Clark in 1805–1806. It was then a part of the Oregon country, held jointly by the United States and Great Britain. Boundary disputes with Great Britain were settled by the Oregon Treaty in 1846, and the first permanent U.S. settlement in Idaho was established by the Mormons at Franklin in 1860.
After gold was discovered at Orofino Creek in 1860, prospectors swarmed into the territory, but they left little more than a number of ghost towns.
In the 1870s, growing white occupation of Native Americsn lands led to a series of battles between U.S. forces and the Nez Percé, Bannock, and Sheepeater tribes.
Mining and lumbering have been important for years. Idaho ranks high among the states in silver, antimony, lead, cobalt, garnet, phosphate rock, vanadium, zinc, and mercury.
Agriculture is a major industry: The state produces about one fourth of the nation's potato crop, as well as wheat, apples, corn, barley, sugar beets, and hops.
The 1990s saw a remarkable growth in the high technology industries, concentrated in the metropolitan Boise area.
With the growth of winter sports, tourism now outranks other industries in revenue. Idaho's many streams and lakes provide fishing, camping, and boating sites. The nation's largest elk herds draw hunters from all over the world, and the famed Sun Valley resort attracts thousands of visitors to its swimming, golfing, and skiing facilities.
Points of interest are the Craters of the Moon National Monument; Nez Percé National Historic Park, which includes many sites visited by Lewis and Clark; and the State Historical Museum in Boise. Other attractions are the Snake River Birds of Prey National Conservation Area south of Boise, Hells Canyon on the Idaho-Oregon border, and the Sawtooth National Recreation Area in south-central Idaho.
See more on Idaho:
Encyclopedia: Idaho
Encyclopedia: Geography
Encyclopedia: Economy
Encyclopedia: Government
Encyclopedia: History
Monthly Temperature Extremes
All U.S. States: Geography & Climate
Printable Outline Maps
Record Highest Temperatures
Record Lowest Temperatures
Highest, Lowest, and Mean Elevations
Land and Water Area
All U.S. States: Population & Economy
Historical Population Statistics, 1790–Present
Per Capita Personal Income
Minimum Wage Rates
State Taxes
Federal Government Expenditure
Percent of People in Poverty
Births and Birth Rates
Homeownership
Percentage of Uninsured by State
All U.S. States: Society & Culture:
Most Livable States
Healthiest States
Most Dangerous States
Smartest States
Crime Index
Residency Requirements for Voting
Compulsory School Attendance Laws
Driving Laws
National Public Radio Stations
Selected famous natives and residents: