/ U.S.
Indiana
State abbreviation/Postal code: Ind./IN
Governor: Eric Holcomb, R (to Jan. 2021)
Lieut. Governor: Suzanne Crouch, R (to Jan. 2021)
Senators: Todd C. Young, R (to Jan. 2023); Joseph Donnelly, Sr. , D (to Jan. 2019)
Historical biographies of Congressional members
Secy. of State: Connie Lawson, R (to Jan. 2017)
Treasurer: Kelly Mitchell, R (to Jan. 2019)
Atty. General:  Curtis Hill, R (to Jan. 2021)
Organized as territory: May 7, 1800
Entered Union (rank): Dec. 11, 1816 (19)
Present constitution adopted: 1851
Motto: The Crossroads of America
| | |
| --- | --- |
| flower | peony (1957) |
| tree | tulip tree (1931) |
| bird | cardinal (1933) |
| song | "On the Banks of the Wabash, Far Away" (1913) |
| river | Wabash |
| stone | limestone |
Nickname: Hoosier State
Origin of name: Meaning "land of Indians"
Official language: English
10 largest cities (2014): Indianapolis, 834,852; Fort Wayne, 254,555; Evansville, 120,235; South Bend, 100,800; Carmel, 83,565; Bloomington, 81,963; Fishers, 81,833; Hammond, 79,686; Gary, 79,170; Muncie, 70,087
Land area: 35,867 sq mi. (92,896 sq km)
Geographic center: In Boone Co., 14 mi. NNW of Indianapolis
Number of counties: 92
Largest county by population and area: Marion, 918,887 (2014); Allen, 657 sq mi.
State parks: 23 (56,409 ac.)
State historic sites: 17 (2,007 ac.)
Residents: Indianan, Indianian, Hoosier
2015 resident population: 6,619,680
2010 resident census population (rank): 6,483,802 (15). Male: 3,189,737 (49.2%); Female: 3,294,065 (50.8%); White: 5,467,906 (84.3%); Black: 591,397 (9.1%); American Indian: 18,462 (0.3%); Asian: 102,474 (1.6%); Other race: 173,314 (2.4%); Two or more races: 127,901 (2.0%); Hispanic/Latino: 389,707 (6.0%). 2010 population 18 and over: 4,875,504; 65 and over: 841,108 (12.8%); median age: 37.0.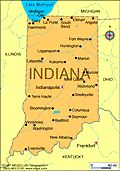 First explored for France by Robert Cavelier, Sieur de la Salle, in 1679–1680, the region figured importantly in the Franco-British struggle for North America that culminated with British victory in 1763. George Rogers Clark led American forces against the British in the area during the Revolutionary War and, prior to becoming a state, Indiana was the scene of frequent Indian uprisings until the victories of Gen. Anthony Wayne at Fallen Timbers in 1794 and Gen. William Henry Harrison at Tippecanoe in 1811.
During the 19th century, Indiana was the site of several experimental communities, including those established by George Rapp and Robert Owen at New Harmony.
Indiana's 41-mile Lake Michigan waterfront—one of the world's great industrial centers—turns out iron, steel, and oil products. Products include automobile parts and accessories, mobile homes and recreational vehicles, truck and bus bodies, aircraft engines, farm machinery, and fabricated structural steel. Wood office furniture and pharmaceuticals are also manufactured.
The state is a leader in agriculture with corn the principal crop. Hogs, soybeans, wheat, oats, rye, tomatoes, onions, and poultry also contribute heavily to Indiana's agricultural output.
Much of the building limestone used in the U.S. is quarried in Indiana, which is also a large producer of coal. Other mineral commodities include crushed stone, cement, and sand and gravel.
Wyandotte Cave, one of the largest in the U.S., is located in Crawford County in southern Indiana, and West Baden and French Lick are well known for their mineral springs. Other attractions include Indiana Dunes National Lakeshore, Indianapolis Motor Speedway, Lincoln Boyhood National Memorial, and the George Rogers Clark National Historical Park.
In 2005, a tornado hit Evansville, killing 22 and injuring 200. Storms and tornadoes again were the cause of loss of life in 2012, when Marysville was destroyed and 13 were killed.
Five people were killed and more than 40 were injured when a stage collapsed at the Indiana State Fair in 2011.
See more on Indiana:
Encyclopedia: Indiana
Encyclopedia: Geography
Encyclopedia: Economy
Encyclopedia: Government
Encyclopedia: History
Monthly Temperature Extremes
All U.S. States: Geography & Climate
Printable Outline Maps
Record Highest Temperatures
Record Lowest Temperatures
Highest, Lowest, and Mean Elevations
Land and Water Area
All U.S. States: Population & Economy
Historical Population Statistics, 1790–Present
Per Capita Personal Income
Minimum Wage Rates
State Taxes
Federal Government Expenditure
Percent of People in Poverty
Births and Birth Rates
Homeownership
Percentage of Uninsured by State
All U.S. States: Society & Culture:
Most Livable States
Healthiest States
Most Dangerous States
Smartest States
Crime Index
Residency Requirements for Voting
Compulsory School Attendance Laws
Driving Laws
National Public Radio Stations
Selected famous natives and residents: