/ Greece
/ Financial woes continue in 2015
Greece | Financial Woes Continue in 2015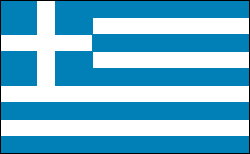 Index
Financial Woes Continue in 2015
Financial Woes Continue in 2015


Greek Prime Minister Alexis Tsipras
AP Photo/Geert Vanden Wijngaert
Greece missed a critical debt payment of 1.5 billion euros to the International Monetary Fund (IMF) in late June 2015, increasing the country's financial crisis. The country's international creditors refused to extend Greece's bailout program. The IMF placed Greece in arrears, a classification used to avoid saying a country that doesn't pay its debt on time is in default.
The missed payment created alarm and chaos. Greece shut down its banking system, ordering its banks closed for six days, starting Monday, June 29. The same week, Standard & Poor's released a statement about Greece that said, "a commercial default is inevitable within the next six months."
Prime Minister Alexis Tsipras called for a referendum where voters in Greece would decide whether or not to accept the terms of the country's creditors. Tsipras urged voters to choose "no," which was met with Pro-European protests in Athens. Tsipras wrote a letter to the international creditors, which said that Greece would accept the bailout offered if many of the conditions were changed. However, Chancellor Angela Merkel of Germany dismissed Tsipras' letter, saying that the letter was too late and that there should be no more negotiations until Greece holds its referendum.
In the referendum held July 5, 61% of voters backed Tsipras call to vote "no" on the proposed budget cuts by creditors. Creditors had proposed the cuts in return for loans that Greece needs. After the referendum, European leaders said that negotiations with Greece would resume. However, the chance of Greece staying in the euro looked slim. Banks remained closed for a sixth working day on Monday, July 6. Also, the government continued limits on money transfers and ATM cash withdrawals to control the drain on deposits. Finance Minister Yanis Varoufakis, a contentious figure seen as an obstacle in further negotiations, resigned the day after the referendum. He was replaced by Euclid Tsakalotos, an economist who had been negotiating with Greece's creditors.
After a week of tense negotiations, Tsipras and eurozone leaders agreed to a deal on July 13. As part of the deal, Greece will receive a third bailout package worth about $95 billion as long as parliament quickly agrees to a series of reforms, including increasing taxes, cutting back on pensions and raising the retirement age, reforming the financial sector, and the creation of a fund that will take control and manage about 50 euros in government assets. The assets will be sold to pay off some of the country's debt and to fund investment programs. The package did not include debt relief, but it temporarily calmed fears of a "Grexit," or exit from the eurozone. The Greek parliament approved the plan. Banks, which have been shuttered for about three weeks, opened on July 20.
However, the latest deal created tension within Prime Minister Tsipras' Syriza party. A month later, on August 20, Tsipras resigned due to Syriza's infighting. An interim government was formed with Judge Vassiliki Thanou-Christophilou taking over as prime minister until September 20, when an election would be held, Greece's third election in 2015. In assuming her temporary role, Thanou-Christophilou, also president of the Court of Cassation and the country's most senior judge, became Greece's first ever female prime minister.
In the September snap elections, Alexis Tsipras once again led his Syriza party to victory. Tsipras won 35% of the vote, and 145 of 300 parliament seats, just four fewer seats than in previous elections. On Sept. 21, 2015, Tsipras took office as prime minister again.
See also Encyclopedia: Greece
U.S. State Dept. Country Notes: Greece
National Statistical Service www.statistics.gr/ .
---