/ Ireland
/ Global financial crisis hits ireland
Ireland | Global Financial Crisis Hits Ireland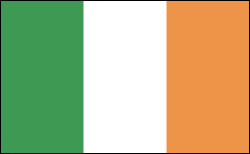 Index
Global Financial Crisis Hits Ireland
Global Financial Crisis Hits Ireland
Ireland slipped into recession in the global financial crisis of 2008. Unemployment hit 11% in February 2009, the highest rate in 13 years. The financial situation continued to deteriorate in 2009, and the government responded by implementing unpopular spending cuts and tax increases. By the end of 2009, Ireland's economy contracted by 10%. The economic malaise was largely due to a housing bubble that burst, which in turn saddled banks with bad loans, causing the financial sector to nearly collapse under the weight of the bad debt. Indeed, the Celtic Tiger suffered endured a stunning reversal of fortune.
In November 2010, Ireland sought and received a $113 billion (85 billion euro) bailout package from the European Union and the International Monetary Fund to shore up its banks. The rescue took its toll on Prime Minister Cowen, who rejected demands to call for new elections, opting instead to set them for 2011 after a new budget is passed.
On January 22, 2011, Prime Minister Cowen resigned as leader of his party, Fianna Fáil. The next day, the Green Party withdrew from the government coalition, leaving Cowen as the head of a minority government. Finance Minister Brian Lenihan met with delegations from the Fine Gael, Labour, and the Green parties to accelerate passage of a new budget, allowing for general elections earlier than planned. Cowen announced that he was retiring from politics. The general elections were held on February 25 and voters threw out the Fianna Fáil-led government. On March 9, Enda Kenny, of the Fine Gael party, was sworn in as the new prime minister. Kenny promised to secure a better deal from the European Union on Ireland's bail-out.
Michael D. Higgins, a leftist politician and poet, was elected president in October. A veteran politician, Higgins has represented the Labour Party in both houses of Parliament and served as minister of the arts.
---