/ Kosovo
/ Kosovo gains independence
Kosovo | Kosovo Gains Independence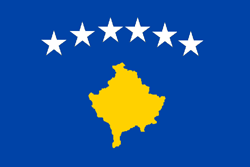 Index
Kosovo Gains Independence
Kosovo Gains Independence
Negotiations between the European Union, Russia, and the United States on the future of Kosovo ended in stalemate in November 2007. On Feb. 17, 2008, Kosovar prime minister Hashim Thaçi declared independence from Serbia, which, as predicted, denounced the move. Serbian prime minister Vojislav Kostunica said he would never recognize the "false state." International reaction was mixed, with the United States, France, Germany, and Britain indicating that they planned to recognize Kosovo as the world's 195th country. Serbia and Russia, however, called the move a violation of international law.
On March 18, 2008, one United Nation's officer was killed and dozens more wounded when violence broke out in Mitrovica as Serbs tried to overtake a United Nation's courthouse.
On April 3, 2008, at the United Nations war crimes tribunal in The Hague, Ramush Haradinaj and Idriz Balaj, former commanders of the rebel Kosovo Liberation Army, were acquitted of murder, persecution, rape, and torture charges. Former rebel commander, Lahi Brahimaj was found guilty for torture and cruel treatment of prisoners and sentenced to six years in prison. In the court summary, judges said the case was weakened due to intimidation and fear among witnesses. Three of the case witnesses were killed before they could testify. The tribunal ordered another trial for Haradinaj, Balaj, and Brahimaj in July 2010, saying the first was flawed.
In April 2008, Parliament ratified the constitution to protect the rights of Kosovo's minorities, including Serbs. The new document—intended to create a safer environment for all citizens in Kosovo—was adopted on June 15, 2008.
On Oct. 8, 2008, the United Nations voted to request that the International Court of Justice review the manner in which Kosovo declared independence. Serbia, which initiated the request, considers Kosovo a breakaway territory that acted illegally in declaring independence. Most European Union members abstained from voting on the request. The court ruled in July 2010 that Kosovo's declaration of independence did not violate international law. However, the court, did not say that the state of Kosovo is legal. The decision was thus considered a compromise to both sides. The ruling is not binding; it is instead an advisory decision. Sixty-nine countries, including the U.S., have recognized Kosovo as independent.
---