/ Kosovo
/ Unrest along the border of kosovo and serbia
Kosovo | Unrest along the Border of Kosovo and Serbia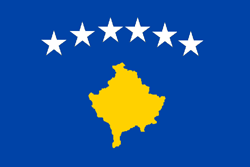 Index
Unrest along the Border of Kosovo and Serbia
Unrest along the Border of Kosovo and Serbia
In July 2011, violence erupted along Kosovo's northern border with Serbia. One incident involved 200 Serbs firebombing a customs post on the border. No one was injured in the firebombing, but the situation spurred Serbia to request a session of the United Nations Security Council. Kosovo responded to the ongoing violence by seizing control of the border posts. The government said that it was exercising its right as a sovereign country to take control of its borders, but that stance alarmed NATO and the European Union, both fear that this is a sign of new ethnic unrest in Kosovo.
Kosovo's attempt to control the borders led to more violence. An Albanian policeman from Serbia was killed after a fight broke out between police officers from both sides. The following night, Serbs living near the border fired on troops from Kosovo. On July 29, after two days of violence, NATO and the Serbian government sent reinforcements to the border in an effort to end the violence. Kosovo and Serbia are both seeking membership in NATO and the European Union, but officials from those organizations have said that this ongoing conflict must be resolved before membership talks are resumed.
A milestone agreement to normalize relations was reached between Kosovo and Serbia in April 2013 after several rounds of tense negotiations brokered by the EU's foreign policy chief Catherine Ashton. As part of the deal, Serbia acknowledged that Kosovo's government has control over all of Kosovo, and Kosovo in turn granted autonomy to the Serbian-dominated north. Serbia stopped short of recognizing Kosovo's independence, however.
In December 2014, Democratic League of Kosovo leader Isa Mustafa became prime minister. The hope was that Mustafa, with a PhD in economics, would be able to improve Kosovo's poor economy.
See also Serbia .
Kosovo Factsheet
---