/ Kuwait
/ Women win suffrage in kuwait
Kuwait | Women Win Suffrage in Kuwait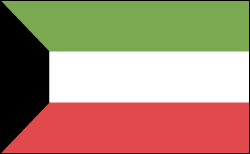 Index
Women Win Suffrage in Kuwait
Women Win Suffrage in Kuwait
In 1999, the emir gave women the right to vote and run for parliament, but later that year Parliament defeated the ruler's decree. Kuwaiti society has grown increasingly conservative under the influence of Islamic fundamentalists. In 2003, traditionalists won a sweeping victory in parliamentary elections. The emir and crown prince (who served as prime minister) were elderly and ailing; in July 2003, the country's de facto leader, foreign minister Sheik Sabah, replaced the crown prince as prime minister.
In May 2005, Kuwait abandoned its 1999 ban on women's suffrage, and in June a woman was appointed to the cabinet. In April 2006, women voted for the first time.
In Jan. 2006, the emir, Sheik Jabir, died. His cousin, Crown Prince Sheik Saad, briefly became the nation's ruler, but he was forced to abdicate because of extreme ill health. The prime minister, Sheik Sabah, was then nominated and unanimously confirmed by Parliament as emir. Sheik Sabah named his brother, Sheik Nawaf, as crown prince, and his nephew, Sheik Nasser, as prime minister.
Prime Minister Sheik Nasser Muhammad al-Ahmad al-Sabah dissolved the opposition-led parliament in March 2008 and called for new elections. In May's parliamentary elections, radical Islamists took more than half of the body's 50 seats. No women were elected to Parliament. Prime Minister Sabah and his cabinet resigned in November in a dispute with Parliament over the visit to Kuwait by a controversial Iranian cleric. The emir reappointed Sabah in December, and he formed a new government in Jan. 2009, composed largely of previous cabinet members.
---