Baseball Geometry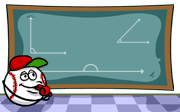 More about geometry:
Learn about different types of angles and how to label angles.
Practice identifying types of triangles: obtuse, right, isoleses and equilateral. Learn how to find the area of a triange and use the Pythagoran Theorem to find the length of the hypotenuse.
Identify different polygons. Learn to find the perimeter of a rectangle and the area of a rectangle.
Circle: find the circumference and the area.
Review what you've learned about geometry