Fact Monster Games
Try these fun and educational math and word games and quizzes.
Roman Numeral Challenge
Convert Arabic numbers to Roman numerals or vice versa.
Math Flashcards
Practice your addition, subtraction, multiplication, and division skills!
Hangman, Roald Dahl, Famous Explorers
Tic Tac Toe
Play against the computer in this classic game.
Same Game
Match the adjacent spheres of the same color to clear the board. Addicting!
Fact Monster Sudoku
Easy or hard, online or in print, try our Sudoku!
Game of the Week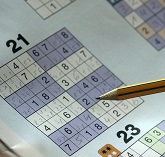 This Week's Quiz
This Week's Poll
Games
Quizzes