/ Asian-American Trends and Trendsetters
Asian-American Trends and Trendsetters
Updated February 21, 2017 |
Factmonster Staff

Asian Moxie
Asian-influenced trends and Asian-American trendsetters
| | |
| --- | --- |
| by Ricco Villanueva Siasoco | |
---


Eastern Standard Time is a veritable encyclopedia of Asian-influenced culture.
In February 2000, a
Newsweek
headline proclaimed, "
Why Asian Guys are on a Roll
," and was accompanied by a photo of a young Asian man with rollerblades and sunglasses, his WASP-ish girlfriend wrapped around him. The crux of the article was the change in American perceptions of Asian men.
Asian Americans have become hip. From well-known personalities like Jet Li, Tiger Woods, and Jackie Chan to widespread trends like Pokémon and Tibetan Buddhism, a distinctly Asian sensibility has permeated American popular culture.
Instead of stereotypical Asian images of bespectacled brainiacs (think Mickey Rooney in Breakfast at Tiffany's), exotic temptresses (remember Suzie Wong?), or ancient wisemen from the East like Charlie Chan, media and advertising images often attach an Asian face to a wholesome American lifestyle.
An Americanized Pokémon
The Asian-influenced trend has been brewing for several years. In 1997 the editors of A. Magazine, (the leading Asian American magazine), published Eastern Standard Time: A Guide to Asian Influence on American Culture: From Astro Boy to Zen Buddhism, a veritable encyclopedia of Asian American culture.
---

Feng Shui has introduced Eastern spirituality into home design, alternative medicines have been endorsed by HMO's, and snazzy T-shirts with Buddha logos and Chinese characters flank urban sidewalks.


---

 
One of the most prominent Asian influences has been in children's entertainment. Pokémon, the Japanese cartoon phenomenon, has sparked American video games, a TV show, merchandise tie-ins, and soon, a Hollywood film. Despite the Americanization of Pokémon characters—Musashi and Kojiro became Jessie and James, for example—the Japanese series has been a nationwide hit.
Eastern Spirituality in Home and Health
Adult sensibilities have been changed by Eastern cultures as well. The Dalai Lama speaks to sold-out audiences in the U.S.—last year's appearance by the Lama in Central Park drew 40,000 people—and the dire situation in Tibet has become a cause celèbre. A surprising number of Americans have followed the fate of the Panchen Lama and the 3rd Karmapa, Tibetan lamas once unknown outside the Himalayas. The expansion of Buddhism in the U.S. has been helped by the likes of Richard Gere, Tina Turner, and the Beastie Boys' Adam Yauch.
Home and health—even fashion—have adopted Asian methods and aesthetics. Feng Shui has introduced Eastern spirituality into home design, alternative medicines have been endorsed by HMO's, and snazzy T-shirts with Buddha logos and Chinese characters flank urban sidewalks. Health nuts have adopted the meditative practices of Qi gong, yoga, and Tai Chi.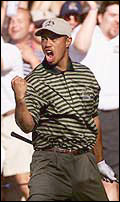 Tiger Woods calls himself a "Cablinasian," a hybrid of his multiple ethnic roots.
"Cablinasians": Celebs of Mixed Race
A quick search for Tiger Woods on the Web yields more than two dozen fan clubs, shrines, and tribute pages. Since his 1996 Sports Illustrated's Sportsman of the Year title and his record Masters victory in 1997, Woods has been a media and public darling. The multi-ethnic Woods often describes himself as "Cablinasian," a hybrid of Caucasian, Black, American Indian, and Asian.
Much like Asian stars gracing the silver screen, Woods views his ethnicity as both vital and irrelevant to his success. Actors such as Keanu Reeves, Dean Cain, and comedian Rob Schneider are of mixed heritages including Japanese, American—and in the case of Schneider, half Jewish and half Filipino.
Schneider makes light of his mixed heritage in his comedy routine. One of his jokes is that he enjoys Filipino parties because the food is great but the jokes are awful, while at Jewish parties, the food is bad but the stories are great.
Driving Force in Hollywood
Asians are showing the most moxie in the entertainment world. According to Dina Gan, editor of A. Magazine and co-editor of Eastern Standard Time, "About a quarter of the films featured at the upcoming Cannes Film Festival, which drives Hollywood and world cinema as a whole, are from Asian directors, like Ang Lee and Wong Kar-Wai. In general, Asian filmmakers continue to be a driving force in Hollywood (John Woo directs Mission Impossible 2 this summer)."
Recent box office hits attest to this success. Movies such as Romeo Must Die, a stylish martial arts film starring Jet Li, ranked in second place during its opening weekend in March.
Oscar-nominated director Ang Lee, born in Taiwan, has revealed a clean, distinctly Eastern aesthetic in films such as Sense and Sensibility, The Ice Storm, and the recent Civil War epic Ride With the Devil. Other notable Asian American directors include Wayne Wang, whose directing credits include 1999's Anywhere But Here, and Gregg Araki, perhaps best known for his subversive, teen culture–driven films like Nowhere and The Doom Generation.
Burgeoning Music and TV Presence
Gan also cites the Asian pop stars crossing over to American charts. "On the music front, CoCo Lee, a pop singer who was hugely successful in Asia, is getting a big push from Sony to lead a wave of Asian crossover pop stars (sort of like Ricky Martin did for Latin singers)."
Asian American actors have made their mark on the television landscape as well. Margaret Cho's short-lived sitcom, All-American Girl, was the first network show geared specifically toward an Asian audience.
All-American Girl typified the complexity of any "ethnic" show. Cho remarked about the show, "There were just so many people involved in that show, and so much importance put on the fact that it was an ethnic show. It's hard to pin down what "ethnic" is without appearing to be racist."