Car Names
Updated February 21, 2017 |
Factmonster Staff

In a Dodge Diplomat, a soccer mom feels positively patrician
by Borgna Brunner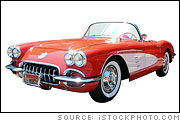 1958 Corvette Convertible
Related Links
Do you like the image of yourself driving a Chevrolet Suburban or a Dodge Viper, a Jeep Cherokee or a Lexus GS 430?
While all marketers work hard to come up with names that attract consumers, the automobile industry goes into overdrive when attempting to capture the fantasies of car buyers. A car name can make a driver feel rich, powerful, sophisticated, sporty, adventurous, rugged, or downright dangerous—who wouldn't feel like king of the road in a Mercury Marauder or a Chevrolet Avalanche? Below are some of the more inventive car names and the images they attempt to convey:
Rugged Adventure:
Nissan Frontier, GMC Safari, Toyota Tundra, Ford Expedition
The Wild, Wild West:
Ford Bronco, Jeep Wrangler, Dodge Dakota, GMC Yukon
No Directions Necessary:
Lincoln Navigator, Chevrolet Trailblazer, Ford Focus
Space Age:
Infiniti FX45, Cadillac SRX, Audi S4, Jaguar X-Type
Cosmic:
Pontiac Solstice. Chevrolet Equinox, Dodge Aries, Saturn Sky
Aristocratic:
Buick Regal, Lincoln Continental, Dodge St. Regis, Buick Park Avenue
Aristocratic and French:
Lincoln Versailles, Pontiac Parisienne, Buick LeSabre, Chrysler LeBaron
Animal Magnetism:
Ford Mustang, Mercury Cougar, Corvette Stingray, Plymouth Barracuda
Birds of Prey:
Ford Thunderbird, Pontiac Firebird, Ford Falcon
Hipster:
Pontiac Vibe, Ford Freestyle, Dodge Neon, Toyota Matrix
Cute as a Button:
Renault Le Car, Mini Cooper, VW Bug, Nissan Cube
Too Cute for Words:
Reliant Kitten, Chevrolet Luv
Wall Street Power Broker:
Pontiac Executive, Oldsmobile Achieva
Don't Mess With Me:
Chrystler Crossfire, Aston Martin Vanquish, Lamborgini Diablo, Plymouth Fury
Vroom! Vroom!
Triumph Spitfire, Pontiac Gran Prix
Good Citizen:
Honda Civic, Acura Integra, Plymouth Reliant
Poetry in Motion:
Hyundai Sonata, Datsun Bluebird, Honda Prelude, Nissan Silhouette
Secret Agent:
Dodge Stealth, Mitsubishi Mirage, Dodge Shadow, RollsRoyce Phantom
Strange Japanese Conceptions of cool American Car Names:1
Honda Life Dunk, Isuzu's Mysterious Utility, Mitsubishi Delica Space Gear
1. All are real Japanese car names—honest!