Clifton Fadiman
Updated February 21, 2017 |
Factmonster Staff

Clifton Fadiman
May 15, 1902–June 20, 1999
---
Clifton Fadiman
, writer, critic, editor, and moderator of the top-10 radio hit "Information Please" from 1938 to 1952, died June 20, 1999, on Florida's Sanibel Island. He was 95.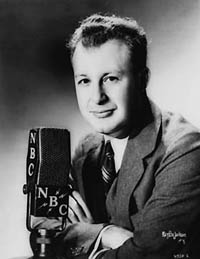 Clifton Fadiman, shown in this 1938 promotional photo, was a writer, book editor, radio and television entertainer who hosted the popular radio show "Information Please" in the 1930s. He died on June 20, 1999.
A bookworm with an encyclopedic mind, Fadiman made the perfect host for a radio quiz show. His interests ranged from limericks to math, from children's literature to fine wines. His stunningly broad base of knowledge and his quick wit appealed to listeners, and the audience of NBC's "Information Please" grew to a loyal nine million.
For more than 50 years, Fadiman influenced what Americans read, serving as a senior judge for the Book-of-the-Month Club. The New York native graduated from Columbia University in 1925 and worked as a teacher for four years before turning to publishing. He rose through the ranks of Simon & Schuster, becoming editor in chief. In 1933 he became
The New Yorker's
book editor, a position he held for 10 years.
Fadiman took great pride in
A World Treasury of Children's Literature,
an anthology he compiled in 1985. He put together more than 20 other anthologies during his career and wrote introductions to about 65 classics, including
War and Peace
and
Moby Dick.
He also conquered the formidable task of condensing 200 years worth of
Encyclopedia Britannica
into a mere 700 pages, producing the
Treasury of the Encyclopedia Britannica.
He won a
National Book Award
in 1983 for his "contribution to children's literature."
"Information Please," the most literate, long-running show of its day, reversed the format of traditional quiz programs. Instead of quizzing participants, the public posed questions to a panel of experts, including
Gracie Allen
,
The New York Times'
John Kieran, and pianist Oscar Levant. If the panelists were stumped, they would provide an entertaining if implausible reply.
The show's popularity along with the tremendous number of questions listeners sent to the program inspired a reference book, the
Information Please Almanac,
first published in 1947.