The World's Most-Visited Tourist Attractions
Think the Empire State Building, Grand Canyon and the Eifel Tower are the most-visited tourist attractions in the world? Think again.
by Jennie Wood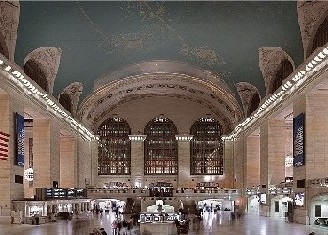 Grand Central Station, New York City
Related Links
Recently, Travel + Leisure compiled a list of the most-visited tourist attractions in the world by gathering data supplied by the attraction sites themselves. The results were surprising.
1. Times Square, New York City
Over 39 million visitors a year visit the heart of New York City to shop, see a Broadway show, take in all the sights and sounds or just to people watch. In 2009, pedestrian-only areas with tables were added so tourists could sit while taking in the complete spectacle that is Time Square.
2. Central Park, New York City
This nearly 850 acre square park is visited yearly by 38 million people. It's the Big Apple location that is enjoyed more than any other by locals and tourists equally. With a zoo, horse-drawn carriages, a John Lennon memorial, and more, this park has something for everyone.
3. Union Station, Washington, D.C.
Along with over 12,000 daily commuters, this station also receives visits from 37 million tourists a year. And it's easy to see why. Opened in 1907, the station has over 70 shops and provides architecture buffs with examples of Baroque, Beaux-Arts and Classical styles.
4. The Las Vegas Strip
In 2011, nearly 29.5 million travelers stayed in hotels along the Las Vegas strip, an increase from years past. Part of the reason for the increase could be the huge 2009 hit movie, The Hangover, which features the Las Vegas strip, and Caesar's Palace, in particular. The Vegas strip also continues to attract mega stars like Tim McGraw, Faith Hill and Celine Dion for nightly performances which run for weeks at a time, drawing fans from all over. Las Vegas, the amusement park for adults, shows no sign of slowing down.
5. Niagara Falls, New York and Ontario, Canada
Even though there are approximately 500 taller waterfalls in the world, Niagara Falls draws 22.5 million visitors a year who want to see its volume and power. Six million cubic feet of water flows down per minute. And Niagara Falls ranges in height from 70 to 188 feet. It's also an easy location for many tourists in the U.S. and Canada to get to.
6. Grand Central Station, New York City
Commuters aside, 21.6 million tourists visit Grand Central's terminal each year. Visitors take in the ceiling which is painted with night sky constellations as well as shops and events. There is also the popular, historic Oyster Bar, featured on an episode of Mad Men.
7. Faneuil Hall Marketplace, Boston
With its history as well as its variety of shops and restaurants, Faneuil Hall attracts 18 million people a year. A downtown marketplace located not too far from Boston's financial district and the harbor, Faneuil Hall is a pedestrian-only area where tourists can get a bite to eat, buy souvenirs and be entertained by street performers. The fact that it's been around since 1742 and was the site of speeches by the likes of George Washington adds to Faneuil Hall's allure.
8. Disney World's Magic Kingdom, Orlando
Nearly 17 million people a year visit the world's most-visited and best known amusement park. A must for any family, people still come in droves to take in Cinderella's castle as well as other classic sites and rides.
9. Disneyland Park, Anaheim, CA
The second most-visited theme park in the world brings in nearly 16 million people per year. Smaller than the Magic Kingdom in Orlando, this amusement park still has 85 acres of rides and thrills including the popular Indiana Jones Adventure.
10. Grand Bazaar, Istanbul
This 15th-century bazaar receives 15 million visitors a year. Both locals and tourists bargain hunt for carpets, jewelry, ceramics and more. There are vendors selling food and Turkish coffee, too, when people need a break from all the shopping.
Source: Travel + Leisure Magazine, 2011