Bangladesh News & Current Events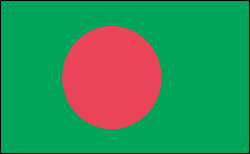 Index
News and Current Events
Investigations into Governmental Corruption Begin
Violence erupted in Oct. 2006, when Zia's term ended and President Ahmed took over as the head of a caretaker administration. An alliance of parties, headed by the Awami League, said it would boycott the Jan. 2007 elections, alleging corruption in the electoral commission. The violence intensified in Jan. 2007, prompting President Ahmed to declare a state of emergency and postpone the elections. Fakhruddin Ahmed became the interim head of the government. He swiftly opened a broad corruption investigation that resulted in the imprisonment of dozens of prominent officials, the seizure of luxury vehicles, and the freezing of bank accounts. In March, Tarique Rahman, the son of former Prime Minister Khaleda Zia, was arrested in the investigation and charged with extortion. Khaleda Zia herself was arrested and charged with corruption in September. In addition, Sheikh Hasina was arrested and charged with corruption and organizing the murder of four supporters of a rival party.
Mudslides set off by heavy monsoon rains killed at least 100 people in June 2007 in Chittagong, a port in the southern part of the country. In November, Cyclone Sidr, with winds over 100 miles per hour, killed nearly 3,500 people in southern Bangladesh. The United Nations reported that a million people were left homeless.
Bangladesh went ahead with its general election in December 2008. It was the first general election since the army-backed caretaker government took power in January 2007. The Awami League, headed by Sheikh Hasina, won in a landslide, taking 262 of 299 seats in Parliament. The vote was considered fair and largely free of scandal. Sheikh Hasina was sworn in as prime minister in January 2009.
Rahman Becomes the Third President to Die in Office
Daily protests broke out in Dhaka in February 2013 after the leader of Jamaat-e-Islami, the largest Islamist party in Bangladesh, was sentenced to life in prison by a war crimes tribunal for his role in the murder of an estimated one million Bengalis during the 1971 war with Pakistan. The demonstrators, mostly students and youth, were outraged at what they consider a lenient sentence.
On March 10, 2013, President Zillur Rahman was flown to Mount Elizabeth Hospital in Singapore. He had a lung infection and the situation was so dire he had to be flown by air ambulance. Rahman died ten days later, becoming the third president of Bangladesh to die in office. Former Presidents Sheikh Mujibur Rahman and Ziaur Rahman also died in office.
Abdul Hamid, speaker of the National Parliament, was appointed acting president on March 14, 2013. Of President Rahman's death, Prime Minister Sheikh Hasina said that it was "an irreparable loss to the country and its people."
Factory Building Collapses, Killing Hundreds
On April 24, 2013, a large factory building in Dhaka collapsed and killed at least 900 workers. Hundreds more were missing in the building's rubble. Known as Rana Plaza, the factories within the building made clothing for European and American retailers such as JC Penny, Cato Fashions, Benetton and others. Bangladesh was second only to China as the world's leading garment exporter.
For five days, rescue teams worked to find survivors in the debris. A fire broke out within the rubble, making rescue efforts even more difficult. National outrage spread due to reports of Rana Plaza's poor condition prior to its collapse. Officers arrested the building's owner, Sohel Rana, who was found hiding near the border of India. When his capture was announced at the site of the collapsed building, the crowd cheered.
Rana Plaza employed more than 3,000 people. The building's collapse was considered the deadliest accident in the garment industry's history. It came just five months after a major fire at a similar factory building. That fire, in November 2012, killed 112 employees and, at the time, several retailers promised to maintain the safety of the factories which manufactured their goods.
In September 2013 200,000 garment workers took to the streets, demanding an increase in monthly wages from $38 to $100. Factory owners offered to increase wages to $46. Some of the protests turned violent, with police firing rubber bullets and tear gas at demonstrators, who set several factories on fire.
War for Independence Leaders Are Tried and Convicted
Forty-two years after the East Pakistani fight for independence gave birth to Bangladesh, a war-crimes tribunal handed down sentences for genocide, conspiracy, torture, rape, and crimes against humanity. On July 15, 2013, Ali Ahsan Mohammad Mojaheed, secretary general of the Jamaat-e-Islami party, was convicted and sentenced to death. Ghulam Azam, the party's spiritual leader, received a jail sentence of 90 years. Previously, Delwar Hossain Sayeedi and Muhammad Kamaruzzaman were sentenced to death for their crimes against humanity. Up to three million people were killed in what some have called the worst genocide since WWII.
Another Jamaat-e-Islami party leader, Abdul Quader Mollah, was found guilty by a special war crimes tribunal in Feb. 2013. Sentenced to life in prison, Mollah's case was appealed by both the defense and the prosecution and was heard before the Supreme Court. On Sept. 17, a five-member panel headed by Chief Justice M. Muzammel Hossain upheld his conviction and took the sentence one step further, ruling that Mollah be executed.
2014 National Election Marred by Violence; Opposition Tries to Force Early Election
The Awami League, the ruling party, easily won the national election in January 2014, handing Prime Minister Sheikh Hasina a third term. However, the election had a low turnout, partly due to riots, protests and an opposition boycott. At least 18 people were killed in election-related violence.
The week after the election, opposition members were forced into hiding while police went on raids, searching for them. Four opposition leaders were arrested and jailed, including former Prime Minister Khaleda Zia. Political violence has increased in Bangladesh in the last year. Since February 2013, almost 300 people have been killed due to political violence.
In January 2015, Hasina's bitter rival, Khaleda Zia, called what she promised to be a protracted general strike and blockade of the transportation system with the goal of forcing early elections. About 7,000 of Zia's supporters were arrested for attempting to disrupt the transportation system. The strike lasted more than two months, cost the country some $2.2 billion, sparked deadly violence between opposing factions, but did not result in an election.
See also Encyclopedia: Bangladesh .
U.S. State Dept. Country Notes: Bangladesh
Bangladesh Bureau of Statistics www.bbsgov.org
---