/ news and current events
Burundi News & Current Events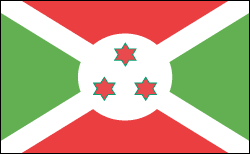 Index
News and Current Events
President Challenges Term Limits
President Nkurunziza ran for a second term in 2010. He ran unopposed as the opposition boycotted the race, claiming there were irregularities in earlier local elections. The opposition formed a new party, the Alliance of Democrats for Change (ADC-Ikibiri). Nkurunziza announced in June 2014 that he would seek a third term in 2015. The opposition cried foul, saying the 2005 Constitution established a two-term limit for the president. Nevertheless, Nkurunziza went ahead and announced his candidacy in April 2015. Protests broke out throughout the country, and dozens of people were killed in the violence. About 170,000 fled the country. Burundi's Constitutional Court ruled in Nkurunziza's favor in May. Nkurunziza said since Parliament, not the poeple, elected him in 2005, his first term did not fall under the term limit clause in the Constitution. Maj. Gen. Godefroid Niyombare attempted to oust Nkurunziza in a coup in May, but failed. The protests continued for several weeks. In late May opposition leader Zedi Feruzi was shot and killed in the capital Bujumbura.
The ruling party, the National Council for the Defense of Democracy-Forces for the Defense of Democracy, took 77 out of 100 contested seats in June 2015's parliamentary elections. The opposition largely boycotted the election, which was held amid ongoing violence and protests against President Nkurunziza. About 125,000 residents fled the country to escape the instability.
The presidential election was held in July 2015, and Nkurunziza won nearly 79% of the vote. Nearly every opposition party boycotted the election.
See also Encyclopedia: Burundi .
U.S. State Dept. Country Notes: Burundi
---