Cambodia News & Current Events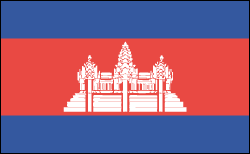 Index
News and Current Events
Cambodia Joins the World Trade Organization
Elections in July 2003 resulted in a stalemate—none of the parties won the two-thirds majority required to govern alone. Almost a year later, in June 2004, Ranariddh and Hun Sen agreed in June 2004 to form a coalition, with Hun Sen remaining as prime minister. In August, Cambodia's parliament ratified the country's entry into the World Trade Organization.
In March 2003, the UN and Cambodia announced that after five years they had finally agreed on a special tribunal to try senior Khmer Rouge officials on charges of genocide. Among those who were expected to stand trial were Kaing Guek Eav, alias Duch, who ran the notorious Tuol Sleng prison, and Ta Mok, alias the Butcher, who died in 2006 before his trial took place. In April 2005, the UN agreed to a funding arrangement for the tribunal.
King Norodom Sihanouk announced in Oct. 2004 that he had abdicated and selected his son, Prince Norodom Sihamoni, to succeed him. Prince Sihamoni, a ballet dancer and choreographer, lived in France and had kept a distance from Cambodian politics. Unlike his father, Sihamoni refrained from intervening in the country's politics, opting to reign as a spiritual and ceremonial figurehead.
In Feb. 2005, opposition leader Sam Rainsy was stripped of parliamentary immunity. He fled to France and was convicted in December in absentia of defaming Prime Minister Hun Sen. He received a royal pardon in 2006. Hun Sen has used defamation laws to crack down on political opponents and human rights groups, having at least seven activists and critics arrested in 2005 and 2006. Facing criticism from home and abroad, Hun Sen withdrew charges against four of the activists.
Khmer Rouge Officials Face Trial
Prosecutors trying senior Khmer Rouge officials made their first indictment in July 2007, charging Kaing Guek Eav, known as Duch, who ran the notorious Tuol Sleng prison where some 14,000 people were tortured and killed, with crimes against humanity. In September 2007, Nuon Chea, who was second-in-command to Pol Pot, was arrested and charged with war crimes. The first trial began in February 2009 in Phnom Penh, with Kaing Guek Eav as the defendant. He was convicted him of war crimes and crimes against humanity in July 2010 and sentenced 35 years in prison. He will only spend 19 years in prison, having already served 16 years.
In July 2008, Unesco, the cultural arm of the United Nations, designated the Preah Vihear temple, which sits on the Cambodian side of the Cambodian-Thai border, as a UN World Heritage Site. The move stirred nationalist emotions on both sides and fueled the tension between the countries. Both countries moved troops to disputed land near the temple. Skirmishing broke out between Cambodian and Thai troops in October 2008, and two Cambodian soldiers were killed.
Bloodshed at the border between Cambodia and Thailand near the site of the 11th-century Khmer temple complex continued in 2010, prompting the prime minister to call the exchanges of artillery and machine gun fire "a real war."
In September 2010, the UN-backed tribunal indicted four senior leaders of the Khmer Rouge on charges of genocide, war crimes, crimes against humanity, and murder. The defendants are Ieng Sary, former foreign minister; Ieng Thirith, former social welfare minister and the wife of Ieng Sary; Khieu Samphan, former head of state; and Nuon Chea, who was arrested in 2007. While the conviction of Duch was considered a milestone for the tribunal, the indictment of these figures is considered more significant considering the rank of the defendants. The trial began in November 2011. Ieng Sary died in March 2013 during his trial. The case against his wife, Ieng Thirith, had previously been suspended.
Because of the glacial pace of the proceedings, the case against the remaining defendants, Khieu Samphan and Nuon Chea, was divided into two trials. One covered the mass purge of Phnom Penh and other cities in an attempt to create an agrarian society; the other focuses on genocide. In August 2014, Khieu Samphan, 83, and Nuon Chea, 88, were found guilty of crimes against humanity and received a life sentence. The conviction and sentence seemed to be a disappointment for family members of victims given the age of the defendants and the uncertainty that the trial of genocide would be seen to completion.
Opposition Fares Well in Election
King Norodom Sihanouk, who abdicated in 2004, died in October 2012 in Beijing at age 89. The country observed a week of mourning following his death. Observers questioned if his successor, Sihamoni, would begin to immerse himself in the country's politics or continue to keep a distance from such matters.
The July 2013 election for seats in the National Assembly was unexpectedly close. Preliminary results had the governing Cambodian People's Party taking 68 out of 123 seats, or 55%, and and the opposition Cambodia National Rescue Party, headed by Sam Rainsy, winning 55 seats—45%. Rainsy alleged that votes of his supporters had been suppressed. Rainsy and Prime Minister Hun Sen agreed to cooperate with an investigation by the National Election Committee. The committee ratified the election results in early September, confirming the preliminary results. Massive protests broke out in Phnom Penh over the decision and the Cambodia National Rescue Party boycotted the opening of parliament, which voted Hun Sen in to another five-year term. Protests against Hun Sen continued throughout 2013. Demonstrators called for his resignation and also demanded higher wages for garment workers. The protests turned violent in January 2014, when police killed five garment workers.
See also Encyclopedia: Cambodia

U.S. State Dept. Country Notes: Cambodia

National Institute of Statistics www.nis.gov.kh/ .
---