Kyrgyzstan History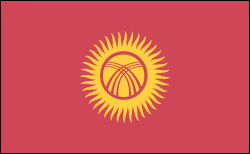 Index
History
Corruption Allegations Weaken Longtime President
In elections held on Oct. 30, 2000, President Askar Akayev easily won reelection with nearly 75% of the vote. The election, however, was marred by allegations of fraud, diminishing Kyrgyzstan's claim to be the centerpiece of central Asian democracy. Once a popular leader, Akayev's standing has diminished as a result of accusations of nepotism and corruption.
In 2001, Kyrgyzstan permitted troops from the U.S. and seven other nations to be stationed in the country in support of the fight against the Taliban and al-Qaeda in neighboring Afghanistan. In 2002, construction of a large U.S. airbase began outside of Bishkek. In Feb. 2003, a controversial referendum expanded Akayev's powers, and in June Parliament granted him lifelong immunity from prosecution.
February and March 2005 parliamentary elections were judged by international observers and opposition leaders to be flawed, and they set off violent protests in the country. On March 24, as the protests spread to the capital, President Akayev fled the country, and he announced his resignation on April 4. Opposition leader Kurmanbek Bakiyev served as interim president and prime minister until the July 10 election, in which he won the presidency with 88.7% of the vote. Felix Kulov became the prime minister. An opposition leader, he had been imprisoned by former president Akayev until the March 24 coup.
---