Kyrgyzstan News & Current Events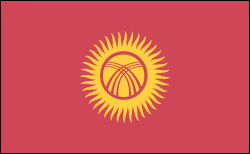 Index
News and Current Events
Opposition Challenges President's Motives
During 2006, numerous public protests took place demanding constitutional reform and pressuring the government to clean up corruption. In response to the protests, President Bakiyev signed a new constitution in November that limited his powers. A month later, however, Parliament—under pressure from Bakiyev—restored some of his powers. Prime Minister Kulov resigned in December. Parliament twice thwarted Bakiyev's efforts to reinstate Kulov. In Jan. 2007, it approved Azim Isabekov as prime minister. He resigned the post in March, and Bakiyev named prominent opposition leader Almaz Atambayev as prime minister, temporarily averting a political crisis.
In an Oct. 2007 referendum, voters approved a new constitution and election laws proposed by President Bakiyev, who said the changes increased the power of Parliament and created a balance of power. The opposition, however, claimed they further strengthened the presidency. After the vote, which monitors called flawed, Bakiyev called for new elections. He fired Prime Minister Almaz Atambayev in November. The opposition claimed Bakiyev was attempting to solidify his power ahead of elections. In December parliamentary elections, Bakiyev's party, Ak Zhol, breezed to victory. The opposition, which trailed far behind, alleged the vote was rigged.
The U.S. and Kyrgyzstan reached an agreement in June 2009 that permits American troops to continue using the Manas air base to support military operations in Afghanistan. The deal was finalized after the U.S. agreed to pay $60 million each year in rent, more than triple the current fee. Obama was criticized by several human-rights organizations for overlooking Bakiyev's authoritarianism and human rights violations in favor of securing a convenient supply route to Afghanistan.
Incumbent Kurmanbek Bakiyev won 76.1% of the vote in July 2009 presidential elections. Prime Minister Marat Kadyraliyev resigned in October 2009, along with his government, in response to Bakiyev's call for reforms that would further consolidate his power.
Deadly Protests Prompt Resignation of President Bakiyev
Demonstrations over sharp increases in utility prices broke out in the city of Talas in early April 2010 and promptly spread to the capital of Bishkek, where protesters also rallied against government corruption. The protests in the capital turned deadly, with government troops and demonstrators battling in the streets. Nearly 70 people were killed and more than 400 wounded. President Bakiyev fled Bishkek, and former foreign minister Roza Otunbayeva, acting as the leader of the opposition, assumed power as acting president. Bakiyev, however, refused to resign.
Obama administration officials expressed concern that the upheaval may affect the deal United States and Kyrgyzstan made in 2009 over use of the Manas air base. Otunbayeva, however, said the supply route would remain in operation for the time being.
Ethnic violence between Kyrgyz and Uzbeks erupted in the southern city of Osh in June. As many as 2,000 people, mostly Uzbeks, were killed and some 400,000 Uzbeks were displaced, with about a quarter of them fleeing into Uzbekistan. The flow of refugees created a humanitarian crisis, as the refugees sought in relief in overcrowded camps. Tension has long flared between ethnic Kyrgyz and Uzbeks, but few believed that the violence was spontaneous. Former president Bakiyev was widely suspected of having a hand in organizing the unrest to highlight the instability of the interim government. The provisional government accused Bakiyev of inciting the violence, and Rupert Colville, the UN Commissioner for Human Rights, said the attacks were "orchestrated, targeted and well planned." Bakiyev, however, denied any involvement.
Despite the unrest, the interim government held a nationwide referendum on a new constitution in late June. Turnout was nearly 70%, much higher than expected. Voters approved the constitution, which will set up a parliamentary democracy that will devolve power from the president to parliament. In October, six months after the overthrow of Bakiyev, parliamentary elections, though inconclusive, were deemed fair and transparent.
In Dec. 2010, parliament approved a new government with Almazbek Atambayev as prime minister.
Former Prime Minister Elected President
In Oct. 2011, former Prime Minister Almazbek Atambayev was elected president. He received more than 63% of the vote. Many of his opponents claimed the vote was illegal. His opponents' supporters protested immediately following the election--a disappointing reaction after the interim government led by Roza Otunbayeva worked to avoid this outcome by transferring some of the president's powers to parliament.
Atambayev was prime minister until he stepped down in Sept. 2011 to concentrate on his presidential run. He has taken steps to align himself with Russia, backing a bill in 2011 to name a mountain in Kyrgyzstan after Vladimir Putin. Atambayev has also pledged his support for Russian Prime Minister Putin's planned Eurasian Union, a new alliance of former Soviet countries. After his presidential election, Atambayev announced that he would push to close Transit Center at Manas, formerly Manas Air Base, in Kyrgyzstan when the lease is up in 2014. The base has been a crucial supply center for the U.S. in the war in Afghanistan. It is the only one of its kind in Central Asia.
After dissolving his current government and accepting Omurbek Babanov's resignation as prime minister, President Almazbek Atambayev appointed Aaly Karashev as acting prime minister. On Sept. 5, 2012, the parliament approved a new government with Zhantoro Satybaldiyev as prime minister.
Just 18 months later, in March 2014, Zhantoro Satybaldiyev's government fell when the Ata Meken Party withdrew from the coalition due to a lack of trust in Satybaldiyev, who then resigned. Parliament elected Joomart Otorbayev as prime minister by a wide margin. Otorbayev, a mathmetician, served as deputy prime minister under President Askar Akayev. President Atambayev asked the new government to investigate the corruption allegations that undermined Satybaldiyev's government.
The following year, on April 23, 2015, Prime Minister Otorbayev resigned. President Atambayev appointed Temir Sariyev as the new prime minister. An independent, Sariyev ran for president in the 2009 election.
See also Encyclopedia: Kyrgyzstan .
U.S. State Dept. Country Notes: Kyrgyzstan .
---