/ history
Lithuania History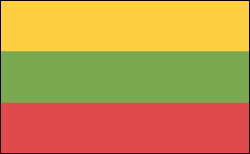 Index
History
Lithuania Embarks on Independence and Democracy
Lithuania's independence was quickly recognized by major European and other nations, including the United States. The Soviet Union finally recognized the independence of the Baltic states on Sept. 6, 1991. UN admittance followed on Sept. 17, 1991. Successful implementation of structural and legislative reforms in Lithuania attracted greater direct foreign investments by the mid-1990s.
In late 2002, Lithuania was accepted for membership in the EU and NATO, and it joined both in 2004. In Jan. 2003, Rolandas Paksas defeated the incumbent, Valdas Adamkus, in the presidential election. It was a surprising upset, given that Adamkus had helped bring about his country's entry into NATO and the EU. In April 2004, President Paksas was removed from office following his conviction for dealings with Russian mobsters. It was Lithuania's worst political crisis since independence from the Soviet Union. In July 2004, Valdas Adamkus was again elected president.
On Oct. 12, 2008, parliamentary elections turnout was 48.5%. The Homeland Union-Lithuanian Christian Democrats won 19.7% of the vote (18 of 70 seats). The National Revival Party came in second with 15.1% (13) of the vote, and the Order and Justice was third with 12.7% (11) of the vote.
Dalia Grybauskaite, the European Union budget commissioner, was sworn in as Lithuania's first female head of state in July 2009. Grybauskaite won presidential elections in May with 68% of the vote.
In Oct. 2012, Lithuania's conservative Homeland Union lost parliamentary elections to the Social Democrats and Algirdas Butkevicius. The left-wing parties will most likely continue the successful policies of Andrius Kubilius. While painful, the strict austerity measures he imposed have borne fruit: Lithuania's economy is growing again; GDP showed 2.5% growth for 2012, with 3% expected in 2013.
In the first round of 2014's presidential elections, incumbent Dalia Grybauskaite (independent) won 46.6% of the vote, Zigmantas Balcytis (Social Democratic Party) 13.8%, Arturas Paulauskas (Labour Party) 12.2%, Naglis Puteikis (independent) 9.5%, Valdemar Tomasevski (Electoral Action of Poles in Lithuania) 8.4%, Arturas Zuokas (Homeland Revival and Perspective) 5.3%, and Bronis Rope (Lithuanian Peasant and Greens Union) 4.2%; turnout was 52.1%. In the May 25 runoff, Grybauskaite won 59% of the vote and Balcytis 41% with voter turnout at 47.3%.
See also Encyclopedia: Lithuania .
U.S. State Dept. Country Notes: Lithuania
Statistics Lithuania http://www.std.lt/web/main.php .
---