Spain History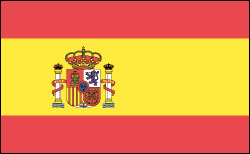 Index
History
Civil War Leads to Franco's Rule and the Reestablishment of a Ceremonial Monarchy
On July 18, 1936, a conservative army officer in Morocco, Francisco Franco Bahamonde, led a mutiny against the government. The civil war that followed lasted three years and cost the lives of nearly a million people. Franco was aided by Fascist Italy and Nazi Germany, while Soviet Russia helped the Loyalist side. Several hundred leftist Americans served in the Abraham Lincoln Brigade on the side of the republic. The war ended when Franco took Madrid on March 28, 1939. Franco became head of the state, national chief of the Falange Party (the governing party), and prime minister and caudillo (leader).
In a referendum in 1947, the Spanish people approved a Franco-drafted succession law declaring Spain a monarchy again. Franco, however, continued as chief of state. In 1969, Franco and the Cortes ("states") designated Prince Juan Carlos Alfonso Victor María de Borbón (who married Princess Sophia of Greece in 1962) to become king of Spain when the provisional government headed by Franco came to an end. Franco died on Nov. 20, 1975, and Juan Carlos was proclaimed king on Nov. 22.
Under pressure from Catalonian and Basque nationalists, Prime Minister Adolfo Suárez granted home rule to these regions in 1979. Basque separatists committed hundreds of terrorist bombings and kidnappings. With the overwhelming election of Prime Minister Felipe González Márquez and his Spanish Socialist Workers Party in the Oct. 20, 1982, parliamentary elections, the Franco past was finally buried.
---