/ news and current events
Turkmenistan News & Current Events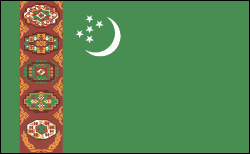 Index
News and Current Events
First Contested Elections Lead to a Questionable Outcome, New Constitution
In recent years, the country's educational system has degenerated significantly—the number of years of school required has been reduced, the curriculum has grown increasingly vocational, and substantial classroom time is devoted to political propaganda, including the president's own book, Rukhnama (Book of the Soul). On Dec. 21, 2006, Saparmurat Niyazov died suddenly after 21 years of draconian rule. In Feb. 2007, the country held its first contested elections, and former deputy prime minister and health minister Gurbanguly Berdymukhammedov won in a landslide. The exceptionally high voter turnout and margin of victory left many observers to question the validity of the election.
In July 2007, Turkmenistan, Russia, and Kazakhstan agreed to build new pipeline north of the Caspian Sea, ensuring Russian access to Turkmen gas.
In April 2008, Turkmenistan reverted to its old calendar with Turkic and Russian names when President Berdymukhamadov abolished the names of days and months introduced by the previous president.
On Sept. 26, 2008, after two decades of isolation under autocratic leader Saparmurat Niyazov, Turkmenistan adopted a new constitution that abolished the exsisting People's Council and called for a new parliament (the Mejlis, or Assembly) almost double in size, promoting multi-party politics and a market economy. Parliamentary elections were held in December 2008, resulting in the representation of the Mejlis being increased from 65 to 125.
President Berdymukhamedov was re-elected in February 2012, taking 97% of the vote. Seven other members of his party also ran in the election.
See also Encyclopedia: Turkmenistan .
U.S. State Dept. Country Notes: Turkmenistan
---