/ Seasonal Color Analysis
Seasonal Color Analysis
Updated February 21, 2017 |
Factmonster Staff

Find out how to choose the right colors to wear
by Catherine McNiff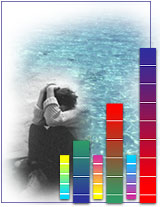 Related Links
Since people have been wearing clothes, they have sought ways to make their garments more attractive, more aesthetically pleasing—more colorful. Greek philosophers Democritus and Aristotle and Roman writers Pliny the Elder and Vitruvius described and recorded recipes and processes to create fabric dyes. Most dyes derived from plants or animals, which ranged from the ordinary to the exotic.
Blue
Blues and purples were known as vat dyes. Indigo and woad, a European flowering herb of the mustard family, were used to make blue dyes. These plants required lengthy immersion in an alkaline solution of ash, lime, or most commonly, urine, which turned them into a water-soluble salt. The fabric was then left to air-dry; oxidation made the blue color fast.
Purple
At the other end of the financial (if not color) spectrum was the Tyrian, or royal, purple derived from the mucous gland of the murex, a mollusk. Not surprisingly, harvesting this color—a pound of dye required four million mollusks—was a labor-intensive, time-consuming, and smelly process. (The ancient Phoenician city of Tyre, from which the dye gets its name, was known for its reek of rotting mollusks.) Only the rich, such as the reigning emperor or monarch, could afford this shade, whose acquisition would ensure that his heir would be born "into the purple." Hope for the common people lay in the lichen orchil, the poor person's purple, which produced a purplish hue after a two- to three-week ammonia immersion.
Red
Reds were mordant dyes; they required the use of a fixative to create an insoluble color that would remain true. Henna, a shrub, and madder, a root, were mixed with alum (a sulphate of aluminum and potassium) to render a color family far less intense than the red we know today. A species of female scale insect, kermes, was used by the Egyptians and produced a more vivid red. Similarly, cochineal dye was used by the Aztecs with great effort (70,000 insects for one pound of dye) and to great effect, ultimately becoming Mexico's most lucrative export after silver.
Yellow
Colors in the yellow family were the least complicated. They were direct dyes, produced with little drama. Weld, the seeds, stems, and leaves of Dyer's Rocket; and safflower, petals from Dyer's Thistle, were used to create yellows.