/ Movies
/ Harry Potter Movie I
Harry Potter Movie I
Updated February 21, 2017 |
Factmonster Staff

Harry in All His Glory
Quidditch and cauldrons are coming to a theater near you
---

This article was posted on October 31, 2001.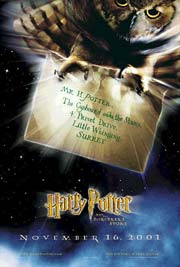 Movie poster for the long-awaited Harry Potter film.
Halloween may be over, but another witching hour is almost here—
Harry Potter and the Sorcerer's Stone
will sweep into theaters on November 16. Eager moviegoers will be rewarded with a lot of movie. The new film is more than two and a half hours long—152 minutes and 13 seconds, to be exact.
Lucky preview audiences in London caught the film on November 4. Elsewhere in the
United Kingdom
, fans will have to wait until November 16 to see
Harry Potter and the Philosopher's Stone
, as it is titled there. By February 2002 the film is scheduled to have opened in more than two-thirds of the world's countries.
All Are Welcome But Should Be Wary
The film has earned a PG rating in the U.S. and a PG certificate in the UK, rather than the more restrictive PG-13 (U.S.) or 12 certificate (UK). This is despite some scary scenes—and some words, such as "bloody," that don't exactly count as swears but might not be welcome at the dinner table.
Battles of good vs. evil aside, it may be that after reading—and rereading—the books, fans know what kind of frights they are in for. Reportedly, an especially haunting scene shows the wicked Voldemort drinking a unicorn's blood.
No Rest for the Wizardy
The movie's
young stars
can't exactly rest on their laurels yet. Production on Harry Potter and the Chamber of Secrets has already started; that movie is scheduled for release in December 2002.
---

Did You Know? Harry Potter, author J. K. Rowling, and actor Daniel Radcliffe share the same birthday: July 31.

---

 
In addition, work has begun on the script for
Harry Potter and the Prisoner of Azkaban
, which the studio hopes to release in late 2003. Director Christopher Columbus has said that the fourth and longest book in the series,
Harry Potter and the Goblet of Fire
, could be made into a two-part film.
Lockhart Aboard
The principal actors from the first movie will appear in at least the next two sequels. Other casting has yet to be done, though a key role in the second movie is newly filled.
Monster Poll
Which Harry Potter book is your favorite?
In Chamber of Secrets, acclaimed Irish actor Kenneth Branagh will play Gilderoy Lockhart, the vain Defense of Dark Arts professor who irks Harry but charms Hermione. Branagh, known for his Shakespearean roles, will have to interrupt his work on the film in early spring to play Richard III on the English stage.
Finding Hogwarts on a Map
Have you had a hankering to see Harry's homeland? The British Tourist Authority thinks you won't be the only one. In November 2001 they will issue a map featuring locations used in the film.
Sites include the reptile house at the London Zoo, King's Cross train station, Gloucester Cathedral (the setting for Hogwarts Hall), and the suburban town of Bracknell, which served as Little Whinging, home of the unpleasant Dursleys. Hogwarts's grand library is actually
Oxford
's historic Bodleian Library, which opened in 1602. The pretty village of Lacock is said to be featured as Godric's Hollow, where Harry was born.