/ Movies
/ From Hattie to The Help
From Hattie to The Help
Updated February 21, 2017 |
Factmonster Staff

A History of African-Americans at the Oscars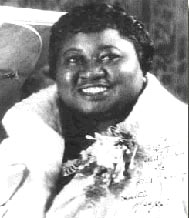 RELATED LINKS
On February 29, 1940, Hattie McDaniel became the first African-American actor to win an Academy Award. The Oscar, for Best Supporting Actress, was for her portrayal of Mammy in Gone with the Wind. Since that historic win, the film, the novel on which it was based, and McDaniel have all been subjects of backlash and controversy, especially in regards to how Mammy typified racial stereotypes. However, McDaniel's accomplishment should not be lost in the controversy. On the night she won, McDaniel and her escort were seated at a segregated table for two, away from her fellow Gone with the Wind cast members. Two months before that Oscar ceremony, McDaniel wasn't allowed to attend the premiere of Gone with the Wind in Atlanta, GA due to Georgia's segregationist laws. Winning an Oscar at that time was an extraordinary achievement.
McDaniel's breakthrough also stands out because it would be over twenty years before another African-American actor would take home an Oscar. In 1963, Sidney Poitier became the first African-American to win a Best Actor Academy Award. He won for his portrayal of Homer Smith in Lilies of the Field. Later, in 2002, Poitier also received a special Oscar for his body of work as an actor.
Thirty-Eight Year Gap
Even though Whoopi Goldberg (1990), Cuba Gooding, Jr. (1996), Louis Gossett Jr. (1982), and Denzel Washington (1989) won Best Supporting Oscars, 38 years would go by before another African-American won Best Actor. In 2001, Washington won for Training Day. The 2001 Oscars turned out to be record-breaking for multiple reasons. That same year Halle Berry became the first African-American woman to win the Best Actress Oscar. She won for her role as Leticia Musgrove in Monster's Ball. It was also the first time two African-Americans took home both Best Acting honors.
Since Berry and Washington both took home statuettes in 2001, the following African-American actors have won Oscars: Jamie Foxx (Best Actor, 2004, Ray), Morgan Freeman (Best Supporting Actor, 2004 Million Dollar Baby), Forest Whitaker (Best Actor, 2006, The Last King of Scotland), Jennifer Hudson (Best Supporting Actress, 2006, Dreamgirls) and Mo'Nique (Best Supporting Actress, 2009, Precious). As of 2011, a total of thirteen African-American actors had taken home Academy Awards.
Here Comes The Help
Two more African-American actors were nominated for Oscars in 2012. For her role as Aibileen Clark in The Help, Viola Davis was nominated for Best Actress. She had a lot of stiff competition, especially Meryl Streep, who had her seventeenth nomination, this time for playing Margaret Thatcher in The Iron Lady. Streep ended up taking home the Oscar. In the Best Supporting Actress category, Octavia Spencer was nominated, also for The Help. Spencer took home the Oscar. With the two nominations, The Help became the third film in the Academy's history to feature African-American nominees for both Best Actress and Supporting Actress. The two previous films were The Color Purple and Precious.
Even though more and more actors are being recognized for their work, an African-American director has yet to win an Oscar. In fact, only two directors have been nominated, John Singleton in 1991 for Boyz n the Hood and Lee Daniels in 2009 for Precious.
The Oscars are known for being notoriously slow to change. It took until 2010 for a woman, Kathryn Bigelow, to win the Oscar for Best Director. Looking back at Hattie McDaniel's historic win, during a ceremony where she wasn't allowed to sit with her Gone With the Wind co-stars, it's clear to see how the Oscars, like American society, has progressed slowly over the years.
Many argue that the progress has been too slow. In 2016, the Academy failed for a second consecutive year to nominate any African-American actors in the major acting categories, prompting many to speak out. Director Spike Lee and actor Jada Pinkett Smith called for a boycott of the 2016 ceremony. At a Jan. 2016 Academy gala, actor David Oyelowo said, "The Academy has a problem. It's a problem that needs to be solved. For 20 opportunities to celebrate actors of color, actresses of color, to be missed last year is one thing; for that to happen again this year is unforgivable."